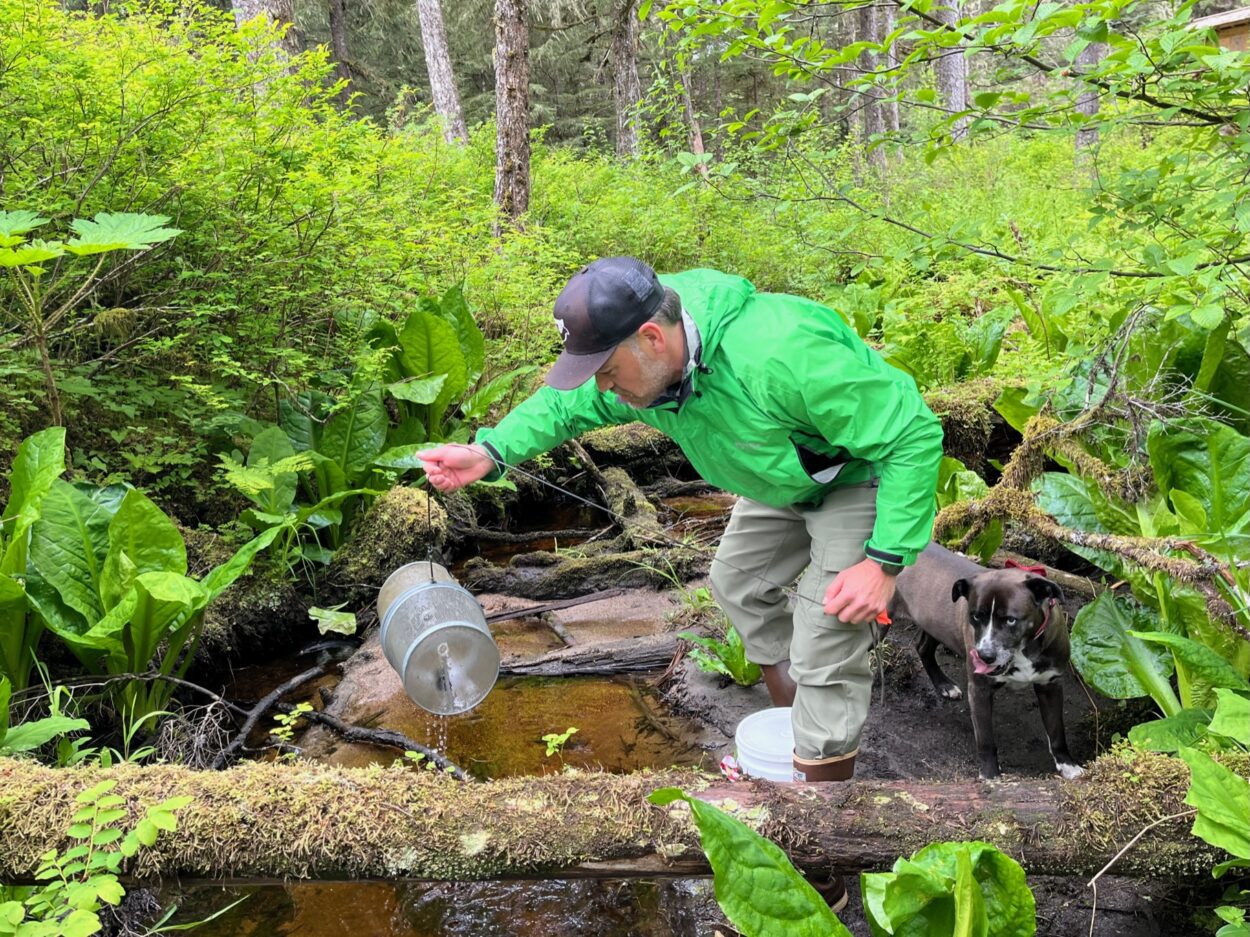 A warming climate has scientists wanting to know, more than ever, what's living in Alaska's rivers and streams – specifically, what species live in the anadromous freshwater streams where migratory fish return from saltwater to spawn. Biologists and others are hoping that a new phone app will encourage Alaskans to help map these fish habitats.
Listen to the story below.
Alaska has over 46,000 miles of shoreline—more than the rest of the country combined. Sandy Beach in Petersburg is one tiny sliver of it. It's a popular park with a playground and shelters for picnics. A creek cuts a shallow channel across the sand into Frederick Sound. In late summer, it fills with pink salmon heading in to spawn.
Away from the beach and a few steps into the park's tree line, there is a tiny tributary of the creek. That's where I meet Eric Castro, a fish biologist with the U.S. Forest Service.
"This is an uncharted stream as far as the Forest Service has on our records," Castro said.
Castro is here to use the new Fish Map App to catalog what's in the water. The app supplies a form that anyone can fill out to nominate fish they find. If approved, the fish will be added to the Alaska Anadromous Waters Catalog. This tiny stream is not recognized in the federal database at all. The state's catalog lists it, but not all the species living here.
Castro wants to add cutthroat trout to the state's list because he's seen them here before. So, he's set up a few minnow traps.
"I figure we can try this out and see what we get," he said.
The Alaska Department of Fish and Game has categorized over 21,000 anadromous waterways since the 60s. The listing for Southeast Alaska is nearly 600 pages.
"It's a massive data set," said Joe Giefer, who manages the state's Anadromous Waters Catalog.
Although the catalog includes all major systems in the state, Giefer says there is no way to cover all of the smaller streams. He hopes the phone app will get others to document fish they see in streams while out in the field too.
"There's a lot of water in Alaska," Giefer said. "There's a lot of remote areas."
Giefer says the catalog data is used by local, state, and federal agencies and provides protections from possible development projects. So the more data that's added to the catalog, the better.
Minnow traps like Castro's take permits. But Giefer says documenting adult fish would be very useful too, like those found spawning.
"There's probably spawning, good spawning habitat all over the place," Giefer said. "But nobody's physically there, nobody's physically [seen] salmon spawning, just because of the remote nature of a lot of these water bodies."
That's where local knowledge can help, says Aaron Poe with the Alaska Conservation Foundation. He coordinates the phone app, which is supported by a large partnership of federal, state, tribal, and nonprofit groups. They started testing the app last year and hope to get more users involved.
"Local folks really do know best where the anadromous fish are," Poe said. "So whether that's Indigenous knowledge that dates back for millennia, or whether that's local knowledge from families that grew up in a region or some combination of both, those folks really know where the fish are."
Poe says there is increased interest in what fish are where, because of climate change.
"Essentially, we're having some of these anadromous fish, whether they're salmon or white fish, or other species that are starting to move into other areas of the state," he said.
The Aleut Community of Saint Paul Island, created the Fish Map App through its Indigenous Sentinels Network, which runs about a dozen apps.
Hannah-Marie Garcia, with the Saint Paul tribe, says they wanted to provide a useful tool to document ecosystem shifts. Saint Paul is 300 miles offshore in the Bering Sea. So, they also wanted to make sure it was usable in remote areas. Garcia says the app doesn't require Internet.
"If they don't have Wi Fi or cell signal, it just stays on the device," said Garcia, "until they then can come to a place — maybe they're back in town or, you know, they're back from the fishing ground or the back from wherever they were hiking to go find that stream, when they finally have signal they can then upload to the database, after the fact."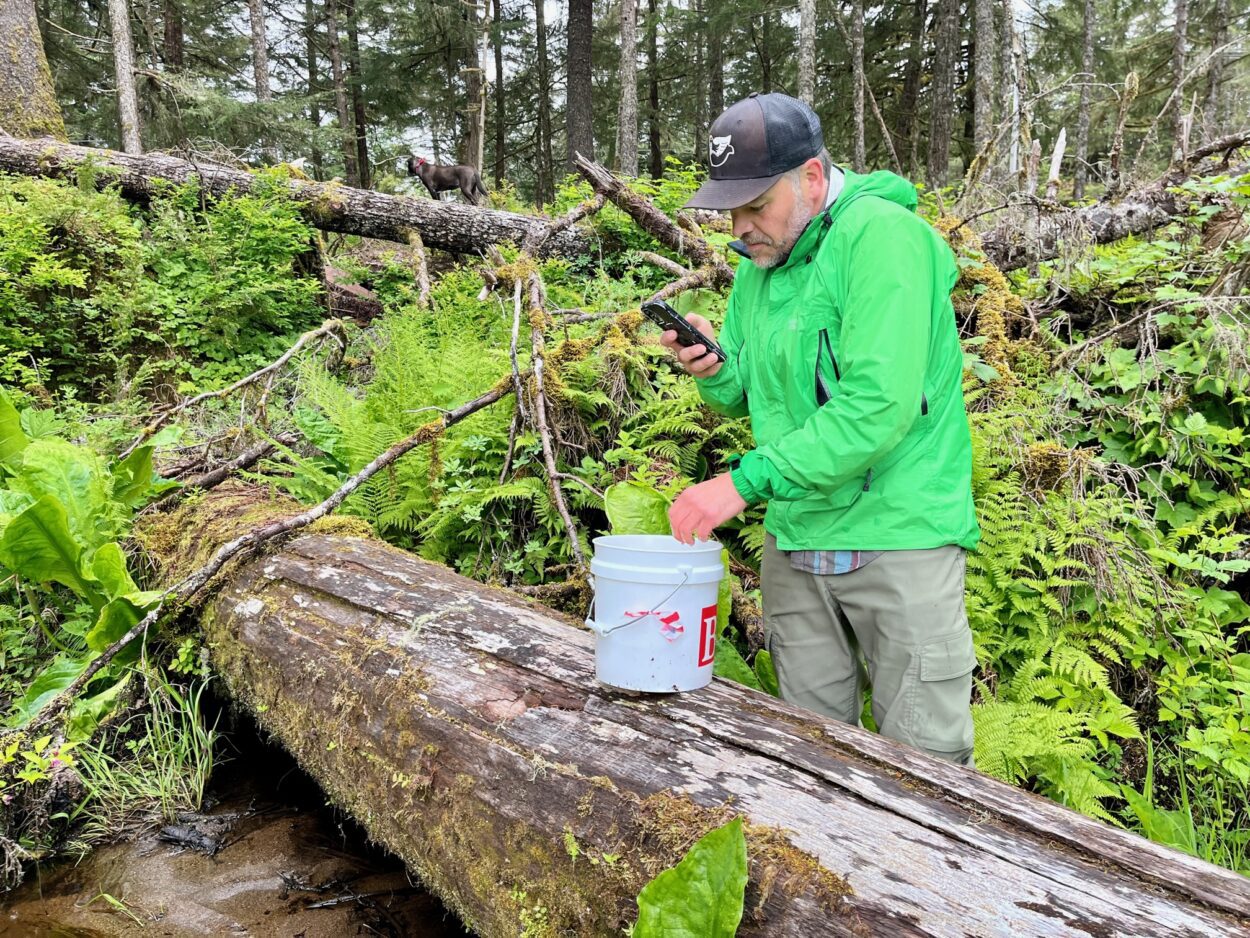 Back at Sandy Beach Park, Castro pulls a minnow trap from a shaded pool underneath a log. Soon two young girls push through the brush along the bank.
"We've been spotted!" Castro said.
The girls ask what we're doing.
Castro told them we're doing some minnow trapping and look at this.
He transfers two juvenile fish — a cutthroat trout and a coho salmon — into a bucket to the Oohs and Awws of the small crowd.
"Cool" they said.
"So these fish right here are living in this water in this little teeny stream, Crazy huh?" Castro said.
"Yeah!"
"Did you know that there were fish in the stream?" I asked them.
"NO!"
Later, Castro uses the phone app to fill out a nomination form including all kinds of information—location, weather, and details about the stream and fish. First, the nomination will be checked by Garcia's Indigenous Sentinels Network before going to the state for confirmation. That can take months. The state updates its catalog once a year.
Last year — the app's first year — produced 13 nominations. The app advocates hope to receive thousands more in the future. There is an incentive too. For people who take the time to fill out a nomination for a local stream, they'll receive $100.
Find out more about the fish-mapping app at the program's website.