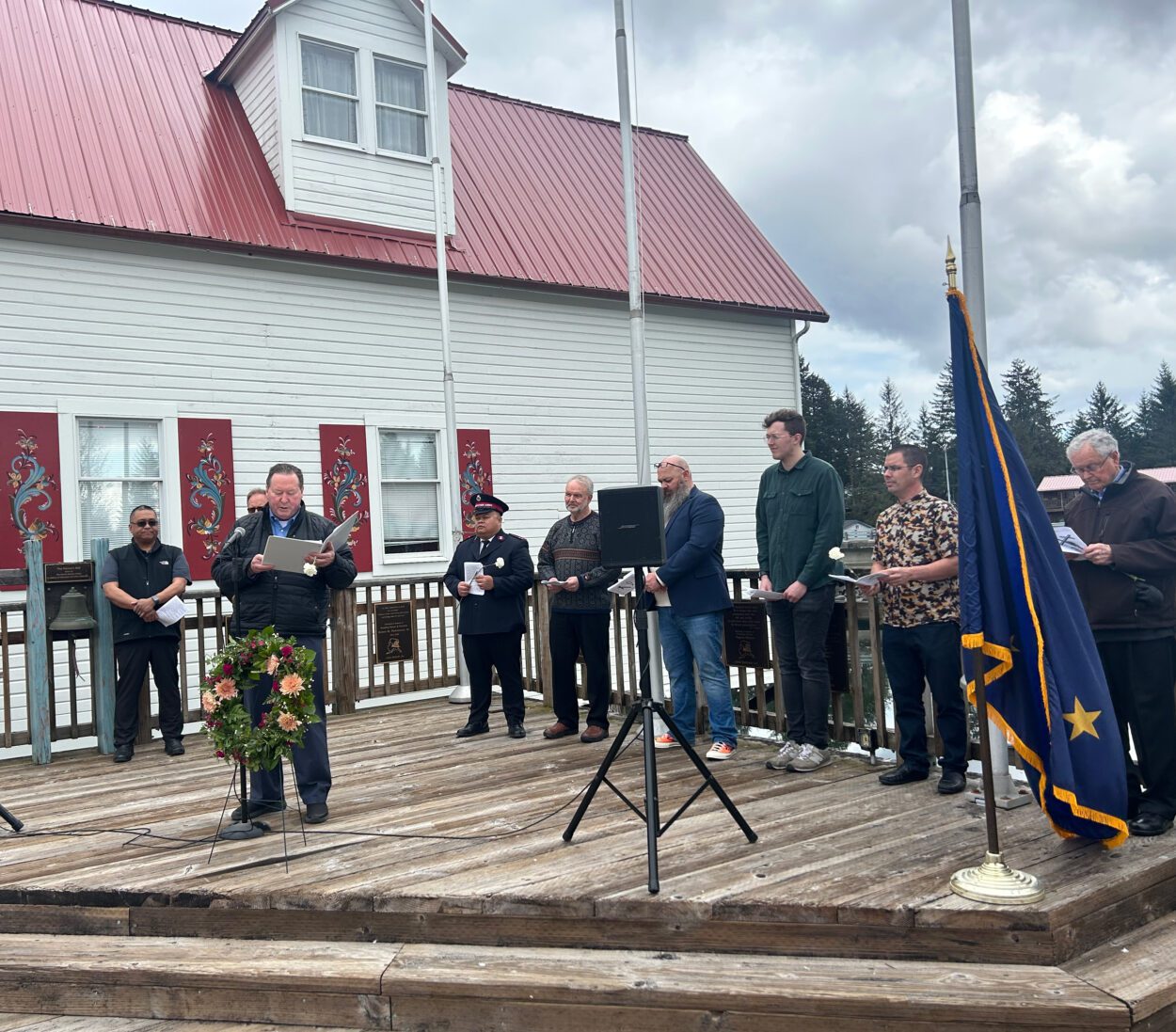 Petersburg's fishing season started in full in mid-June, with the opening of the crab and gillnetting fisheries. Early last month, the town's Ministerial Association gave the annual blessing of the fishing fleet.
The blessing was a celebration of Petersburg's Norwegian cultural heritage and an expression of the community's hopes for a safe fishing season. For some, it was also a time to remember.
A brisk, salty wind blowing off the Wrangell Narrows cuts through a crowd gathered at Petersburg's Fisherman's Memorial Park. Pastor Lee Corrao of Petersburg's First Baptist Church is listing off the names of the community's fishing fleet. This is part of a centuries-old tradition intended to protect sailors from the dangers of the sea.
In the shelter and warmth of the nearby Sons of Norway Hall, Sally Dwyer was preparing food for the attendees. She's the President of the Sons of Norway, but she goes by a few other titles around town.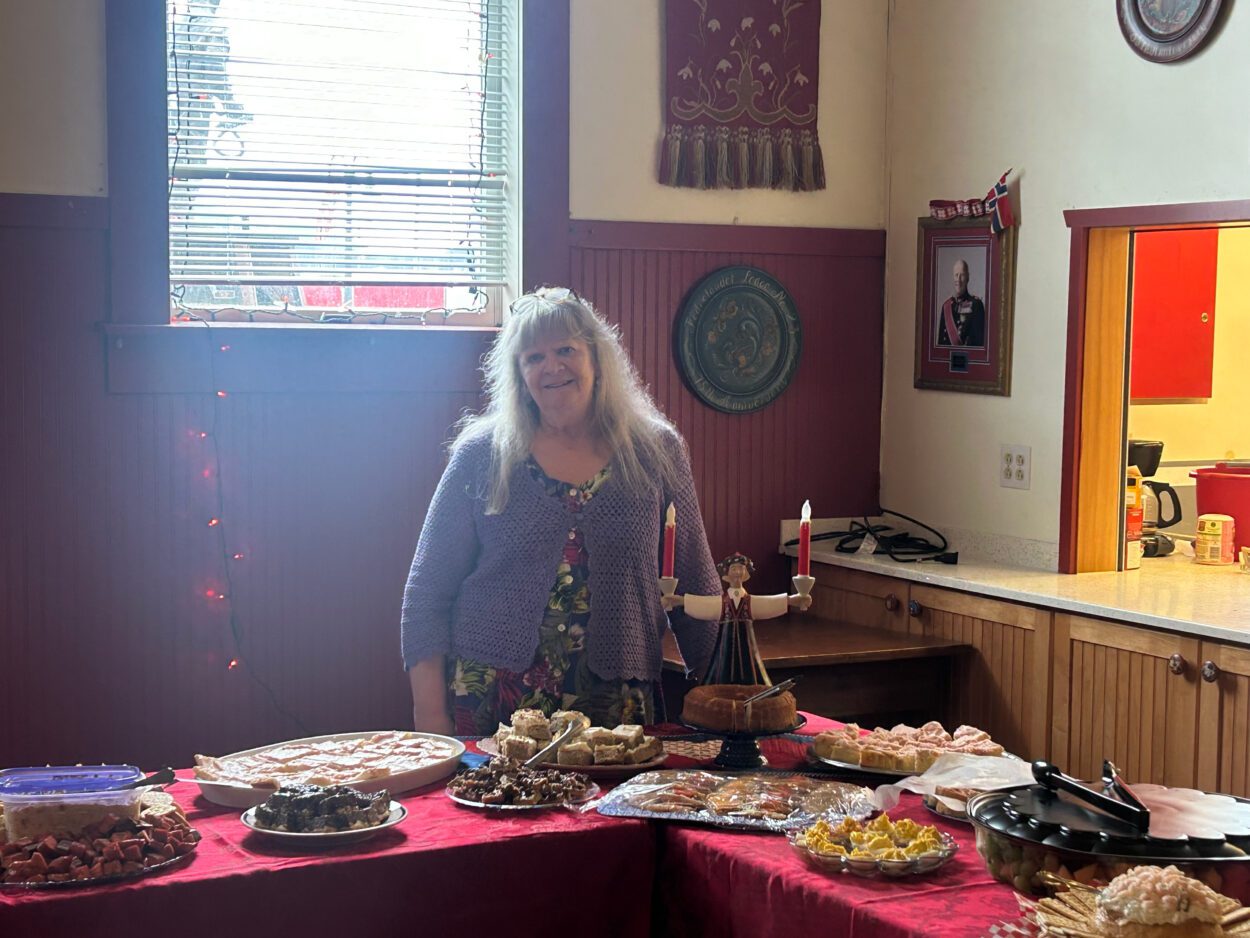 "Well, I think you could call me a Petersburg social dictator… or rabble-rouser," said Dwyer. "I do sign off as 'social dictator' quite a bit because I'm kind of bossy."
Dwyer's smorgasbord includes traditional Norwegian snacks — like waffler.
"I've done three different toppings," said Dwyer. "I did a brown goat cheese, I did American cheese — which we nicely call, "plastic cheese," because it's wrapped in plastic. I also did some with sweetened butter and I put a strawberry slice on it."
For Dwyer, the ceremony was a way to raise hope for a safe season for people who work in and around the sea.
"And that includes the kids down on the dock with the life jackets, and the kids in the canoes, and the people in the kayaks and anybody playing on the water or making a living from the water," said Dwyer.
That includes fishermen like Dylan Hatfield, who had just gotten off the St. Peter, a seiner working out of the Bering Sea.
"It's just kind of just paying respects to past fishermen and friends and family and loved ones that people have lost at sea," said Hatfield. "I've definitely lost a few people over the years."
However, the blessing doesn't just honor those who died at sea. Back at the ceremony, the names of all the community's fishermen were read aloud. Following that, Grant Trask led the Sons of Norway choir in "Hils fra mig derhjemme," which translates to: "a sailor's greeting" in Norwegian.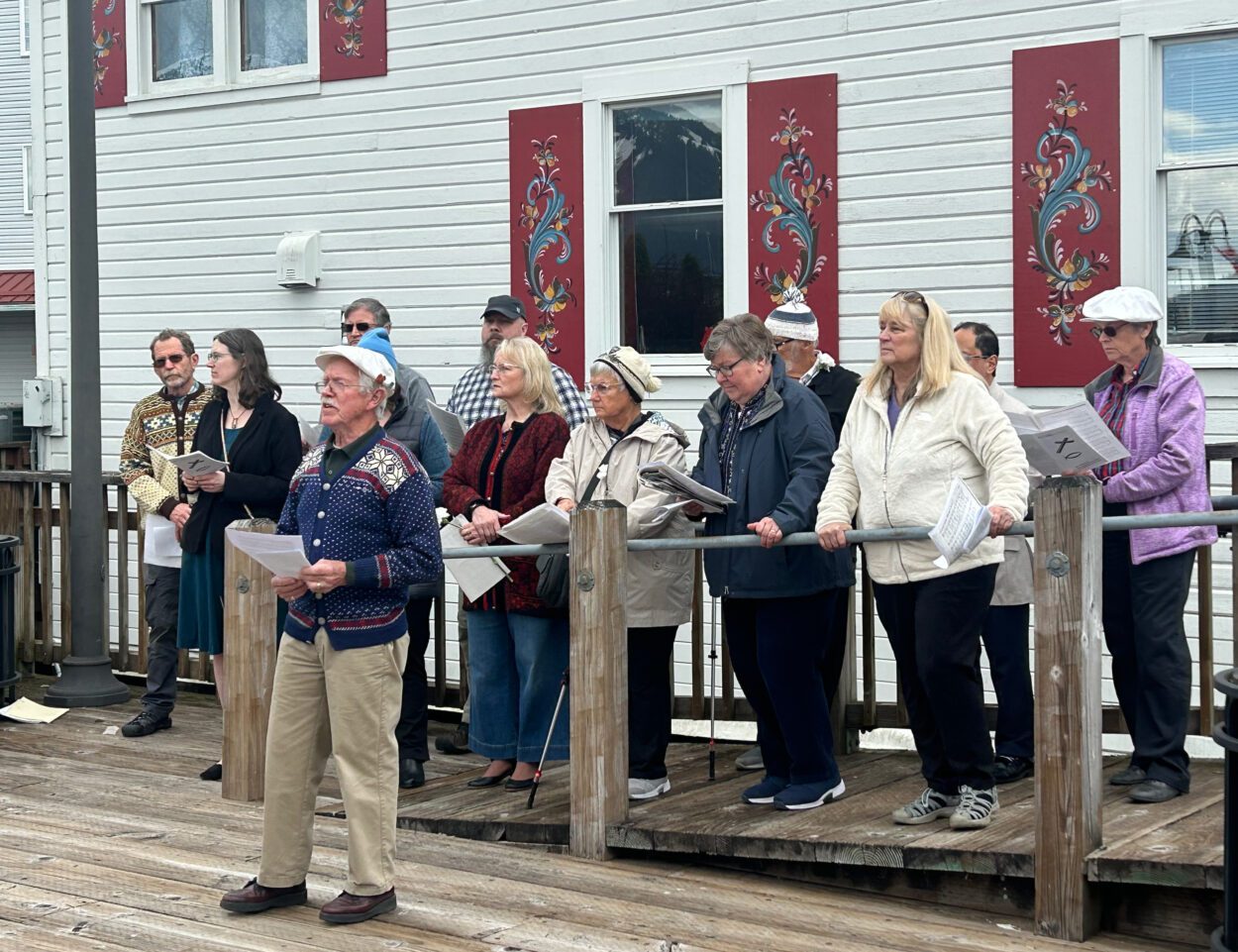 "Picture yourself out on a deck," said Trask. "Either in the North Sea, or in Frederick Sound, Chatham Straight, the Gulf of Alaska — wherever we are. The singer is looking around and he sees a little bird flying over his boat. And he says, 'We're making a living in fishing. But I miss my mother, I miss my father, I miss my little brother. So, little swallow, it's your job to go back to land and greet my friends for me.'"
There were, indeed, swallows flying around. White-and-gray bank swallows darted overhead. As the proceedings wrapped up, Trask wandered around the Memorial Park, gazing at a wall of hundreds of plaques. Each one honors the life of a person in the community. Trask says the blessing is an important part of Petersburg's cultural heritage — and a time to remember lost friends.
"I would say the immigrant story continues here in our little town of Petersburg," said Trask. "It's important to keep in mind those who came before us. Their names are out here at our Fisherman's Memorial Park. So stop in and say, 'hello…' I have been saying hello to several people who… I can hear their voices, I can see their faces, and I can remember their character. Skippers of mine. Or else, colleagues on the fishing fleet. It's a sweet sentiment when I go and visit and remember a lot of people that have been part of my past."
As the crowd poured into the Sons of Norway Hall for food and conversation, a few people hung back. They tossed a wreath of flowers into the water in remembrance of loved ones who have gone out of Petersburg's harbors, never to return.