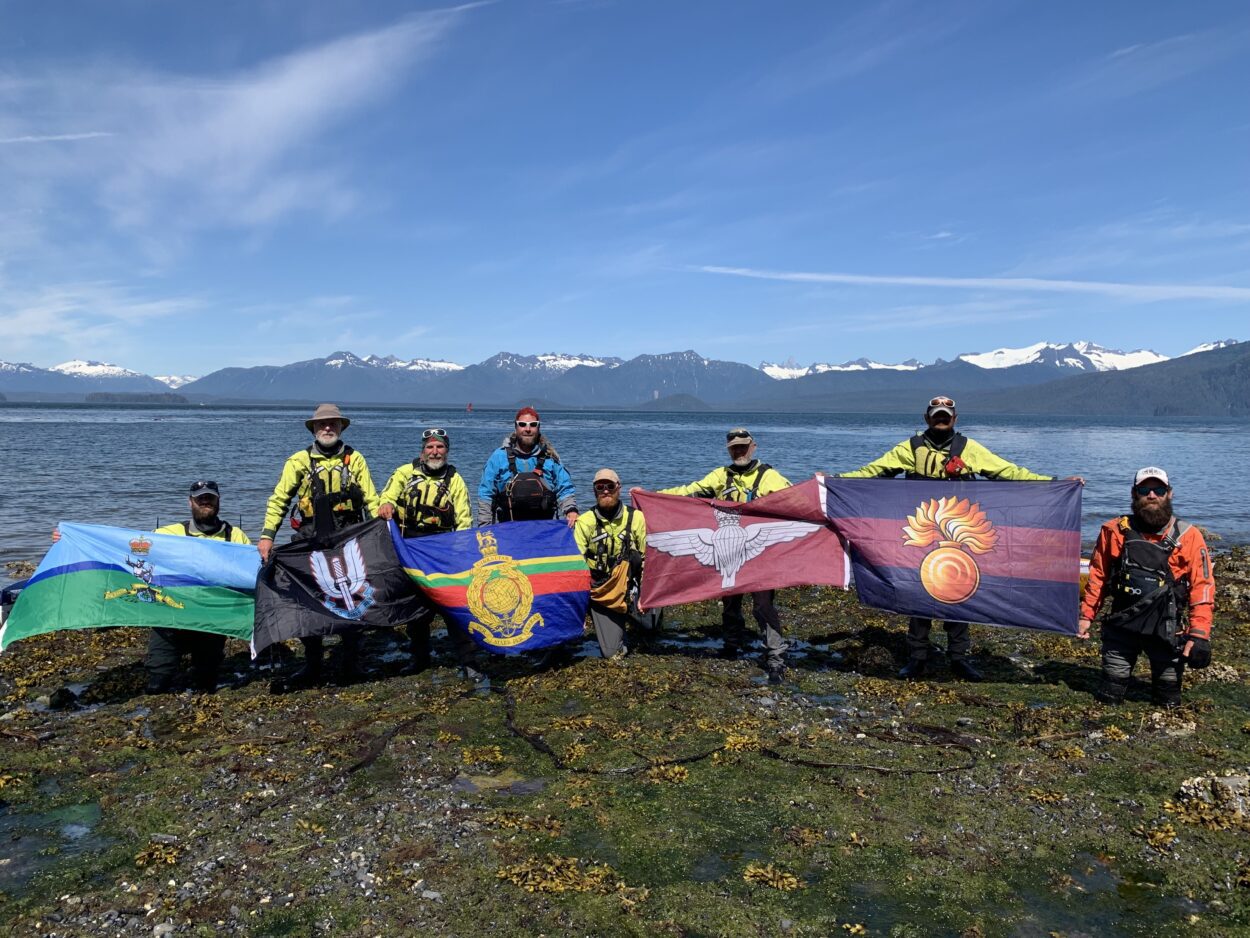 A group of kayakers stopped off in Petersburg this week on their 1,200 mile expedition through the Inside Passage. The eight-man group includes six British military veterans. They have suffered gunshot wounds, two double amputations, paralysis and PTSD from warzones including Iraq and Afghanistan. Theo Jones is the team's project manager. He's a civilian, but has been inspired by the veterans on the team.
"They are trying to shout from the rooftops that you don't have to be defined by disability," said Jones. "If they can influence the wounded veteran community and prove what is possible. And there are definitely people out there who are going to listen up, 100%."
They're raising money for The Not Forgotten, a UK charity which supports veterans with disabilities. More than $170,000 dollars has been donated so far. They originally planned to kayak the Amazon River in 2020, but then came the pandemic. After three postponements, the expedition was changed to the Inside Passage. Jones says taking on the treacherous waters of Southeast Alaska comes with a unique set of challenges.
"The environment — you've got tide and weather," said Jones. "Wildlife, eating outside of camp, things like that. The psychology —because the endurance of this is so long. The physical – these boats weigh so much it takes six of us to lift the two man boats."
The team aims to travel 15 nautical miles per day. Unless they can stop in towns like Petersburg and Ketchikan, they just search for a spot onshore to pitch their tents. They're not too concerned about bears or wolves though. They're much more afraid of the massive amounts of rain that batters the Tongass every summer.
"If the weather is going to be damp, we don't say the R-word as a team, because it will provoke it," said Jones. "It will come then and we don't want that because if it does get that wet, life is miserable. The tent is saturated, it gets underneath it, it just goes everywhere. And it doesn't dry out, you know at the end of that day after 20 miles or whatever it is, you know, you're gonna get into a wet sleeping bag and life it's very, very hard."
Jones says they haven't had much R-word so far, but after 58 days of paddling, they were ready to sleep with a roof over their heads in Petersburg. They spent the weekend at the Volunteer Fire Department, fully equipped with a kitchen, bathroom, and most importantly: a shower. The team even made it downtown for some Petersburg hospitality — cheeseburgers, fries and beers!
"[People have been] incredibly warm, incredibly helpful," said Jones. "It's places like Petersburg and Ketchikan that make this whole thing so possible or so much easier, and it makes it possible. Definitely [want to] be out there again, really lovely people, lovely place."
The team won't be able to finish their journey together. The start of the expedition was delayed in leaving Washington State. So it's just Jones and two others who will continue paddling north for the next 24 days to reach their final destination in Skagway.