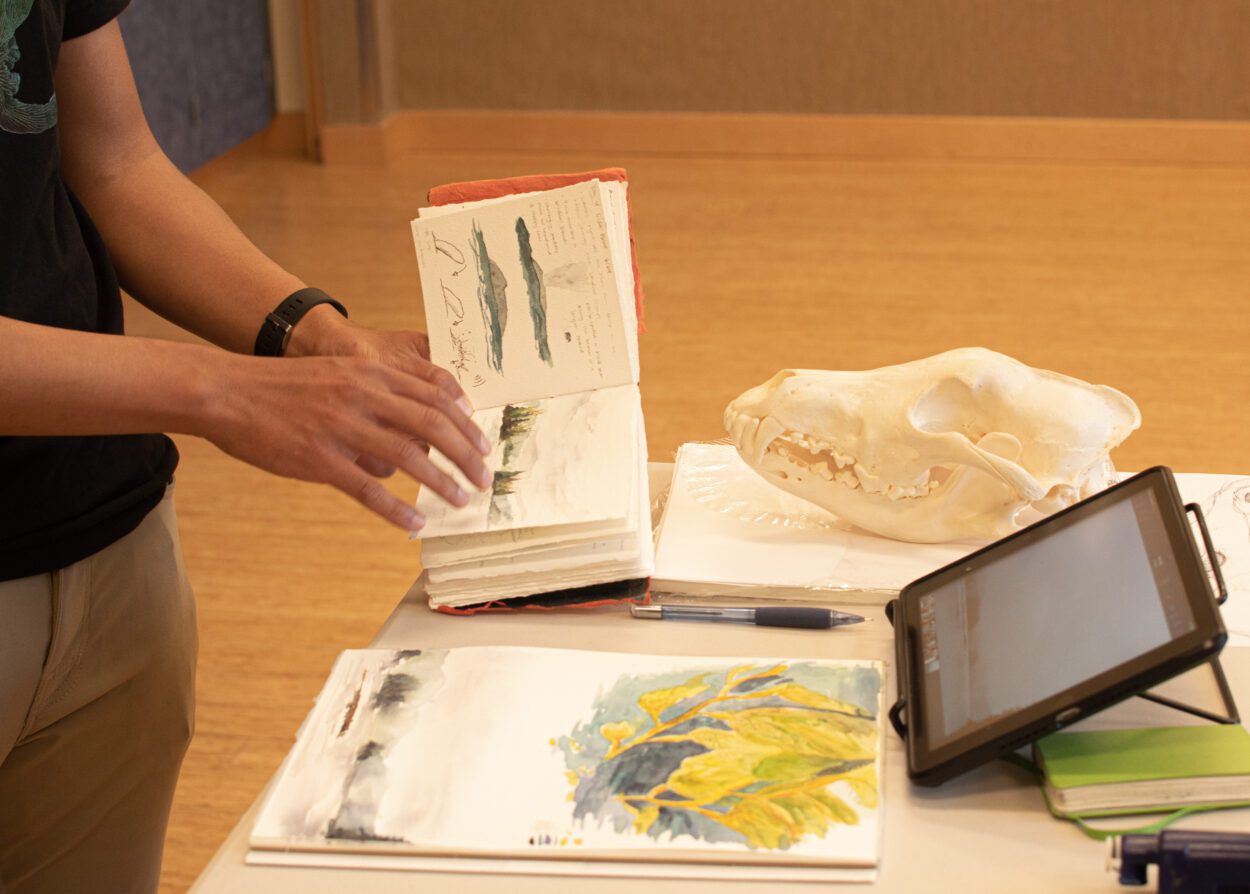 Petersburg's ranger district hosted a science illustrator from the deserts of Arizona earlier this month. Trenton Jung packed his art supplies into a sea kayak and paddled through the wilderness as part of a Forest Service-sponsored artistic residency program. Jung hopes his outsider eyes will inspire awe and appreciation for the Southeast's natural landscapes. 
Pinecones. Whale vertebrae. A wolf skull. These are just a few things that make up the tableau Trenton Jung and his Forest Service colleagues had laid across a table for his students.
Chris Weiss was one of about a dozen Petersburg residents who turned up to the local library to learn about science illustration from Jung. He has the class sketching out some of the items on the table from memory, alone. With swift strokes of a colored pencil, she made a rough outline of a barnacle — with her eyes closed.
"I tried to draw the shell… Yep," said Weiss, laughing to herself.
Jung invited his class to take note of the colors and textures of all the natural objects on the table — the pitted seashells, the grainy bone, the fine points of the pine needles. This is his first approach to creating art as a science illustrator.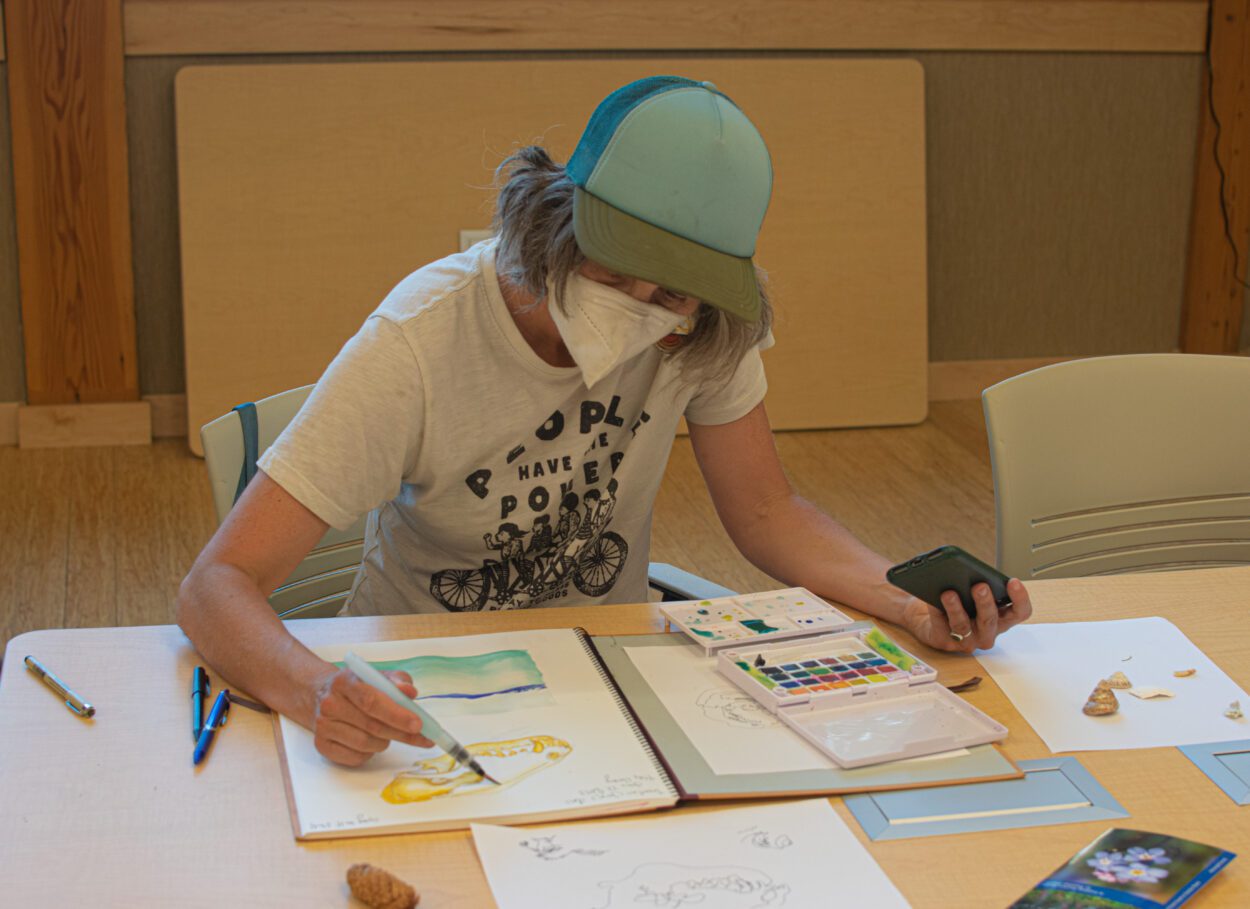 Jung's illustrations have been featured in several science journals, as well as in Smithsonian Magazine. He's shown his work in galleries across the United States — and abroad. But this is his first time in Alaska.
"I really enjoy just being amongst the trees and the moss, and also being close to the ocean," said Jung. "I always want to be close to the water, looking at tide pools, looking at the kelp and seeing what's underneath the next rock."
Jung says there's a gulf of difference between the rainforests of Southeast Alaska and the sun-scorched Southwestern United States, which is where he spent most of his life. But watery environments have always been central to his work.
"There's not a lot of love for fish and little sea creatures," said Jung. "Everyone loves the big lions and giraffes and elephants and, like, the charismatic megafauna. So that's kind of drawn me to all the creatures that usually get ignored or overlooked."
The Forest Service threw Jung into his favorite environment — head first. He came to Petersburg to make and teach art — but he started his residency learning how to kayak.
"So we went to the slough wearing dry suits and jumped into the water, rolled our kayaks over," said Jung. "And then [they] taught us how to self-rescue and pop back in."
Megan McDermott is a wilderness ranger with the Forest Service, and she supervises the Voices of the Wilderness program. She says the kayak rescue tutorial was to help prepare Jung for a five-day journey to Tebenkof Bay Wilderness off of Kuiu Island. Jung, like prior visiting artists, got to watch his Forest Service companions collect data, in a process called "wilderness character monitoring."
"[The artists] come alongside, they see what we do," said McDermott. "And they create some pieces of artwork with the intention of inspiring other people to care about this place."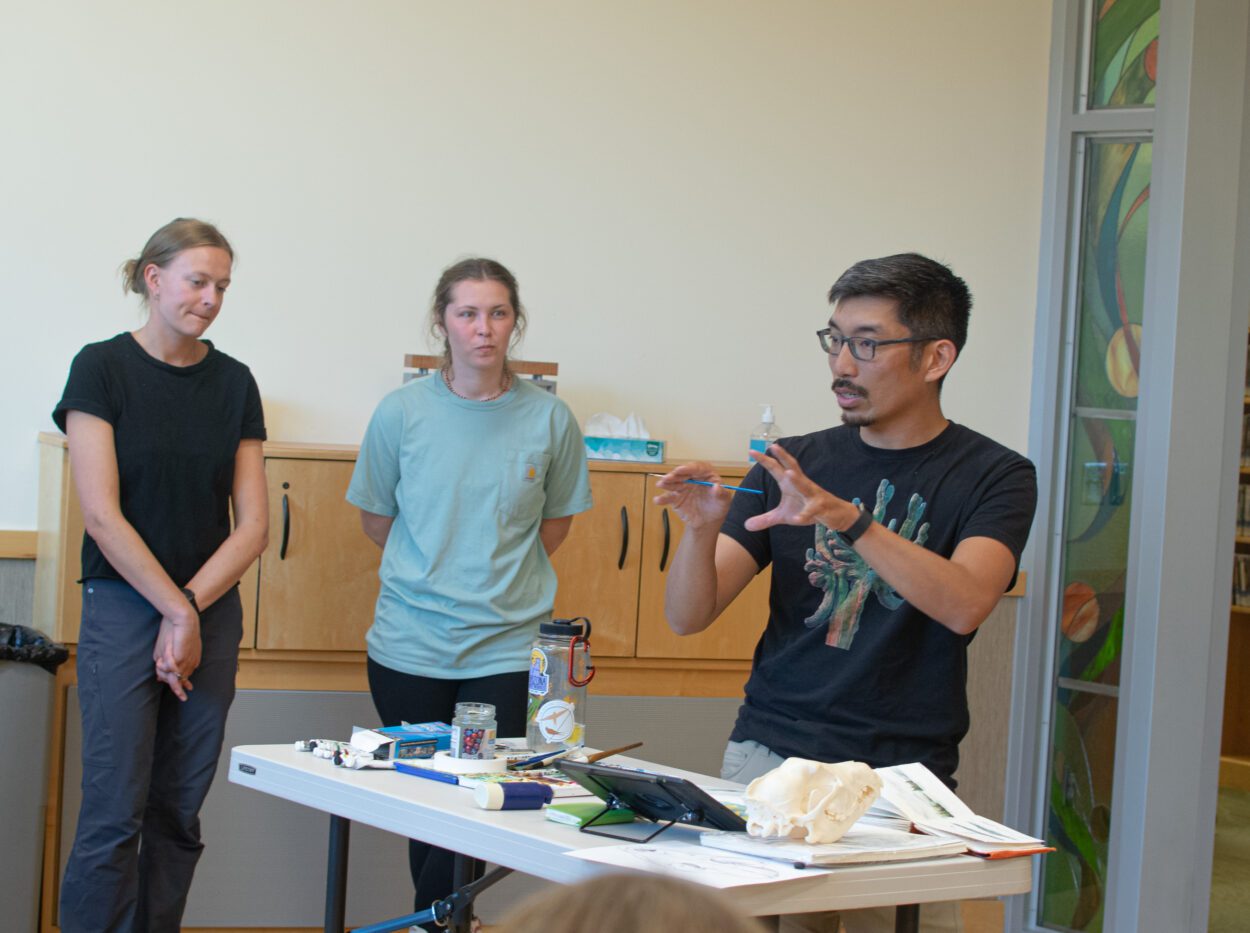 Hopping from island to island, Jung took in the stark beauty of the land. On the final day of the trip, the group came upon a couple of humpback whales — a mother and her calf. That was the big highlight for both the artist and his Forest Service escorts.
"I had never seen wild whales before," said Jung. "I also enjoyed just the quiet and solitude, and just being able to be outside and not have any distractions."
All the while, Jung was taking notes. McDermott enjoyed watching him paint and sketch out the trip — literally, as it was unfolding.
"It's really fun to watch his process and the scientific element of it," said McDermott. "Documenting his surroundings — not just drawing."
But all that note-taking wasn't just for his own benefit.
"I took a small handmade sketchbook out and took lots of notes in it," said Jung. "I'll use that to create little drawings and paintings while I was out in the fields, and then I also took reference photos. And that's for my larger project, which I'll be working on for the next couple months."
That art project won't be a slice of cake — it'll take him at least six months to finish. But it'll kind of look like one — a slice of forest cake. Jung has mapped out a large painting demonstrating the layered ecosystems of the Tongass National Forest.
At the top: the tree canopy, descending into a tidal zone, crawling with small sea creatures. Those shallow pools will bleed into the final layer: a kelp forest on the ocean floor. Jung says all of this was inspired by one moment on his five-day trip into the wilderness.
"I had a glimpse of the trees and rocks and see them all kind of within one layer," said Jung. "It kind of really defined the Tongass Forest where there's lots of intermeshing of the forest and ocean."
Jung plans to complete the painting by next January. It will be installed in Petersburg's Forest Service office, alongside all the artwork from past residencies.