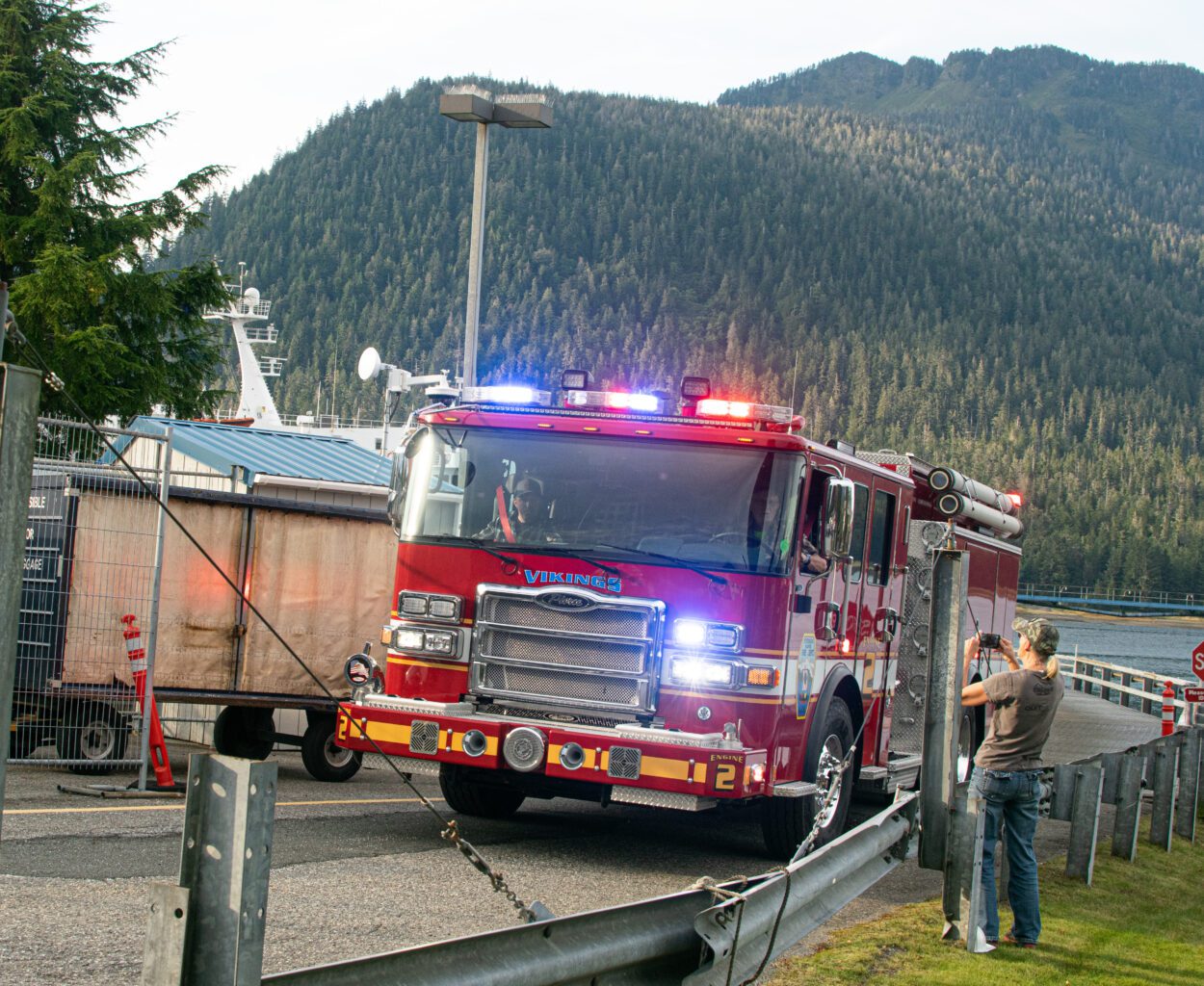 Petersburg's Volunteer Fire Department got a fresh set of wheels on Sunday, September 10th, when their new fire engine arrived on the ferry Columbia. They've waited for Engine No. 2 for over a year to replace an old engine — and it's had a long journey. 
The ferry Columbia cruised up to Petersburg's ferry terminal, where a crowd of people were standing in wait. Some were brandishing cameras or smartphones —and there was a drone zooming around to snap photos.
They're getting ready to welcome a very special piece of cargo — a brand new fire engine. Aaron Hankins is the director of the Volunteer Fire Department, and he was absolutely giddy to see it roll off the ramp.
"It's a beautiful sunny day in Petersburg to welcome our new rig," said Hankins. "I'm glad that some members of the public showed up to the launch. Chief's gonna drive it off here in a minute and I look forward to seeing it go by and all of its glory."
Engine No. 2 trundled off the ship, sounding the alarm. Its klaxons are answered by those of a couple of Petersburg's other fire trucks waiting for it in the parking lot. Fire Chief Jim Stolpe steered it off the ramp, wearing a huge smile.
"The city should be proud," said Stolpe, as he leapt down from the cab. "Look at this thing! Gorgeous red truck, "Petersburg Volunteer Fire Department" on the side. Oh, it's so pretty. Hopefully we don't ever have to use it!"
The fire engine had a long journey — the Borough commissioned it from Pierce Manufacturing in January of 2022, for about $597,776 — and then it cost another $28,052 to outfit it and bring it across the country. Hankins said the engine began its life in Florida.
"Once the truck was completed, it had what's called a shakedown trip across the country to Oregon," said Hankins. "That's where they shook it down, fixed obvious problems that they noted in its trip across the country. Then just the other day, we received word that they're bringing up to Bellingham and put it on the ferry!"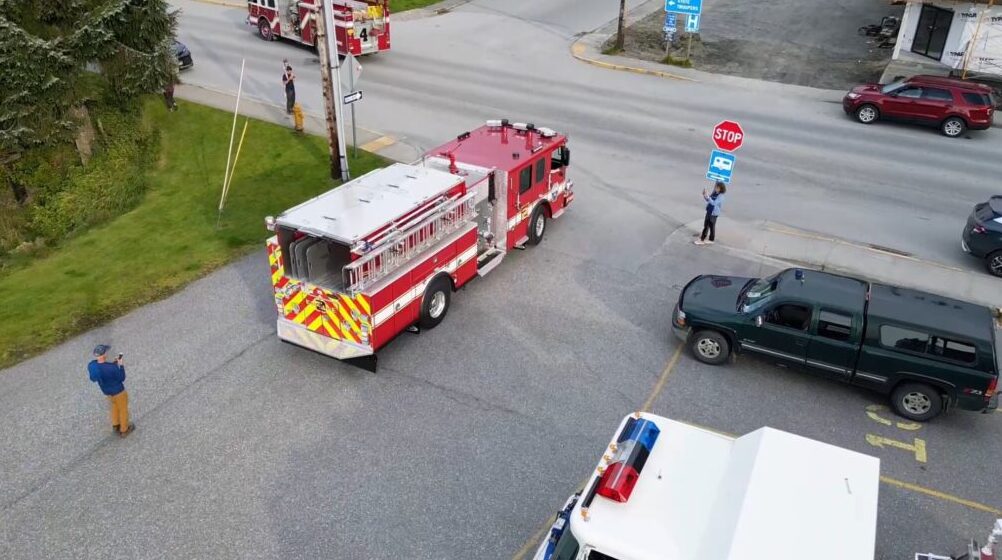 Petersburg's Fire Department, which is nearly all volunteer, is suffering a staffing shortage — and the emergency phone lines aren't getting any less busy. But Hankins hopes the new equipment will help the department make their jobs a little easier — and make the community safer.
"Once we get it up, it's gonna go right into the motor pool, receive our checkoff, and then it's going to come back up to the station," said Hankins. "We're gonna start mounting little bits and pieces of our own equipment up there, like the SCBAs and hand tools and things like that."
The fire department is also planning a "push-in ceremony" for the new rig — a firefighter tradition.
"So this is where it will finally go in the bay it's going to live in for the large majority of its life," said Hankins. "We put the truck in neutral — all the firemen grab a piece of the bumper and they start pushing it in."
They haven't nailed down a date for the ceremony yet, but it will be open to the public. 
Editor's note: The language of this piece has been changed to reflect that the new fire engine "arrived" on the ferry Columbia, and did not "roll" off, which the author intended figuratively.