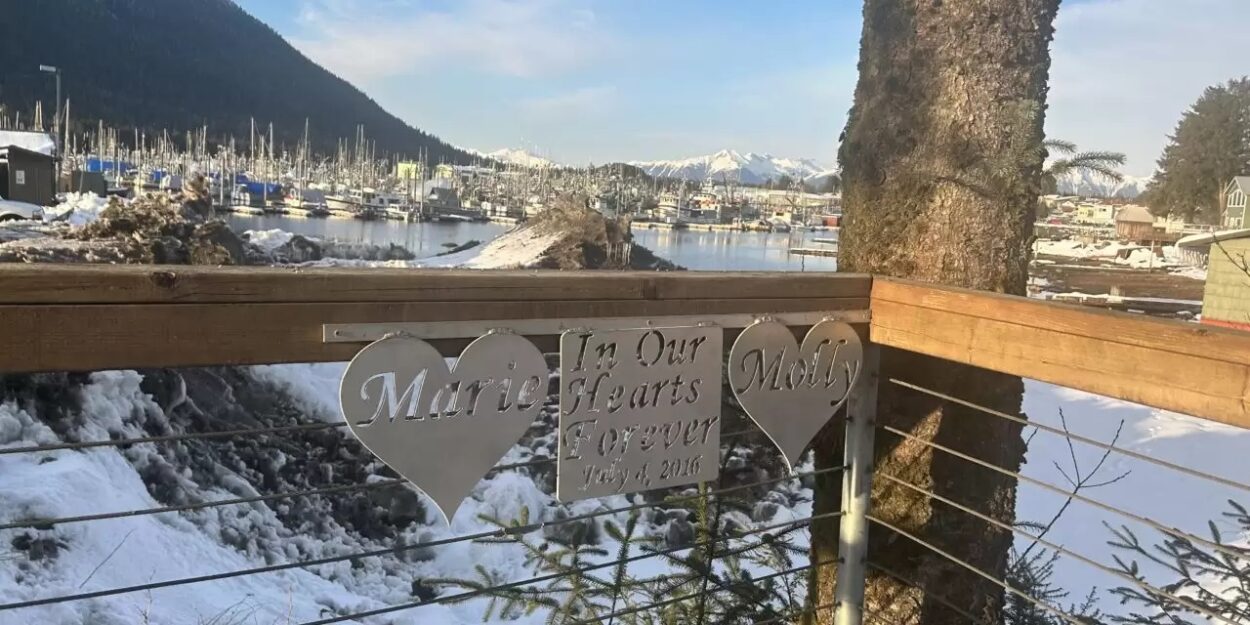 Petersburg's insurer, Alaska Public Entity Insurance, has completed its report on the Borough's safety practices and human resources. Community members are hoping the report represents the first steps towards reconciliation and healing from a 2016 crash which killed two Borough employees.
By nearly all accounts, Petersburg never fully healed from a tragedy that took the lives of two borough employees in 2016. Marie Giesbrecht and Molly Parks were working for Petersburg Borough's Parks and Recreation Department when they died in a van crash. They were on their way to set up a running race as part of the Borough's Fourth of July celebration. Their driver, Chris Allen, suffered a seizure and drove the van through a guardrail. According to civil court documents, Allen's supervisors were aware of his medical condition before they gave him the keys to the van.
An outpouring of concern from Petersburg community members prompted APEI's review. RD Parks, the father of the late Molly Parks, remembers the meeting in early June when the Assembly moved to bring in a third party to look at its safety practices. It was standing room only.
"Multiple people that spoke that night do not speak in public," said RD. "Some of them are extremely shy, and they got up there and it took incredible courage on their part. And some of the people that spoke we didn't even know. So we were incredibly grateful for the community supporting this, it means everything to us."
After that meeting, the Assembly asked the insurance company to review the Borough's HR and safety practices; and then to prepare a report describing their observations. Three APEI members visited Petersburg in August, and their report said they took anonymous comments from about 40 community stakeholders and Borough employees.
However, the review isn't about the 2016 crash. It's actually a lot broader than that — a comprehensive review of the Borough's HR and safety practices in every department. 
Barbara Thurston is the executive director of the insurance company. She said she knows a number of people in the community want to hear about the circumstances surrounding the crash — but to those people, she said that's not what this is about.
"What we've been asked to do is to review the Borough's safety, human resources, and risk management practices as they are now," said Thurston. "[That's] to make sure the pieces they need to have in place, they do."
She said the report looks over things like hiring, reference checks, and disability accommodations — and it covers the whole Borough. From Parks and Recreation, to the police department, to even the public library. The company decided the Borough is doing great in some areas — like its robust employee training programs. But it falls short in others, like deficient cyber security standards.
While the review isn't about the 2016 crash, it doesn't shy away from the Borough's safety shortcomings that led up to it.
"Many of these issues are related to what happened in 2016," said Thurston. "And we know full well — we're pretty familiar with the accident and what happened. We've been involved since the day it happened."
The report connected the Borough to a list of organizations that can provide community support in a traumatic event that results in multiple injuries or fatalities.
It also recommends the Borough require that employees notify their supervisor of any situation which could affect their ability to legally or safely drive a Borough vehicle — like losing their driver's license, or being diagnosed with certain medical conditions.
RD Parks, who lost his daughter, said his ultimate goal in encouraging a thorough review isn't about retribution — but making the community safer.
"We feel like this review is long overdue," said RD. "We're not employees of the borough, so we're not going to be able to do anything with it ourselves. But we're just working, hopefully, for the betterment of this community."
Assembly Member Bob Lynn said any actions the Borough can take now won't undo the tragedy of 2016 — but, he said, this could be a good place to start.
"If we can say that our safety practices — anything that's found — is in deficit, I think it gives us a really, really good place to move on," said Lynn. "And can we ask for more? I don't think so. If I had a way to fix it, I would, but I can't."
At present, the Borough just has a list of suggestions. But Madonna Parks said there are still lessons to be learned, changes to be made, and there's still healing to be done. She said the Borough can only compound the senselessness of the tragedy by doing nothing with that information.
"There is never a wrong time to do the right thing," said Madonna. "We have been told we are special people for pursuing justice for our daughter. We're not we're parents, any parent who has a child killed is going to ask why and how it happened. No parent is going to accept silence."
She and RD said they hope the assembly will take the review to heart and be transparent about how they'll implement any changes. Only after that, they said, can the healing start.
According to Borough Clerk Debra Thompson, the review is "complete," but has a few incomplete parts. The Borough and representatives from APEI will discuss how to proceed at the next assembly meeting, which is on Monday, September 18th at 6 p.m.
A copy of the safety and human resources review will be attached to the upcoming assembly meeting agenda, which can be viewed here.