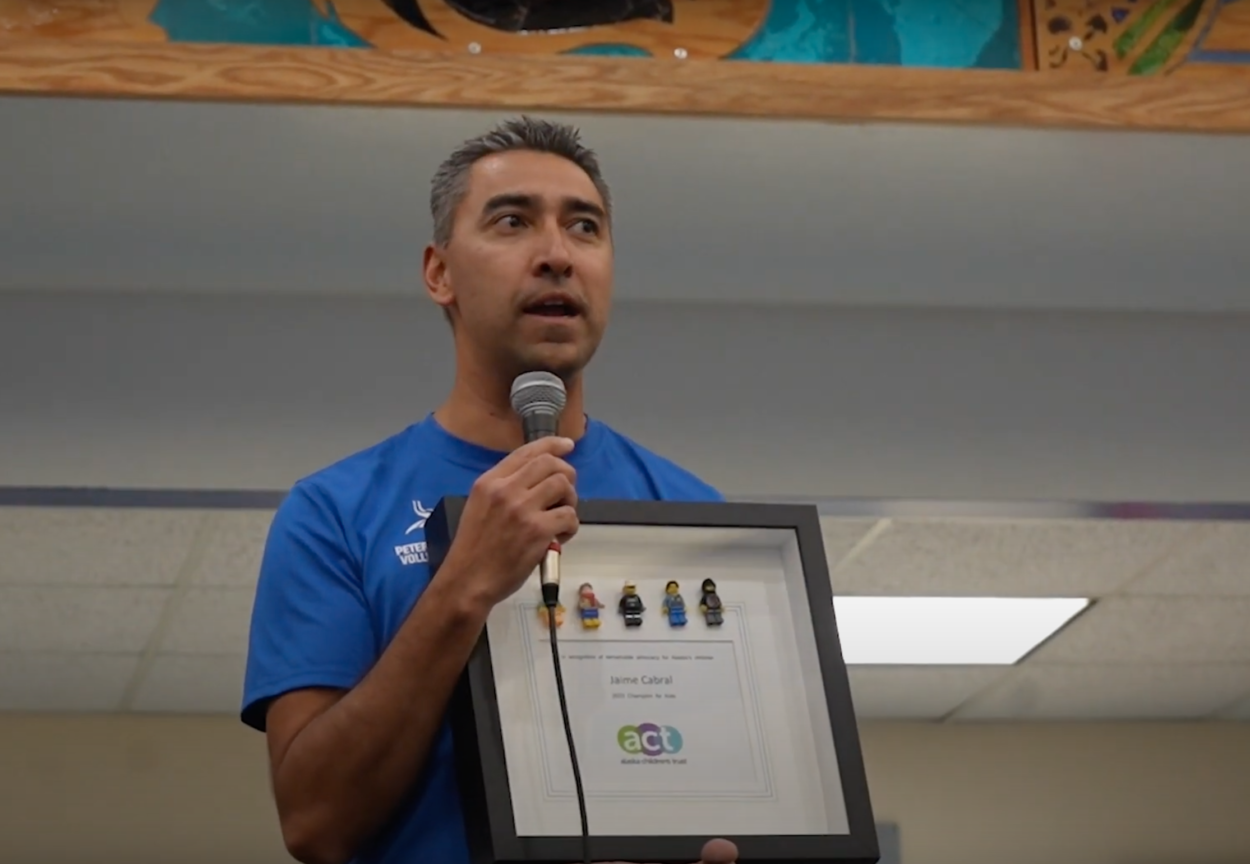 A teacher and coach was honored in Petersburg on October 16 for his dedication to kids. Jaime Cabral received one of three statewide awards given out this year by the Alaska Children's Trust. KFSK's Hannah Flor attended the event and has this story.
People of all ages packed the Petersburg High School commons, eating pizza, and waiting to celebrate Jaime Cabral.
Cabral is dean of students and activities director of Petersburg's secondary schools. Last month he received the Alaska Children's Trust's Champion for Kids award at a ceremony in Anchorage.
Now it was time for a hometown celebration.
School Board Member Katie Holmlund introduced Cabral.
"So Jamie, tonight, we're here to say we see you," she said. "We see the hours and hours at the ball fields. We see the long weekends at the basketball court, the volleyball court, we see the high fives in the hallway. And we see the belief that you have in our kids – many of them are up here. So thank you for always believing in them. Thank you for seeing the best of them."
Holmlund is one of two people who nominated Cabral for the award. She said he was the obvious choice.
"It was an easy pick – you see the way that he interacts with the kids, and the amount of joy he has for his job – it was easy," she said.
The award recognizes people who "demonstrate dedication and commitment in working to ensure that children and youth are living in safe, supportive, and nurturing communities."
Cabral is not only a leader in the middle and high schools, he also coaches volleyball, Native Youth Olympics, and Little League to name a few. But Holmlund says his impact goes far beyond that list.
"It's incredible thinking about the number of things that he does and does so well, and so genuinely, for our kids, and the impact that he has on kids for their entire life," she said.
Alaska Children's Trust is a statewide organization focused on preventing child abuse and neglect. Trevor Storrs is the President and CEO. He said that when kids have positive relationships with adults, it can help reduce risks.
"When they have at least one – goal is three – caring adults outside the primary care providers that they can go to, that they can trust and ask for help. That really has a major impact," he said. "That's what Jamie does."
Eli Anderson is a freshman at Petersburg High School. He said Cabral helped him figure out how to heal with a recent injury. He spoke directly to Cabral during the awards ceremony.
"You just overall just been just an amazing influence in my life. And I think I speak on behalf of literally every student that goes to this school that would just have an unending amount of things like just thankfulness for you, because you're just so amazing," he said. "Thank you so much Mr. Cabral."
Anderson said he feels like he can go to Cabral for absolutely anything.
Cabral said a lot of who he is comes from his childhood in Hawaii.
"The values that we have a lot around the family, and making sure we're doing right and taking care of, you know, everyone," he said.
He said he sees the community as part of a big family, one with different backgrounds, but where teamwork can make anything possible.
But he also credits one particular role model in his life – his high school teacher and baseball coach, Mr. Sousa.
"He was the inspiration," he said.
He said Mr. Sousa was very firm, but was constantly looking for ways to inspire his kids and help them accomplish their goals.
"And so supportive of the kids, you know, he would have us over at their house, I remember how many times he would say 'Study session tonight, Mrs. Sousa's cooking dinner,'" he said.
School Board Member Katie Holmlund said now it's Cabral who constantly supports kids in Petersburg. She addressed him directly at the end of her speech at the awards ceremony.
"I don't know how you manage to do it all," she said. "But you do it with a smile on your face. And it becomes very clear that the hard work is your hard work. So, Jamie, thank you. We appreciate you. You're a teacher, a dad, mentor, coach, cheerleader, world class athletics director and our Petersburg Champion for Kids."
The crowd erupted in applause and whoops.
There were more than a few misty eyes by the end of the ceremony, as people headed into the school library for cupcakes and cookies.
The other two recipients of this year's Champion for Kids awards were Robert G. Denny of Talkeetna and Deborah Northburg of Anchorage.