Supporters and opponents of a Petersburg borough say they were not surprised by the state's initial findings on the town's petition. A preliminary staff report recommends that Alaska's Local Boundary Commission approve the plan as is, for the most part. The state's now accepting another round of public comments on the proposal. Matt Lichtenstein has more on the preliminary report.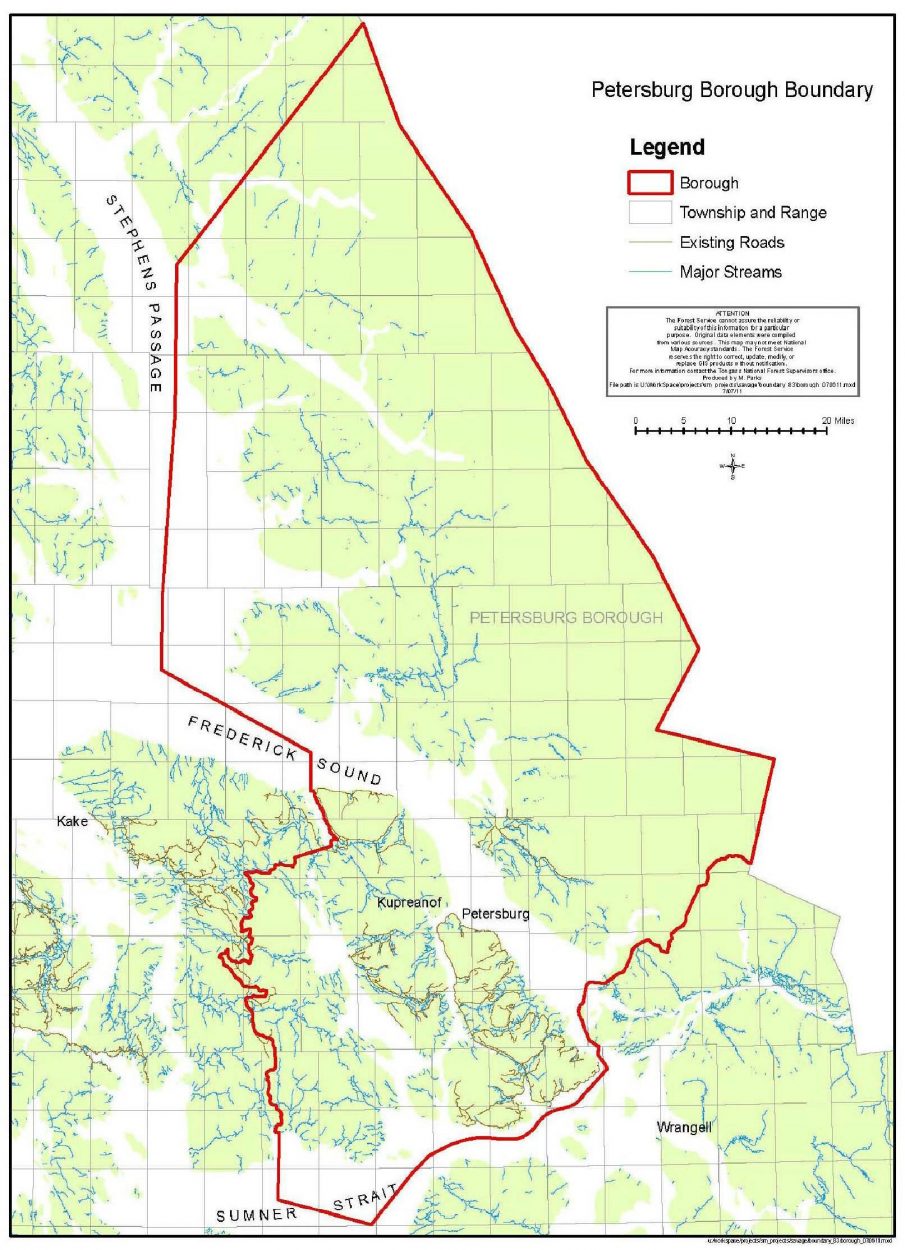 In a nutshell, the boundary commission staff's initial finding is that Petersburg's borough petition meets state standards, with some adjustment to its northern border.
"I was pleased to see the commission made that decision," said Petersburg city councilor Don Koenigs. He said the state wants to see boroughs formed so he was not surprised by the staff's conclusion.
"Yet having said that there's going to be a lot of convincing of the residents within the proposed area to make sure that it works right and…..the benefits outweigh the drawbacks. Because, if it doesn't happen now it will happen at some future point in time because that's kind of the goal and objective of the state is to see oversight on varying areas," Koenigs said.
Petersburg's borough petition and its supporters cite a number of reasons for having a borough including taxation to help support schools and other public services and infrastructure that's used by many area residents, a stronger voice on regional priorities and needs, and broader participation in local government.
Koenigs has been a vocal proponent of the Borough since well before he took his seat on the council.
"I do have some issues on taxation. I am listening to what the people that are outside. I mean there are residents within the community that are opposed to it for a variety of reasons. I think we need to address them and weigh…the comments that those in opposition have, whatever points that they make in opposition. But I think from what I am hearing and what I am seeing I think the benefits will outweigh the objections. I'm hopeful our local council will continue to be engaged in this dialogue," said Koenigs.
Under the plan, Petersburg's city government would instead become a borough government that would oversee an area of land and water about a hundred times the size of the current city limits. The petition calls for the current city sales tax and transient room tax to apply borough-wide. However, it would impose a much lower property-tax rate on areas outside the old city limits.
The only other municipal government that would be included in the new borough is the city of Kupreanof, a small roadless town of about 27 people roughly a half mile across the Wrangell narrows from Petersburg. Under the borough plan, Kupreanof would retain its own local government with its own powers of planning and zoning.
The Kupreanof city council has been firmly opposed to being part of a Petersburg Borough so the state's preliminary report was not welcome news there.
As far as the state report, Kupreanof Mayor Dana Thyness said, "Naturally I'm disappointed. We had a city council meeting a couple days ago and we are all disappointed but I don't think we are terribly surprised. I think we might have expected this because people who work for government tend to think that more government is always better and that's how I see it. This will be more government."
Thyness sees the borough issue as divisive.
"You know I can't agree with the stance of the City of Petersburg that this will unify us. I think it's driven a real divider between us as a matter of fact," she said.
Kupreanof is not alone. There has been plenty of other opposition. It's come from some people within the city itself as well as outlying residents who live much further away and have little access to city services except when they boat to town. Some borough opponents say they see no benefits and they worry that a Petersburg-dominated assembly and voter-base will eventually increase the tax on outlying areas.
In a recent email to the Local Boundary Commission, Keene Channel resident George Cole accused the state of railroading the plan through. Cole wrote, "Any pretense that this process has been one of careful consideration of values, goals, common interests, or fairness was certainly shattered by your preliminary report."
The 55 page report lays out the state requirements for borough formation and generally explains how the Petersburg plan fulfills each of them. Local Government Specialist Brent Williams, who works for the Commission, said, "There's a number of standards that the commission has to look at many are regulatory, some are statutory and constitutionally based"
One of the many standards he and other staffers considered, for instance, is called "Relationship of Interests." In general, according to Williams, that's a matter of whether the social, cultural and economic activities of the proposed boroughs residents are related and integrated.
The report summarizes some of the arguments on both sides of that issue but ultimately finds, "that the entire proposed borough embraces an area and population with common interests to the maximum degree possible."
According to the report, some of those interests include commercial and subsistence fishing, hunting, boat travel and the use of services available in town like the schools, the library, shopping or the dump. The report acknowledges that people outside Petersburg may use services in town more sparingly than city residents. However it asserts that they do use them for many purposes besides just a post office box.
Williams said there was a lot to consider.
"We had the petition, we had several responsive briefs and reply briefs and dozens of comments and all those were looked at and considering all the arguments that were made pro and con. And we looked at all those arguments and then came to the conclusion that we came to. That the petition did meet that standard," he said.
In another example, the report found that the size of the proposed borough is appropriate with 3270 residents and about 4300 square miles of land and water. That makes it smaller in territory than two-thirds of Alaska's other boroughs and closer to the middle for population.
Both Juneau to the north and Kake to the west continue to object to Petersburg's proposed boundaries. The issue prompted Juneau to file a competing petition to access roughly half the territory within Petersburg's proposal. However the staff recommended only one change to Petersburg's proposal. That's the exclusion of Tracy Arm and the Whiting River in the most northeast corner of the boundaries.
Williams emphasized that the release of the preliminary report kicked off another opportunity for the public to weigh in.
"It's important to say the staff writes a recommendation and what will happen is that there will be a public comment period which will end march 28th. People can comment on the report and we will take those comments into account. Then we write a final report. While the schedule can change, the final report is scheduled to come out may 7th," Williams said.
The Commission itself is tentatively scheduled to hold a public hearing in Petersburg at the end of May followed immediately by another public meeting in which the five commissioners will decide whether to approve, amend or reject the petition. If it's approved in any form it then has to go up for a public vote.