High school shop students in Petersburg will be able to make signs for local hiking trails with some new equipment paid for with federal grant money.


For iFriendly audio, click here:
The school district's shop is sporting a new router, planer and table saw this year. The new machines have vocational education teacher Nick Popp excited about the possibilities for his students. The new router is computer controlled, and as Popp told the school board this month. "So basically all the work is done first on a computer so the student does all the design work," Popp explained. "Then what we do is we download the file to the machine then you put the stock, the material, whatever wood, whatever you're working with plastic or aluminum, you put the stock on the machine and basically you hit go and this machine runs around and zips out these parts, like it says up there, super accurately, extreme precision and automatically machines parts so if we wanna mass produce a whole bunch of pieces or parts, this machine is awesome."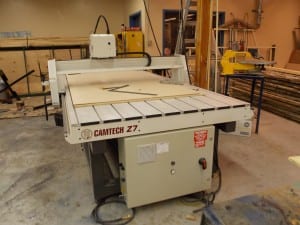 The router can also carve three dimensional carvings. It, along with the new planer and table saw, was purchased with federal grant grant money totaling more than 43-thousand dollars. They were the were the idea of former city councilor Paul Anderson, who's also a member of the resource advisory committee for Petersburg, Wrangell and Kake. That committee makes recommendations on spending federal money for improvements on or near National Forest land under the Secure Rural Schools act, the same legislation that helps fund school operations.
Popp explained that the equipment will help students make signs for national forest hiking trails. "We have an agreement with the forest service, we're gonna hopefully make them a whole bunch of their signs. Like you see all their trail head signs, you know Petersburg Lake three miles or two miles. You know, when those forest service signs fall apart or get vandalized, hopefully the forest service will come to me and say hey Nick, we need a new sign that says this I have students sit down at the computer, design it out, choose different fonts. We'll throw a piece of yellow cedar on the machine and hit go. The beauty of it is we'll save those files. However many years, they need another one, we find that file, throw a piece of wood on the machine and away we go."
The new table saw has a larger blade than the school's old saw and safety features like a blade guard and riving knife to prevent kick-back. Popp said the new 22-inch planer is quieter than the school's old planer. "The beauty of this one is instead of three high speed steel knives, we now have helical carbide cutter heads which shear diagonally, which make it just buttery smooth, super quiet, less potential kickback, so it's safer better, everything about it is wonderful, I told my students I live this machine so don't wreck it. I love my wife way more but I love this machine, so don't wreck these new pieces of equipment."
He told the board the high school shop is close to getting the machines up and running. The school district contributed matching funding of over nine thousand dollars for the new equipment and plans to sell the shop's old table saw and planer.