Public employee retirement benefits and the state's ferry system are top priorities for Juneau Democratic Senator Dennis Egan heading into the upcoming legislative session. Thanks to redistricting, Egan takes over a new senate district that now covers Petersburg and several smaller Southeast communities along with his hometown. He'll also be one of only two Democrats in a new senate majority caucus.


For iFriendly audio, click here:
Egan's newly-expanded Senate District P includes Juneau, Petersburg, Kupreanof, Hobart Bay, Skagway, Gustavus, Excursion Inlet and Tenakee Springs. Bert Stedman a Republican from Sitka, represents the rest of Southeast. Egan and Nome's Donny Olsen are the only two Democrats who joined the new, majority coalition of 13 Republican senators.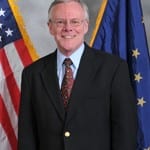 "Republicans control the senate and I made a gut-wrenching decision to join them because there are only two of us in Southeast Alaska now," Egan said during an interview earlier this month. "We lost a senator, we lost a representative and I thought it was very important that Southeast Alaska get represented fully when we talk about issues and those issues come out of the majority caucus."
The last session saw a bipartisan 16-member majority caucus, with Egan and the other 9 democrats joining six republicans, including Stedman, to make up that coalition. The other four more-conservative republicans were in the minority then but this year the tables are turned. The bulk of the senate democrats are now in the minority, which means much less influence.
Egan acknowledged he does not agree with the majority on all the issues, but he felt that he and Stedman, had to join. "And I think we need a voice. I mean it was a horrible thing for me to do in my own mind but I think Southeast Alaska needs more representation," Egan said. When asked why he added, "Well you know I've been a Democrat since birth because of my father and I'm still a Democrat, but to join that coalition was very tough for me." Egan's father Bill was Alaska's first governor.
The senator said he did not pledge to support any legislation in return for joining the majority. Following their organization this fall, majority members said they would be focusing on increasing oil production in the state and oil flow through the trans-Alaska pipeline. Other senate majority priorities are commercializing natural gas supplies and coming up with state budgets that are sustainable for future generations.
Egan expected oil tax rates will again be a big issue in this year's session and said he likes the approach taken by the Senate last year. "We offered incentives to the oil industry," he said. "The incentives the Senate offered last year was, you produce, we give you incentives. You don't produce, no incentives. And the house refused to hear it. But I think that was the right way to go."
Meanwhile, Egan said his top priority is something he tried to pass last session – changing public employee retirement plan options. He wants to give municipalities, school districts and state employees the option for defined benefit retirement plans, or pensions based on years of service and salaries. That would be in addition to the defined contribution plan, or 401K-type savings account currently in use. Rising retirement liabilities prompted the state to close its pension plan to new employees in 2005. Egan's bill passed the Senate on the last day of the session in 2012, without time for consideration in the house.
This session, Egan will chair the Senate's transportation committee and hopes to hold a joint hearing with House transportation chair Peggy Wilson of Wrangell over the status and direction of the Alaska Marine Highway System. Specifically, Egan questions Governor Sean Parnell's decision to build several smaller Alaska Class ferries, instead of a larger 350-foot vessel that had been planned. "We've been through this whole process and the whole idea was to create this Alaska Class Ferry to replace aging vessels like the Malaspina and the Taku. I mean, we're celebrating the 50th year of the Malaspina this year and the state now is saying they can do things to it and add another 20 years, well I don't know if I wanna ride the darn thing," he said. Egan said the plan for the smaller ferries came "out of the blue" while the larger 350-foot had been planned with community and advisory board input.
One bill that Egan filed before the start of the session covers procedures for hospitals, insurance providers and others to audit the records of a pharmacy.
Egan was the only legislator who didn't have to run for re-election because his new district was deemed similar enough to his old Juneau district, even though it now includes Petersburg and the smaller towns. The senator did not visit Petersburg in 2012, despite invitations from local officials. Egan says ethics rules prevented him from making the trip until after the new session gets underway. "I could not go cause I was not running. I wasn't campaigning so I couldn't go, because I don't represent Petersburg officially until the 16th of January," he explained, adding, "And I just hate it."
Egan said he has had contact with elected officials in Petersburg and knows the community's issues. He hopes to visit Petersburg in March when other legislators take time out from the session to head to an energy conference in the nation's capital.
The first session of the 28th Alaska legislature starts up January 15th.