After a planning process that started over 15 years ago, the new Petersburg library is finally set to open this September. But that also means that starting July 26, the current library will shut down until the new one opens. KFSK's Robbie Feinberg headed to the library and spoke with a few staff members about how they're handling the transition.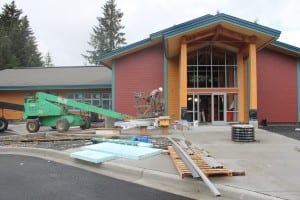 The staff says that the physical transition hasn't started quite yet. The books are still at the old library, and they won't be moved until late July, once the shelves are added to the new location. However, the library has already shut down many of its summer programs. No reading program. No passport services after July 18.
Tara Alcock is the borough librarian and Sue Paulsen is the chair of the capital campaign committee for the new library. Paulsen and Alcock say that they'll be using a unique strategy to make sure the library doesn't have to bring every book over to the new location.
"When the Petersburg Public Library moved from Main Street, and moved up here to the Municipal Building in 1960, reportedly, they invited all Petersburgers to check out five books and bring them back in the new facility," Paulsen said. "So I don't know if that technique will be employed."
Alcock said that's exactly what the library will do.
"We're asking people after July 8, to check anything they like out, and to not bring it back until September 10th, to help us move," Alcock said.
Once that fateful day hits, Paulsen knows that the transition will be difficult for residents who use the building regularly.
"I think it's gonna be a tough one," Paulsen said. "But it's something we have to bear to open the doors to our new beautiful new facility which will have more room for everyone, more items for everyone, and certainly the community center we've been looking for all these years."
But she gave advice to those who'll be going without a library for an extended period of time: stockpile all of the books that you want, and share them with others.
"And remember that someday we're going to look back and say, 'Remember when,' and life in this little, tiny space will be unimaginable," Paulsen said.
That transformation will be huge. The new library will have a large community meeting area. A soundproof children's room. A new fireplace lounge, and a lot more seating. But Alcock says she's most excited about a new area for teenagers, which she's been looking forward to for a long time.
"The teens are going to have their own space. This is very exciting," Alcock said. "Our teen advisory group has been working very hard to select the colors and the furnishings, and they're going to be the ones to organize the space. So we have a pretty talented, motivated group of kids that have put in a lot of time and will continue to do so to make that teen room a space for local teens.
So I think that's gonna be a real jewel for us."
The library is also upgrading its technology, leaving behind the desktop computers it has now and adding laptops that users can check out. Added on to that, the library will also have a wireless network for anyone to connect to.
"Which I think is gonna make people pretty happy, because those strict time limits on internet usage are gonna be wide open now," Alcock said. "We're gonna be able to give people a lot more time on the computers. They're gonna be able to sit where they want. If they want to go to a quiet place, they can. If they want to sit with their kids, they can. And we're looking into iPads now.",
For Paulsen and Alcock, the move is a long time coming. Both say that they've been working on the transition since last June, and to have an end in sight is satisfying.
"Well, it's amazing. Because there have been beginnings of attempts made as much as 25 years ago, we began talking about what the future would be like," Paulsen said. "And then the ball began to roll. And there have been many efforts made by many different people. And finally, it's come together, and here it is. It's amazing."
"I think for me it's exciting that we're finally gonna have a place for people," Alcock said. "I think libraries of the past have been very focused on books and the printed word. And they're still such an important part of what we do. But I think libraries now and in the future are very much about people, and this has been a struggle for us in our current space. And in our new library, there's a place for books, but there's finally a place for people. And I think in small communities, nothing is more important than places for people in the new library."
Alcock says that there's still much left to do over the next three months, from transferring books to alerting the public to making sure everything's working properly in the new library. But she says the library feels ready to take on that transition.