Petersburg's oldest harbor is empty and a contracting company Thursday started pulling pilings and removing the aging floats. Those are the first steps for a major project to dredge the harbor and replace the float system over the next ten months.


For iFriendly audio, click here:
Western Dock and Bridge of Ketchikan has the seven point one million dollar contract to replace north harbor floats and got started Thursday morning pulling old wooden pilings from the sea floor.
"Yep as you see they're pulling out the first piling right now, gosh I think it's the Signe Lynn's stall is going to be the first one that goes," said harbormaster Glorianne Wollen. She watched the work get underway Thursday before meeting with representatives from the U.S. Army Corps of Engineers about the three and a half million dollars of dredging work that's expected to start later this summer.
The harbor's mostly deserted, except for the barge and crane and several other work boats. Wollen and her staff helped move vessels to other spots in the middle and south harbors this year. However a few small skiffs and larger boats, including the Department of Fish and Game's vessel Kestral, remained tied up there until the final days. "We had the Kestral was the last boat to leave," said Wollen. "She stayed out there on the end kind of anchoring her spot until 6 o'clock this morning and then we've moved her down to C float and barge came in last night and set their anchors in and here they go so, yeah, pretty exciting."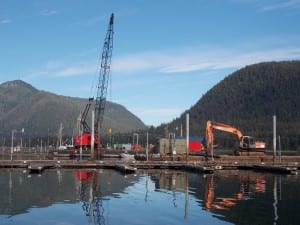 About one hundred pilings will be coming out, and the old floats have all been spoken for, sold or given away, so they'll be floated to new homes over the next two weeks. Parts of the harbor were initially installed in 1958. More permanent cement floats were added in the 1970s and its been more than a decade and a half since the municipal government started talking about replacing North Harbor.
Wollen said she took a final walk out onto the aging floats this week. "Yeah, I uh yesterday," she said getting choked up a little bit. "You know when you grow up in a place, its…I actually did I went out to stall 37 and took out my Dad's, my Dad was out there for about 50 years and came and went from that stall my whole life, so…"
Wollen's late father John Deboer served on the harbor board for about two decades and she says he'd be thrilled with the new harbor that's coming in. Overall, she said people won't see a big change in the new harbor. "This is kind of one of those deals where we really aren't going to improve on the lay out much. You know we are going to use the basin a little bit better but we're gonna, it'll look real similar. We love wood. It's easy for us to maintain and keep up with. So, the entire float above water will be wood. Below water is a little bit more modern materials that we hope we can get a little bit more longevity out of."
The north harbor is the site of the first harbor in Petersburg, completed in 1937 according to the Corps of Engineers. Additional dredging happened in 1957, 69 and 71. Local resident Tom Lewis Sr remembers working on the harbor in 1957. "We drove piling and then they put boards on it and made a bulkhead and pumped the dredge tailings up behind that. But the harbor wasn't very big in those days," Lewis said.
Lewis said that clay and mud pumped into the bulkhead created Harbor Way and the waterfront of today. Before that tides would come in underneath the pilings of the buildings on Main Street. Lewis also talked about the dredge spoils that made Harbor Way. "It seemed like when they pumped that up, as soon as the water run out of it you couldn't hardly stick a pick in that. It had enough clay and it got solid. No question of that."
A new round of dredging is scheduled to start up September 1st but this mud and clay will be barged to Scow Bay, taken ashore and then trucked along the airport bypass road up to the borough's landfill. Its estimated over 4000 truckloads will go up the hill and be dumped. To make room, a large pile of tires has been relocated and reused at the gun range south of town and a contractor will be removing the pile of junked cars and scrap metal from the dump later this month.
The harbor project is scheduled to be complete in time for the Little Norway festival next year.