Petersburg Medical Center has told the contractor that's replacing the hospital's roof to keep working this winter and finish the job. The Juneau construction company had considered taking the winter off from the half million dollar project and says it's behind schedule because of bad weather.


For mobile-friendly audio, click here:
Silver Bow Construction of Juneau started work on the roof replacement in late summer, one of Petersburg's sunnier and warmer summers in recent years. The scheduled date for substantial completion was November 21st.
Silver Bow VP Jeremy Adam blames poor fall and early winter weather for missing that date. In a December 10th letter to the medical center's architect, Adam wrote, "We wish we were further along but we're not." He added that the company was "confident the quality of the work is there and will be there at job completion." Adam estimated another nine weeks of work was needed. Adam met with medical center staff and the project architect December 6th over concerns about the completion date and quality of the work.
Medical center CEO Liz Woodyard is hopeful it will be finished on the new timeline. "We really want to make sure that our patients are well taken care of and that the project gets done," said Woodyard. "That's really our goal, we need to have the project done. It needs to be done correctly and safely and that's kinda what we're working towards now. A representative with the company came and went through each item that needs to be fixed and repaired and I think we're really confident that with Joann our architect that between the two of them they're gonna be working together."
Architect Joann Lott of the Juneau firm Jensen Yorba and Lott wrote a memo to the borough and hospital board December 6th. In that memo, Lott noted that the contractor was considering shutting down the project for the winter and resuming in the spring. Lott wrote that she told the company that was not an acceptable option.
In her memo Lott wrote, "Silver Bow has opted to start and stop work in various areas of the roof in an effort to get the majority of the roofing panels installed. The approach has resulted in the entire roof being 'in progress.'There is no area that is 100 percent complete. The overall appearance with this approach is that the work is of poor quality."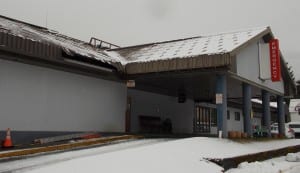 Mike Boggs, hospital maintenance director, said the project is taking too long and he's not happy with the work. He estimates overall the project is about 85 percent complete.
"And I can kinda see some method to their madness, getting lot of the sheets down and yep, we're almost done, we're almost done, not even close," said Boggs. "Went through a period of time with no snow clips during that first dump we got and that was like living in an avalanche zone. Yeah kinda stuck between a rock and a hard spot at this point."
Boggs said Silverbow workers had to be called in to replace metal blown off the roof during heavy winds this month. He says it's the worst time of the year to have a partially finished roof on a building.
"Not only do we have a lot of elderly people here and, what do we have, 110 employees, we also have some very expensive equipment, that I don't, well I do know how many ceiling tiles I've had to replace and that's the nature of the beast, but that's not my problem, I didn't bid the job," said Boggs. He said the unfinished roof has let rain and moisture into the building. "It has, it has and it's been rectified at that point. But when you blow the ridge cap off something and it's raining out, you are gonna get wet. I mean it's just a bad deal."
Two state grants are paying for the new roof. Since the hospital building is owned by the municipality, the city of Petersburg contracted for the work with to Silver Bow in 2012 for just under $470,000. CEO Woodyard says anticipates some changes on the project will boost the price tag another $60-70,000 but says they'll have enough money.
Meanwhile the company estimates it has replaced 80 percent of the old roof panels but needs another six weeks of good weather to replace the remaining ones. Other work includes installing some flashing, gutters, snow guards and downspouts.