School officials say a major wall and window renovation project at the elementary school in Petersburg is going well. The work will kick into higher gear after students and staff empty out the building over the next two weeks.
22WALLSweb
The two point three million dollars wall, window and insulation replacement project started in April. Alaska Commercial Contractors of Juneau is the company doing the work.
At this month's school board meeting, maintenance director Dan Tate read from a report written by architect Tony Yorba. "Contractor reported he was nearly done with phase one, the early start work and may discontinue work until he has full access to the rest of the school. He reports good cooperation with school staff and has not been delayed by school actions in any way. School district, Rob Thomason and Dan Tate as well as elementary school staff, Erica Kludt Painter, report that the contractor has been very good to work with. School has been kept clean and the work has proceeding in an orderly manner so that school has proceeded generally without interruption."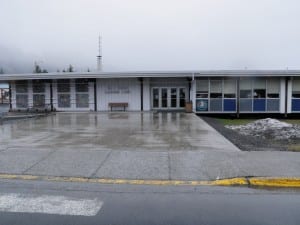 Principal Erica Kludt Painter praised the school employees for working around the construction. "I do need to note that about our staff, I mean our maintenance crew and custodial crew but our teachers and aides as well who have just really worked with this whole thing and still managing to teach and they really are still managing to teach, which is really a credit to the whole crew."
Students will only be in the school for another week – School for elementary students is out early because of the construction. May 30th is the last day for kids at Rae C. Stedman. Tate said staff will be out of the building after June 5th and the contractor planned to take down the remaining walls after that. Tate also noted the elementary playgrounds would be closed this summer. "Except there'll be access for the community garden back through the new pool's, the new pool's, it'll be the north parking lot, the one that's not used as often. So they can come though the gate and they can come down and get to the community garden that way. Otherwise the playgrounds yes, they will used for storage of construction materials, just like the side that you see now."
It's hoped the project will mean lower heating bills for the four-decade-old building. Photos of the work are posted on the school district website.
The school board also approved a budget for the upcoming fiscal year, which starts July 1st. It's based on a student enrollment of 425 kids, a projected drop of five students from this year.