You might have noticed posters of National Parks on display in a few places around Petersburg. They're the work of Kupreanof resident Doug Leen and an artist Leen has employed to reproduce some historic images and create new ones.
Some of Leen's posters are reproductions of images made under the Works Progress Administration's federal poster project between 1938 and 1941 – others are new creations done in the same vein. 49 of the works are also now on display until next spring in the Nation's capital at the Department of Interior museum in Washington D.C.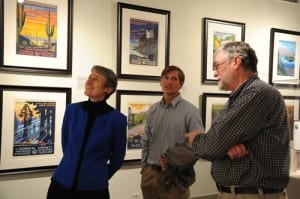 Leen got started down this road of recreating parks posters when he found one of the originals while working as a seasonal ranger in the Grand Tetons of Wyoming. Joe Viechnicki spoke to Leen about his work.
12POSTERSweb
Some of the posters on display at Lees Clothing and are for sale at Miele Gallery. They're also online here.