The state's latest draft plan for transportation in Southeast Alaska calls for construction of roads near Juneau, Petersburg and Sitka. It also recommends retiring some mainline ferries in the region as new Alaska class ferry boats are built. The plan is out for public review this summer.
27SATPweb
The Southeast plan is part of a bigger statewide planning effort for roads, ferries and airports. The last version came out in 2004. Alaska Department of Transportation spokesman Jeremy Woodrow said the document covers DOT priorities over the next two decades."That provides the department a starting point and an endpoint of goals to achieve over those next two decades," he said.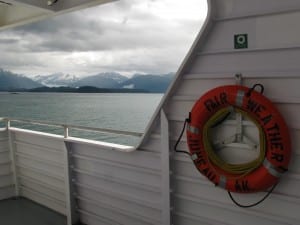 The draft plan recommends pursuing three major road construction projects. Those are the road out of Juneau along the Lynn Canal to the Katzehin River. From there ferries would connect to Haines and Skagway. Another is the proposed road from Kake to the eastern side of Kupreanof Island. That would allow for a shuttle ferry connection across the Wrangell Narrows to Petersburg. A third proposed road would run across Baranof Island from Sitka to a proposed ferry terminal at Warm Springs Bay.
"So extending those roads or creating road access between communities helps shorten ferry routes, improve access and improve the amount of people that you can transport or that can move throughout these different corridors" Woodrow said. "So that's the purpose of putting those three roads that have been identified in the plan. But the plan also calls for maintaining the existing transportation infrastructure that we already have in Southeast Alaska as well as existing ferry routes."
The draft plan notes the Sitka to Warm Springs Bay connection is not expected to happen within the next two decades unless the state gets additional transportation funding. If it did come to fruition, the DOT would end direct ferry service to Sitka, and instead serve Sitka through a new ferry terminal at Warm Springs.
The recommended road projects are controversial and carry large price tags. The road out of Juneau for instance is estimated to cost over half a billion dollars. An earlier decision on that project was challenged in court and the state was ordered to consider ferry service as an alternative to the road. A supplemental environmental review could be out sometime this year.
Malena Marvin is executive director of the Southeast Alaska Conservation Council, the regional environmental organization that took the Juneau Access project to court. "Overall we're just disappointed that DOT isn't recognizing the state doesn't have the finances to support this kind of road budget. You know perhaps 10 years ago it was reasonable to think we could keep building boondoggles forever. But at this point funds in federal highways are drying up and we really have to choose priorities. Are we going to build giant dangerous expensive roads that we cant afford to maintain, that no one really needs or are we going to maintain the ferry fleet that we rely on to get from community to community?"
The plan says the DOT will need 61 million a year for new project construction and another 67 million to refurbish or maintain existing ferries, roads and airports. That adds up to two and a half billion dollars over 20 years and does not include the cost of a Baranof road and terminal at Warm Springs Bay.
Other recommendations include retirement of mainline ferries – those older ships that connect Southeast Alaska communities to Bellingham Washington or Prince Rupert British Columbia. It recommends replacing or retiring the Malaspina, Matanuska and Taku by the year 2024. Two planned Alaska Class ferries would take up service in Lynn Canal and one new mainline ferry could be built for an estimated 226 million dollars. Another 50 million dollars would go to build an airport in Angoon.
"Well I think that for the first time in a long long time what has been presented is actually a plan," said Robert Venables, chair of the state's Marine Transportation Advisory Board, which advises the Alaska Marine Highway System. "There's going to be a lot of public comment and input. But I think rather than previous editions that were really a compilation of projects and wishlists and no real direction, I think this document actually does provide a framework for discussing how the department of transportation can address moving goods, people and services throughout the region in a manner that hopefully meets this needs over the next 20 years."
Woodrow notes that while recommendations are in the plan, it does not mean those projects will happen. "And it's important to point out this is a plan. It doesn't necessarily mean everything in the plan is going to be enacted over the next 20 years, such as the Warm Springs Bay. I think in the plan it lists several times that it's unlikely funding will be made available for it, but it's important to list out because that's one way we can improve transportation access in Southeast Alaska."
A 2004 plan included some other big road projects that are no longer recommendations of the latest version. Among those were a road across the Cleveland Peninsula north of Ketchikan and a road up the Bradfield Canal into Canada.
The DOT will be taking public comment and holding meetings around the region. Dates and places have not yet been announced. They're hoping to publish a final plan sometime in the fall.
The draft plan is available on the DOT's website. Comments can go to dot.satp@alaska.gov