Commercial salmon gillnet fishing around Petersburg and Wrangell has been somewhat of a mixed bag in the early season with some strong runs of sockeye and coho boosting catches.
23GILLNETweb
The king salmon return to the Stikine River near Wrangell has played out as fishery managers expected this year. The Alaska Department of Fish and Game's area management biologist Troy Thynes said the latest in-season forecast in mid July puts the Stikine king run at 26,000 fish, same as the pre-season forecast. "So not a great return of king salmon to the Stikine River but I guess about what we expected it to be. So, we always hope that the forecasts were low and we were gonna get more fish than we expected."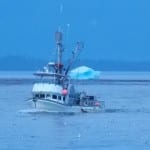 Directed king salmon fisheries for trollers and gillnetters can happen around the Stikine River in May and early June if the run is large enough. It wasn't this year so fishing didn't get going until the middle of June. Thynes said an estimated 20,000 kings are expected to make it back to the Stikine to spawn, well within the department's escapement goals.
King salmon are still showing up in catches in district eight around Petersburg and Wrangell, although Thynes noted the bulk of those are hatchery fish returning to Crystal Lake near Petersburg and Anita Bay near Wrangell. Anita Bay has kings and chum salmon returning at this time of year but fishing's been slow there. As of mid July gillnetters had caught a total of 6,500 kings there and about 3,800 Anita Bay chums.
Returns have been better for sockeye salmon on the Stikine although that hasn't meant larger catches. The latest in-season forecast puts that run at 240-thousand reds. Thynes said that number's gone up since Fish and Game did a pre-season forecast. "You know all in all you know sockeye at least returning to the Stikine are looking better. It's been kinda interesting this year in particular because our catches out in the salt water gillnet fisheries have not been a good indicator of what's returning to the Stikine and so what we saw early on is pretty poor catch rates and then we saw a lot of fish showing up in the river so we were just missing em I guess."
Only 21 boats fishing in district eight in mid July. More than twice that were gillnetting in district six, around northeastern Prince of Wales Island and west of Wrangell. Those boats were catching a mix of all five salmon species. "District six there's a lot more of the different salmon species coming through and also a lot more stocks coming through, especially for sockeye," Thynes said. 'It's a very mixed stock fishery out there. So catching Stikine fish, local island stock sockeye as well as sockeye heading further down into southern Southeast."
Helping the catches in district six is another strong run for Neck Lake coho. That's a hatchery run of early summer coho salmon returning to eastern Prince of Wales Island. The pre-season forecast there was 15-thousand coho but the gillnet fishery had already harvested double that amount by mid-July.
Gillnetters have seen some extended fishing periods in July. Thynes said the number of boats gillnet fishing around Petersburg and Wrangell has been down this summer. "Some of the extra time has been a result of the low effort. So sounds like a few guys may trickle back down here this week and we'll see if we get an increase in effort. But it's been very low in both districts all year long."
Thynes thoughts some boats have opted for better chum fishing in Lynn Canal while other permit holders may be sitting out salmon fishing opting instead for Dungeness crabbing, which is enjoying a strong catch and a high price this summer.
As for gillnet prices kings have been averaging around three dollars a pound. Sockeye has fetched a dollar 75 a pound, coho a dollar 15, 60 cents a pound for chum and twenty cents a pound for pink salmon.