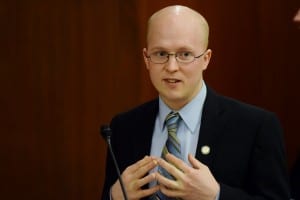 Voters in central Southeast Alaska next week will be choosing from one of two relatively young candidates for a new district in the Alaska House. House district 35 encompasses Sitka and Petersburg and 22 other remote island communities in the panhandle. As Joe Viechnicki reports, the democratic incumbent has a two-to-one fund raising edge heading into the election.


According to the latest filings with the Alaska Public Offices Commission, 25-year-old Sitka Democrat Jonathan Kreiss Tomkins has reported raising nearly 58-thousand dollars in the campaign. That includes donations from several public employee and trade unions and the United Fishermen of Alaska.
Kreiss Tomkins has spent over 43-thousand of the money he's raised on ferry transportation and other travel costs, advertising and mailers. He's also paid two campaign managers and fielded a question on that issue during a recent Sitka Chamber of Commerce forum this month.
"I love to call them consultants and they help me stay on the right track," Kreiss Tomkins said. "We try to run a grassroots oriented campaign and that involves organizing volunteers, keeping me on track, writing letters, getting media, designing media, advertisements, mailers, all the trappings of a political campaign. This is not news. Nearly every campaign in Alaska, nearly every legislative campaign in Alaska, has a campaign manager. You pay your campaign manager. So in the last APOC reporting period, I paid my campaign managers fortunately, and that's what was reported."
Kreiss Tomkins is finishing up his first term in the Alaska House representing Sitka and many of the communities, but not Petersburg. The district is changing due to redistricting.
His challenger is 37-year-old Petersburg republican Steven Samuelson. At that same forum in Sitka he said his campaign relies on volunteers.
"I have volunteers," Samuelson said. "I have people who are working incredibly hard. They have jobs. They take a lot out of their personal time. Nobody's on a payroll on this campaign and as far as me, we just keep plugging forward and movin' along. So no, there's no consultants and every dollar that we're bringing in on this campaign is being spent as appropriately as possible,"
Samuelson reported campaign income of over 26-thousand dollars, with contributions from several republican and business organizations. He's spent over 18-thousand dollars on travel, mailers and advertising.
Samuelson has run for state house twice before, losing both times in the primary to Peggy Wilson of Wrangell.