Petersburg's borough assembly Monday will get an early look at the borough's draft budget for next year.
The assembly has asked for an earlier review of the annual spending plan, instead of waiting until May or June to vote on spending levels for the municipal government. Finance director Jody Tow will be presenting highlights of a draft budget for the fiscal year that starts in July. Some of the big question marks are the future of federal and state payments to the borough. Congress has not continued the Secure Rural Schools payment program to counties with National Forest land. And elected state officials are considering widespread budget cuts including the possible elimination of the state's municipal revenue sharing program. The assembly may hold a special meeting in February to review specific borough department budgets and propose changes.
In other business, the assembly will continue its discussion on regulating marijuana in the borough. They're asking for public input on whether to control location and operations of pot businesses once a voter initiative takes effect on February 24th. The state legislature and other municipalities are also tackling the issue this winter.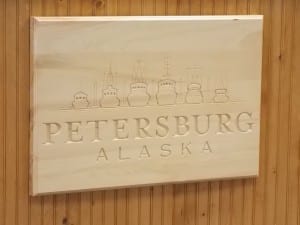 The assembly will consider the third and final reading of an ordinance on parking violations. There's also the second reading and public hearing for ordinances on making the Thomas Bay Power Commission an ad hoc advisory committee and creating a new property tax exemption for farm buildings.
The assembly will vote on an engineering contract of just under 60-thousand dollars for replacing a sewer pump station in Scow Bay.
There's also a closed-door executive session planned to further discuss bidding for Alaska Mental Health Trust land at Papke's Landing. The Trust land office says it will use a two-part auction for the lots, sealed bids followed by a live auction with the three highest bidders. The trust is only using that two-part auction for the Papke's Landing lots, and not any of the other parcels in their statewide winter land sale.
The assembly does not plan to have a second regular meeting this month because members will be out of town attending an Alaska Municipal League conference.
The meeting starts at noon in borough assembly chambers and it will be broadcast live on KFSK.