The Federal Energy Regulatory Commission is cancelling a permit for a Bellingham company to study potential for a hydro-electric power plant in Thomas Bay near Petersburg. It's a site that has drawn interest from other companies in the past.


The federal commission in August of 2013 issued a three-year preliminary permit to Hydro Development LLC to investigate the feasibility of a new hydro generation site at Cascade Creek, on the mainland in Thomas Bay, about 15 miles northeast of Petersburg. Such a permit puts the company first in line to submit a license application to build the project.
Hydro Development of Bellingham Washington was started in 2012 and applied for the permit about the same time another Bellingham company was denied its third consecutive permit to study the project.
On March 17th, FERC issued an order canceling the latest permit, with over a year left on its three year term, because the company has been late filing progress reports. Hydro Development's Corky Smith said this week he wasn't sure whether his company would appeal that order or otherwise try to continue pursuit of the project. Smith owns the Olivine Corporation in Bellingham, a company that mines the mineral of the same name and uses it in the manufacture of high-temperature burners that can convert wood waste to energy.
Another Bellingham company, Cascade Creek LLC held the preliminary permit for the site and even prepared environmental documents for building a power plant there. FERC denied Cascade Creek a third preliminary permit for the site in 2012. The company that bought Cascade Creek reported spending more than two point seven million dollars on work to prepare a license application. At one point, Whatcom County, the county government based in Bellingham, also filed an application for the site but ended up withdrawing that application.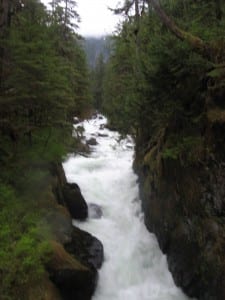 This permit and others filed for potential projects in Thomas Bay have been controversial. Local residents have objected to development of a popular hunting and fishing sites for energy that could be shipped out of the region. Other sites in Thomas Bay have also drawn interest. Petersburg, Wrangell and Angoon filed competing applications for another potential project. Petersburg and Wrangell each spent hundreds of thousands of dollars seeking the rights to study on site at Ruth Lake as a potential additional power source. Angoon's permits for Ruth Lake and Scenery Creek lapsed in 2012 without any license application.
Trey Acteson, CEO of the Southeast Alaska Power Agency which sells power to Petersburg, Wrangell and Ketchikan, said the Thomas Bay hydro sites are on a list of potential projects that SEAPA could pursue in the future. SEAPA is three years into a five-year effort to identify and compare hydro sites near the existing transmission lines it owns in central and southern Southeast Alaska.
"Those particular projects you're talking about will obviously be looked at through our hydro-site evaluation process, but at this time we're not working toward committing or jumping in trying to file," Acteson said.
Acteson said there are around 60 potential projects that could potentially be tied into SEAPA's existing transmission lines. He points to several studies that concluded a powerline connecting Southeast Alaska to the Canadian grid does not make financial sense at this time. Without new demand in the region, like new mining projects or other potential large customers, the energy from a new project like Cascade Creek would likely have to be exported, to pay for the large cost of building the new hydro generation site.
Acteson said he'll be interested to see if another company applies for a permit for the site. "You know obviously when you go file on a project FERC is requiring more due diligence now to keep the permit moving forward so people aren't just sitting and banking projects if they're not really serious about developing 'em."
The cancelation of the Hydro Development permit is effective April 16 and new applications for permits can be submitted after that date. The company can also request a re-hearing to appeal the cancelation.