Paving work at Petersburg's James A. Johnson airport is in it's third month and should be completed by next month.
The nearly three-million-dollar project started in March and will mean new pavement for the taxiways and apron where planes taxi and are parked between the terminal buildings and the runway.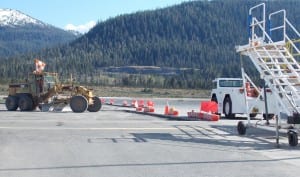 Knik Construction of Anchorage is the company doing that work at the state-owned airport.
"It's actually almost just a pavement job which involves rock and oil and crushing up the existing layer of asphalt and then putting down a new layer on top of that," said Alaska Department of Transportation spokesman Jeremy Woodrow. "It's not a complete rehab project where you may actually have to redo the sub-surface. In this case the subsurface is still in good condition and all we have to do is just put down new pavement."
Existing pavement on the apron was around 15 years old, and 30 years old on the main taxiway from the runway to the terminal.
"Lot of people are wondering at this time when the state is in a time of fiscal uncertainty, the majority of this project is actually paid for with federal funds," Woodrow explained. "It's about 94 percent federally funded."
Petersburg's twice a day jet service from Alaska Airlines is continuing despite the paving. It has caused a few changes. Planes are towed into position near the terminal and passengers have been walking off the plane into the parking lot, before returning to the terminal for their bags. In addition, the access road behind the airport has been closed to the public during the project. Work is scheduled to be finished by the end of June.
Another state DOT project is getting started this spring, a major rehabilitation of pavement, drainage and sidewalks on Haugen Drive and South Nordic. That work will include an extension of the bike path past the airport, and sewer line replacement. A different company, Secon, has the 8.3-million-dollar contract for that project, which is expected to last into next year. The first part of that, sewer line replacement on South Nordic, just south of downtown, is starting up this week.