Wrangell High School dealt Petersburg's boys basketball team its first conference loss of the season Saturday. The Vikings had a pair of tight ball games, splitting the series on the road in Wrangell. Meanwhile the Lady Vikings continued to add to their win column.


On Friday the Vikings won 37-34 in a game that went down to the final minute. Stewart Conn scored 15 points that night, including the final steal, basket and foul shot to put Petersburg up by three points for good. Jordan Lapeyrie and Wolf Brooks both scored six.
On Saturday, the Wolves won 54-49. Conn had 26 points in that game, Kjell Witstock added 11 and Alan McCay scored eight. Coach Rick Brock said the Wrangell gym was loud with two competitive games. "It was awesome to see as many people from Petersburg come over," Brock said. "Even more people showed up on Saturday and then when the word gets around that the game was good on Friday the gym was pretty packed. And like I said, lots of noise, lots of energy. Good hard-fought games on both sides. Wrangell really came after us. Overall I hope we learned a few things. We lost the game on Saturday in the second quarter, it wasn't in the first third or fourth. It was, we dug ourselves too deep of a hole in the second quarter."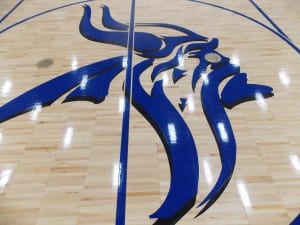 The Vikings got into foul trouble in the second quarter of Saturday's game and were outscored by the Wolves 17-5. Petersburg was able to tie up that game in the second half but the Wolves Wrangell pulled ahead and went on to take the game.
The Vikings are now 13-5 on the season and Saturday's loss was the first against a 2A opponent this season. Petersburg's still in position to capture the top seed at the regional tournament but still has to win on the road in Metlakatla this weekend. Coach Brock said there's still a lot of basketball left. "You know Wrangell's got a very good squad and so does Metlakatla. The seeding is important, we talked about that the other day. But just as important is we have to continue to play better. So hopefully we learned some things this weekend. Metlakatla still has to travel to Wrangell so. We have four conference games left and everybody else has six. There's a lot of the season left, gonna be some shuffling around as we go." The boys play Friday and Saturday in Metlakatla.
The Lady Vikings took two games from the Lady Wolves with the scores almost identical, 61-32 on Friday and 63-32 Saturday. Coach Dino Brock thinks his team has been getting a fast start on opponents with tough defense and running the ball. "I thought that we pushed the basketball well," Brock said. "Thought we rebounded well, played great defense. First night we were up 3-12 at the end of the first quarter. Just started out the game rolling, playing well and going from there. The second night we were up 2-18 so we started out even stronger. Really it started out defensively, playing solid defense and rebounding and running and I thought we got up and down the floor, we ran hard all weekend."
Kylie Wallace led scoring both nights, with 18 points the first game and 16 the next. On Friday Emma Chase added eight points and Ruby Brock and Chandler Strickland scored seven apiece. On Saturday Ruby Brock had 11 points while three players, Chase, Strickland and Josie Prus had seven points.
Brock said he heard good things about how well his team moved the ball both games. "A lot of assists this weekend, especially on the break," said Brock, adding "getting the quick outlet and getting lay ins or getting quick shots."
The Lady Vikings improve to 15-1 and head into three home games this week Thursday, Friday and Saturday. Thursday's game is against Haines, with Metlakatla on Friday and Saturday.
After this weekend, both teams have one more home series early next month against Craig.