Like the rest world, in Petersburg the warmer months mean construction season. That's even more the case this year with numerous public paving, infrastructure and construction projects underway or on the way.
The most noticeable is probably the 8.3-million dollar paving, drainage, sidewalk and bike path project in its second year on along Haugen Drive and South Nordic Drive not far from downtown. The Juneau construction company Secon has restarted work this spring and will be continuing through the summer. Borough manager Steve Giesbrecht says that work has the biggest impact on Petersburg's downtown.
"The plan is to have that stopped and the road totally open for Mayfest and for Fourth of July to try and make that easy as we can on folks," said Giesbrecht. "Once they kind of get out of the downtown area I think it's less impactful on at least the people right there at the main intersection at Nordic and Haugen. I think that's the biggest impact because it's just a bottleneck there. So, I think we'll all have to deal with it between now and the fall, Septemberish I guess."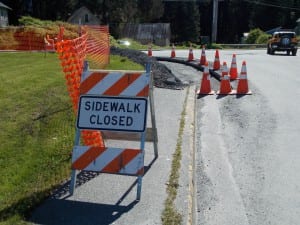 There's also sewer system work just south of town along South Nordic Drive, and on Haugen Drive to get ready for the paving. And the borough also plans to pay Secon to do over half a million dollars worth of paving on local streets this year because that contractor is in town. That means the borough's public works department is fixing some of utilities, drainage and surface of those roads in preparation for paving.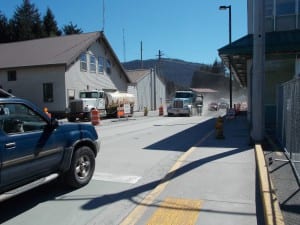 The borough wants to repave portions of Eighth Street, Aaslaug, Gauffin, Excel, Fram, Gjoa, Surf, Charles W, Odin and Lumber as well as the part of Third Street near Wrangell Avenue.
Another large borough project just getting started is the 6.6 million dollar renovation of the police station and municipal building. That's also a two-year project being done by a company called MCG Constructors/DCI Joint Venture of Juneau. Giesbrecht said some work has already begun. "The main thing is aebestos and lead paint abatement that's going on both the first and second floor," he said. "That'll happen give or take another 10 or 12 days. At the same time the main contractor that is doing the remodeling is starting to mobilize. They've got their work trailer there. They have their supervisor on site. We're already meeting every week to talk over plans and they're getting supplies ordered that kind of stuff. That will come pretty shortly after the abatement is done."
Other work is underway at the public library. That three-year-old building is getting rock drainage landscaping on the surrounding lot by local company Reid Brothers.
Also this summer, construction is scheduled for a new 1.3-million dollar loading bulkhead along the parking lot at Petersburg's new drive down dock in South Harbor. That work is being done by Tamico of Petersburg. Giesbrecht said with the contracting and sub-contracting companies involved it is a little difficult to get an idea of the local construction work force. However, he was able to come up with a rough estimate.
"Roughly 80-90 jobs for the summer and about a third or half of those are local employees, people hired locally to work on these projects," Giesbrecht estimated. "That includes flaggers, and people of Tamico and Reid Brothers and Rock N Road, doing the library, kind of a mix of, and as well as (Department of Transportation) people brought in, also local maintenance crew that are helping out on some of these projects."
Giesbrecht apologized to the public for the traffic delays and detours with all the work this year and asks motorists to watch out for workers when driving through construction zones.
Most of the public works are scheduled to be finished this year, with the exception of the municipal building and police station renovation which will continue into next year.