A former Petersburg fisherman and Petersburg Fisheries worker was one of two winners on last week's (6/9) finale of the Fox TV show "American Grit." Clare Painter and another contestant with Alaskan ties both take home a prize of 250-thousand dollars for outlasting the other teams through a 10-espisode series of grueling obstacle courses and challenges.


American Grit is a military-inspired TV show that featured 16 competitors in teams of four battling their way through mud, wet and cold of Washington state in the winter.
One of the contestants, 47-year-old Clare Painter came to Petersburg right out of high school and worked in the fishing industry between 1986-1998.
"Yeah I worked at Petersburg Fisheries for the summer season of '86 and '87," Painter said in an interview earlier this month. "And the fall of '87 I got a packing job for the last month of the season on the Apache with Jim Odegaard. And then after that I just started bouncing around. I worked a couple years with Jim Odegaard and we long-lined and did herring and tendered salmon. And then I fished with Scott File on the Icy Queen. I've worked on a couple boats out of the Seattle area. And then I worked the last 10 years of my career up there I was on the Deer Harbor with Hans Hansen."
These days Painter lives in Omak, Washington. She does restorative hoof care for horses and some horse training. She's also on a tourist board in that area. She said another member of that board forwarded Painter's name on to a production company looking for TV show cast members.
"So it wasn't like I went looking for this," she laughed. "They came and found me and the power of yes is one of those things where all you have to do is say yes and see what happens."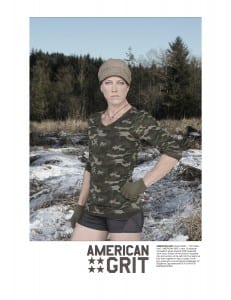 The show was filmed for six weeks last November and December at a University of Washington facility called Pack Forest just south of Seattle in Eatonville. Contestants lived in a wooden Quonset hut with a common area, and each team had their own room with bunks and storage for their stuff.
Painter said life was similar to living on a boat with a generator, water stored in a cistern and portable boat toilet.
"In the first week we were there, things were, the roof was leaky and things were not up to speed," she said. "So they were still trying to get ready. And I just learned the systems on the house and then proceeded in teaching everybody how to flush the toilet and how to deal with the sink in the kitchen, had a little JABSCO pump under there. So I mean it was very like being on a boat it was a real crack up."
Painter laughed that some contestants had their first painful introduction to devils club in one of the episodes. Her knowledge of knots came in handy for her team one week. In another episode her cold water survival training with the Alaska Marine Safety Education Association also helped her. Painter thought the most difficult part of the show was dealing with the cold and wet.
"We were dressed athletically," Painter said. "There was snow on the ground. It was always raining and then we were swimming in December, is not something I wanna do. I don't have a lot of body fat. There was a couple of them like the third episode at the end of it I was pretty much borderline hypothermic myself. You know, uncontrollably shaking cold. And to come home and work outside all day long in the wintertime but I'm dressed right. I was warmer when I came home than when I was over there in the damp, cold. It very much reminded me of Petersburg winters."
Painter's competition ranged from a 21-year-old professional wrestler to a roller derby player, a triathlete, a cop and a former pro football player. She was the oldest woman on the show. She had three other team members, including Mark Bouquin, who she learned on the show also spent time in Alaska.
"I think the last year I was running the boat south I didn't even realize it I was sitting watching Mark perform in a lumberjack show on the waterfront in Ketchikan," she said. "And so we had a good chuckle out of that. Ironically we ended up being on the same team. He's an arborist and has been in Sitka and Ketchikan. He lives in up-state New York in the woods in a cabin. And so of all the people on the show, him and I were the only two people who live in the country and didn't make our bodies in a gym."
Each of the teams had a military veteran mentoring them through the challenges. Painter's team was led by retired Army Sergeant Noah Galloway, also well known for his appearance on another TV show, Dancing with the Stars. Painter called him a great leader.
"Now that I've seen the show I realize that we had the best leader and we had an amazing group of people that were willing to take over when it was one of their specialties and be willing to pass the baton on to the next team member when it was not something that was a strength for them. So that was huge. Instead of one person dictating everybody's move it was like let's figure this out together and really work with the strengths that each one has."
Painter has been watching the series air with some of her friends and fans at a coffee shop in Okanogan. She said she watched a limited amount of TV growing up and but had never purchased her own TV. That changed once she appeared on this show. As for future plans, Painter said she hopes to do some public speaking.
View episodes of the show here. For more information on Painter find her on Facebook or her website.