Another batch of small hatchery king salmon has been released from a net pen near City Creek, about three miles from downtown Petersburg.
The Chinook are born and reared at the Crystal Lake Hatchery about 18 miles south of Petersburg. Hatchery manager Loren Thompson says just under 100,000 young Crystal Lake king salmon were released on May 15th. He said the fish are held in that net pen in Frederick Sound for about one month prior to their release, just long enough to imprint the City Creek location on the young fish.
"And we'll feed 'em some food each day out there," Thompson said. "So they grow pretty fast in salt water. But the main function is that they imprint on City Creek so that they know to return there."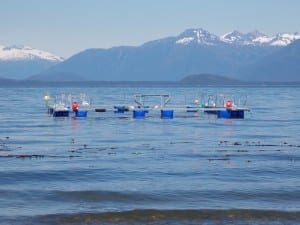 Crystal Lake Hatchery is operated by the Ketchikan-based, Southern Southeast Regional Aquaculture Association, or SSRAA.
The young fish are trucked from the hatchery to Petersburg and then loaded on a boat and taken out to City Creek in April. The boat trip is one of the shorter journeys for the hatchery organization's remote release sites in Southeast. But Thompson explained the challenge for Crystal Lake staff in feeding those kings daily for a month. "It's kindof an interesting program for us," he said. "You know we're quite a ways away from it. We're probably 30 miles away. It takes an extra effort to get out there and take care of it seven days a week but you know again it's only for a month. And we kinda like to do it. So I think it's worked out for everybody and we just hope it produces some fish."
It's year three for the program but only the second release. The small salmon scheduled to be released last spring were destroyed in a fire at Crystal Lake the winter before.
The program has already seen some returning fish caught last year and this year. In fact Thompson says it appears that at least some of the fish are not going far from their release site.
"You know they're kinda being recovered in the same area where they were released and that kinda tells me they're not traveling too far at least those particular fish," Thompson said.
Crystal Lake staff will be removing the net pen from Frederick Sound soon and the hatchery plans to continue releasing kings at City Creek in future years.