Petersburg's borough assembly Tuesday agreed to send a letter urging a land exchange rather than logging on Alaska Mental Health Trust lands on the steep hillside above Mitkof Highway south of downtown. Local residents and homeowners are concerned about landslides that have occurred on that hillside and the potential for increased risk if the slopes are logged.


The Alaska Mental Health Trust board last month announced it would go forward with plans to log lands near Petersburg and Ketchikan if a land exchange does not get Congressional approval by January 15. In Petersburg, the Trust owns lands above Mitkof Highway from Scow Bay to south of Twin Creek. In Ketchikan, the trust owns a parcel on Deer Mountain.
Local resident David Beebe called the ultimatum from Mental Health "extortion."
"These threats however are not just limited to the Ketchikan and Petersburg boroughs," Beebe said. "These are threats to public safety, and our citizens home, and private property, our local economy, their highways and other public and private infrastructure."
The Trust board made the decision to proceed with the timber sales because of the potential end of the timber industry in Southeast, which board members thought would make their land "valueless" if they are not logged soon. The Trust land office is tasked with funding mental health programs around the state using land and resources granted by the state.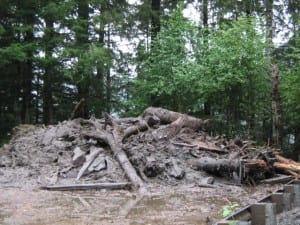 Homeowners along Mitkof Highway have been opposing the Mental Health logging plans for a decade, and advocating for a land exchange. The home owners have documented landslides over the past three decades in that area and say logging will increase the risk of slides on that slope. Organized groups in
Petersburg
and
Ketchikan
are now asking the Trust for public records regarding last month's decision to proceed with the logging.
Meanwhile U.S. Senator Dan Sullivan told a Ketchikan audience late last month he didn't know if the land exchange would pass Congress.
Local resident Becky Knight wanted the borough to lobby for a buyout of the land by the federal government through an endowment. She pointed to purchase of the Native corporation Shee Atiká's land entitlement at Cube Cove on Admiralty Island. Knight thought that Senator Lisa Murkowski and the Alaska Mental Health Trust could make that agreement sooner.
"Murkowski and AMHT could mutually agree to change the action of the bill to an endowment instead of a land exchange, which would greatly improve its chance of passage, by reducing or even eliminating opposition. Given it's fair chance of passage, as demonstrated by the Shee Atiká buyout, which has already achieved partial success, AMHT could actually finalize the action sooner."
Another person commenting, Bill Tremblay thought the Shee Atiká Cube Cove buyout was a different situation, involving the federal government and the federal law that created the Native corporation and granted that land.
"We don't have that with Mental Health," Tremblay said. "Mental Health is a state caused problem in that they didn't provide adequate support to mental health to begin with. Mental health got the scraps and they're still trying to deal with what they have for opportunities."
Petersburg's assembly considered a letter urging the Forest Service and Mental Health to go forward with the land exchange and said logging should not take place on the slopes of Mitkof Highway under any circumstances.
Assembly member Cindi Lagoudakis was swayed by Knight's testimony and wanted to add the option for a buyout. "I would like to amend the letter to add the possibility of an endowment as a plan B option, but keeping the main focus of the land exchange if that would possibly play out," Lagoudakis said.
The Assembly agreed to that change and also added information on past landslides in the area proposed for logging. That amended letter passed 5-0 with Kurt Wohlhueter and Bob Lynn not at the meeting. The letter will be sent to the Mental Health Trust, U.S. Forest Service, Ketchikan Gateway Borough and Senator Dan Sullivan.