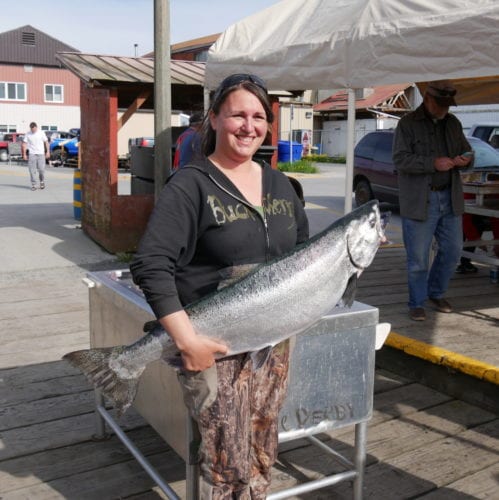 The winner in Petersburg's salmon derby came in with just minutes to spare and was caught right out in front of the harbor this year.
Karrie Byrer weighed in her fish at 4:52 Monday afternoon May 29, with the derby closing at 5 p.m. There was a small audience assembled to watch her fish go on the scale. The winning fish was 34.3 pounds. Byrer watched her fiancé Chris Malcom clean the winning king and said it was her first troll caught salmon ever.
"Well we'd kinda given up for the day, nobody was getting any bites so we came to town, dropped off one of our passengers, figured we'd go out for another half hour," Byrer said. "We just trolled out in front and my line took off and it wouldn't stop."
Byrer said she caught the king right outside Petersburg's harbor. She's getting married to Malcom Wednesday and agreed the winning fish was a good wedding present.
First prize this year is $7000, a derby jacket and free fish processing. Byrer's fish beats out last year's champ Mickey Knight for the smallest winner in the history of Petersburg's derby. Knight had a 37.6 pounder last year.
First and second place wasn't close this year. In second place at the close of weigh in was Hailey Knettles with a 30.4 pounder weighed in at 4:26 Sunday afternoon. But she just edged out Billy Ware who brought in a 30.1 pounder on Saturday just after 6 p.m.
Ware was down at the weigh in station Monday evening and said he caught the king early Saturday morning.
"Well it was like first thing in the morning, I think it was 4 o'clock, 4:45-4:50. I had laid back down to take a nap real quick and all of a sudden five minutes later I wake up, fish on, fish on," Ware said. "And so I get up, grab the pole and still rubbing my eyes trying to fight the fish. It put up a pretty good fight, It wasn't a huge fish but…"
Ware said he caught his fish at Baht Harbor on the north side of Zarembo Island. Second place gets $4000. Third place gets $3000.
The total catch for the four-day derby was 200 kings, down from 256 last year. The results are still unofficial. Successful anglers get to choose from a long list of gift certificates and other merchandise donated by local businesses at a prize ceremony on Thursday, June 1st at 7 p.m. at the ANB/ANS Hall.