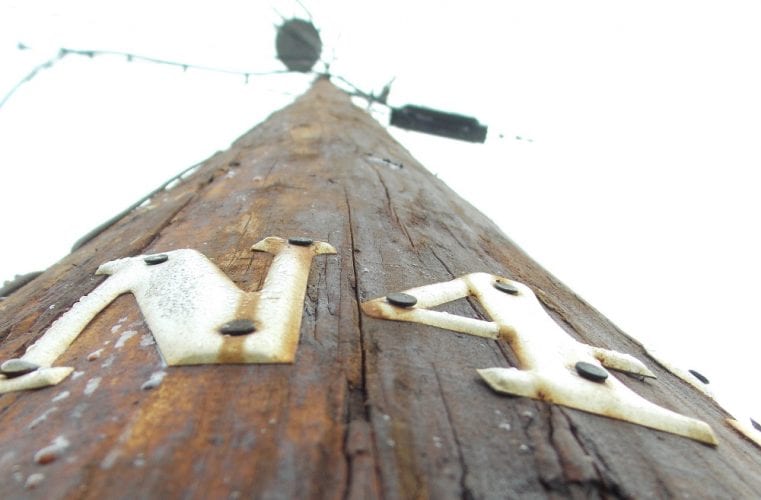 A plan to reorganize Petersburg's borough departments for the oversight of the local electric utility is moving forward again. The borough assembly Tuesday directed staff to proceed with a plan that will lead to the creation of a new utility director's position in charge of Petersburg Municipal Power and Light. It's not a done deal yet and the assembly was still split on the plan.
Assembly member Jeigh Stanton Gregor wanted the public works and utility restructuring back in front of the assembly after the borough started its second round of advertising for an electrical superintendent.
"The concern I had is the salary range we have set out fits our budget really well but my concern is it will not attract a candidate that's viable for us," Stanton Gregor said. "We could up it to 150,000-160,000 something like that and gets someone who fits more of the market value of down south but then I think we're paying disproportionately where a department head would be making more than the borough manager and it seems a bit silly to me."
The job was advertised with a salary range of 90,000 to 110,000 dollars. Stanton Gregor liked the idea of saving money for the electrical department by reorganizing. That was plan proposed by borough manager Steve Giesbrecht last year. Giesbrecht proposed putting public works director Karl Hagerman ina new utility director's job, overseeing the electric utility, along with the water and sewer departments. Hagerman's assistant, Chris Cotta would be promoted to public works director, overseeing the motor pool, garbage and street work and Cotta's old job would be eliminated.
Since the retirement of the last electrical superintendent Joe Nelson in June, Hagerman has been the interim head of the department with employee Scott Newman overseeing day to day operations. Hagerman has also been in charge of capital projects in Power and Light during that time.
Assembly member and Icicle Seafoods electrician Brandi Marohl was opposed to the reorganization. She pointed to recent contract work for installing a sectional switch at the Petersburg Fisheries Incorporated seafood plant.
"We just spent 60,000 dollars alone on one week of labor because we couldn't do a job that we were going to do in house," Marohl said. "I don't see how this is going to save us any money to have somebody in there that doesn't have the experience and qualifications. I think there's other ways to save money and again this is coming out of the enterprise fund which has plenty of money. This isn't coming out of the general fund which is hurting."
When he proposed it last year, manager Giesbrecht estimated the reorganization would save the borough over 100,000 dollars a year in salaries and benefits, plus the one time cost of interview out of town candidates and relocating someone here. Giesbrecht told the assembly this month he still supports the plan.
"Are we going to need outside expertise at times? You bet." Giesbrecht said. "But we needed that when the former superintendent was here with an electric engineering degree. You know we've been paying an outside consultant on a contract basis for many years with an electrical engineer on staff so I don't think that's the consideration I'm necessarily worried about. I am very worried about managing that department like we're doing now in the long term."
The manager thought the current interim setup left the department short-handed.
Assembly members weighed in on both sides of the issue.
Jeff Meucci and others thought the borough should give the reorganization a try, even if only it was temporary. He didn't think hiring someone from out of town would necessarily turn out well.
"We've all been involved in hiring processes for either city managers or this person or that," Meucci said. "They might like Petersburg on a nice sunny and stuff and it's the most beautiful place to live in the world but if your spouse isn't happy or the job just doesn't turn out to be as cool as you thought it was, things go south and then we're out."
But mayor Mark Jensen, who resigned last year over the reorganization, was still opposed to putting Hagerman in charge of the electrical department.
"If it came down to it and Karl Hagerman was the power and light superintendent, a few linemen leave, for instance, just a hypothetical case here, or if we lost a few people if something did arise, if we didn't have enough people on staff that knew how to handle the problem, I'm not sure without Karl having time in the job, if this happened, that he'd have the expertise to handle it," Jensen said. "So, I'm not in favor of this."
Jensen and Marohl were the only votes against proceeding with the new position of utility director and it passed 5-2. However there are more votes to come. The assembly will have to approve a slate of five ordinance changes, with three readings for each, to create the new borough position and delete references to the electric superintendent in borough code.
In related news, the assembly approved spending up to $159,432 for the consulting firm McMillen Jacobs to review the condition of the borough's Blind Slough hydro-electric plant and present alternatives for maintaining or upgrading that electrical power source. Originally constructed in 1924, it's the borough's cheapest source of electricity but only provides a portion of the power needs for the community.