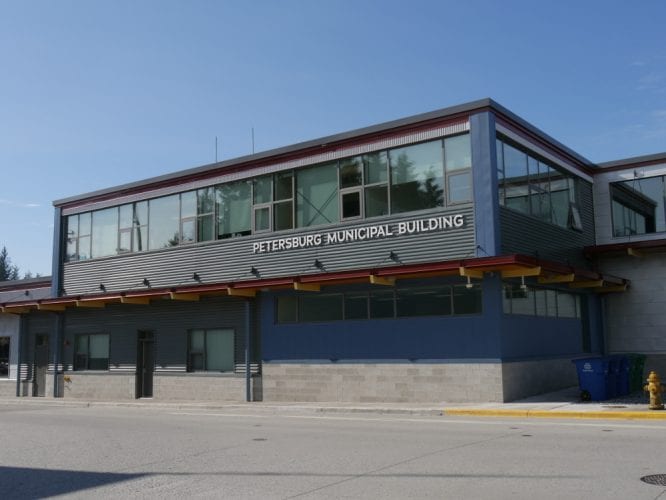 Petersburg's planning and zoning commission this month voted to recommend a new development code for the borough. Hundreds of pages long, it covers what's allowed for land use, buildings and subdivisions. It still needs approval by the borough assembly.
At a long meeting in early March the commission went through a list of more than two dozen proposed changes and voted on each. They've spent the last year drafting and reviewing the new code which will replace portions of Petersburg's existing code covering buildings and construction, zoning and subdivisions.
John Murgas thought the commission was moving too fast on the approval. "So I'm a little bit concerned that this is the last meeting to do this because I haven't had the brain power to go through all 200 plus pages to really feel comfortable participating," Murgas said.
Planning commissioner Dave Kensinger responded that the commission has been working on the code for over a year and held four public meetings this winter on the topic. Murgas was able to suggest multiple changes and the commission voted to approve some of his suggestions.
But he wasn't the only one seeking changes.
David Griffin Southeast lands manager for the Alaska Mental Health Trust land office, didn't want the borough to take over platting authority for Trust lands until 2020. Griffin said his office is looking to subdivide some of its land for sale between Papke's Landing and Blind Slough. "My fear is that if the Petersburg borough goes ahead and takes over platting this area we may not move forward with our subdivision projects and may end up just working in some other areas," Griffin said.
Platting authority addresses the layout of subdivided lands, lot sizes, road access and requirements for utility connections or other services. Outside of the old city limits that's currently done by the Department of Natural Resources and Griffin said it was easier and cheaper for his office to work with the state on that land lay out.
The commission passed one amendment to exempt Alaska Mental Health Trust land involved in a land exchange with the U.S. Forest Service from the borough's platting code until July of 2019. But commissioners voted down a delay for platting authority on other Mental Health land until 2020 as Griffin had requested.
The commission voted down proposal to amend a one acre minimum lot size down to half an acre for a classification of rural residential property. That was a change sought by John Murgas. Commission chair Chris Fry explained the thinking behind the one acre requirement.
"I think the concern is to, if we got lot sizes that small outside of the areas that have services, that we don't have a large enough lot to provide for septic, with a half acre, so that's the reason to have our zoning be at one acre is what we're calling for in the rural areas," Fry explained.
To be clear, this proposed code does not extend zoning outside of the old city of Petersburg limits, only platting authority, which includes the lot size, services and access requirements. Also, land already subdivided with smaller lots is grandfathered in and does not have to be changed with this new code.
Other changes passed by the commission covered a wide range of topics, like standards for residential dwellings around main street and in-home busineses, care taker dwellings and accessory dwelling units, market gardens, maps of the zoning districts, variance criteria and other wording changes.
Other property owners expressed concern that the commission would change industrial land to a new light industrial classification, and limit what property owners could do on their industrial land. The development code creates new kinds of classifications, but no changes yet to actual zoning on any land is included in this revision. Commissioners do expect to revisit Petersburg's zoning map and recommend changes after this code is approved.
The commission voted to recommend the new amended code 6-0. It next goes to the borough assembly for three readings, with the first expected April 2nd.