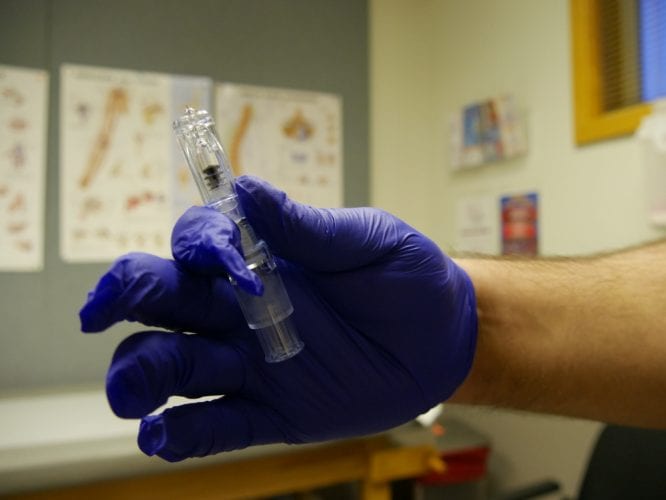 The same day Petersburg's post office was shut down last Thursday with a hazardous materials spill, the Petersburg Medical Center was treating an outbreak of influenza among passengers and employees on a cruise ship docked here. Hospital officials say it was an early warning about the upcoming flu season.
One of the last ships to call in Petersburg this season, the American Constellation was in port Thursday September 13. The Petersburg Medical Center's infection control director Liz Bacom said the local hospital that day started seeing both passengers and crew from the ship.
"So the first patient came in through the emergency room and this patient was worked up for upper respiratory, pneumonia possibly, lower respiratory and then after that, shortly thereafter we getting calls for appointments for the clinic to see more of the cruise ship passengers and employees and because the physicians work really well together they talked amongst each other, hey I've got this case, or that case and they were able to say you know this almost looks like a flu, lets investigate a little bit further," Bacom explained.
Bacom hadn't heard of other flu in Alaska from regular reports she monitors from the state's division of Public Health's epidemiology section. However, some of the patients did test positive for flu, prompting the hospital to vaccinate its own employees and contact the ship to let them know.
"What we did is Dr. (Jennifer) Hyer one of the physicians, we called the captain, let him know," said the medical center's CEO Phil Hofstetter. "They were just wanted to know recommendations and you know help limit some of the tourists activities for the day, educating personnel and it was really up to them at that point what to do or how to manage their staff and their passengers."
Samples were also sent off for testing at the state's public health lab in Fairbanks. The ship's next port of call, Wrangell, was also notified.
Physician Mark Tuccillo said symptoms of this strain of flu are different from flu viruses that hit last year. "This is actually more typical than what we saw last year, which didn't have a fever, didn't have red eyes, didn't have the whole constellation of things we usually base that on," Tuccillo said. "So luckily Dr. Hyer took a look and said no this looks like flu, red, eyes, runny nose, head ache, nausea, fevers, night sweats."
Symptoms are also different from another health problem on Alaska bound cruise ships, norovirus, which is mainly limited to gastro-intestinal problems.
State health officials say they see cases of flu just about year round and other cases have already been reported this year. The peak of the season is normally sometime in the winter or spring. The federal government's Centers for Disease Control starts counting cases in October and because of that, that's sometimes thought of as the start of the flu season. Vaccine also goes out to health care providers in the fall. Last year's season in Alaska got off to an early start and it did send people to the hospital in Petersburg. Tuccillo said last year's flu season was a difficult one.
"It was hard but luckily it was not a particularly virulent strain," he said. "Had it been a bad influenza, we would have really had some problems because, I mean I had more people in the hospital last year from influenza then I probably had in my whole career."
This year most in the community haven't yet had a flu shot and there was some concern over exposure of community members. The medical center representatives say the cases from the cruise ship are an early reminder that flu season is on its way and are taking the opportunity to repeat their recommendation to get a flu shot.
"Of course last year we all know the vaccine wasn't as great as we would have liked," Bacom said. "It never is 100 percent. It's kind of like you need to do the belt and suspenders kind of thing and even though you got the flu shot you still need to be careful with high contact areas and washing your hands and all that stuff to keep yourself from getting sick. Elderly especially when they get the vaccine their immune response can wane after several months and if they've gotten their shot in October last year by September that immunization's not going to help them. And it's a little early for the next season so we're dealing with that kind of a gap."
The hospital has received the new vaccine and officials there expect to be offering the vaccine to the public at shot clinics in the near future. People can also schedule appointments for their shot.
The American Constellation is owned by American Cruise Lines. The company did not respond to request for comment on the flu cases.