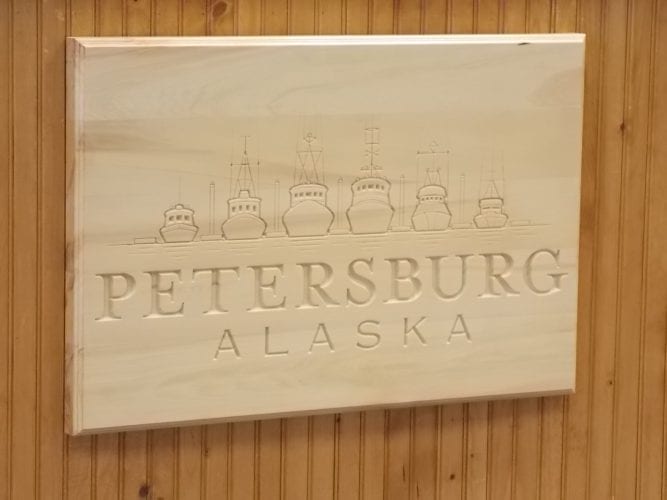 Five people running for the two Petersburg borough assembly seats this fall have a range of opinions on the one measure that is appearing on the local ballot. That's a question about ending the sales tax exemption for anyone 65 and older and replacing it with an annual rebate check for low-income seniors.
If approved, the ballot measure would end the exemption from the borough's six percent sales tax. That's been in place since 1980. It would be replaced with an annual check for seniors who can show they are on other kinds of food, housing or health care assistance. Borough residents 65 and older would have to apply each year for a check of $300 for an individual or $450 for a couple and that money would be theirs to spend as they please.
Incumbent Nancy Strand joined the rest of the assembly this year in deciding to send the question to voters. She wondered if a needs-based program should be extended to all ages. She questioned the size of the proposed rebate and thought it had a better chance of passing with a lower check amount.
The 73-year-old Strand saaid she uses the exemption on Tuesdays but not for items she considers a luxury. "I like the idea of an income-based requirement and of course residency is excellent," Strand said. "It's quite a drain on collection of resource. So I think that probably it's going to ultimately go the way of many good ideas."
In 2014 voters did agree to limit the exemption only to borough residents. Another candidate former city councilor Bill Tremblay is a year away from being eligible for the exemption but he's in favor of ending it. "I feel like in my retirement income, that I'm doing OK," Tremblay said. "With that, I don't want to cut the revenue short to the community considering we seem to have an aging community."
Other candidates come down on the other side. At 31, Taylor Norheim is decades from qualifying for the exemption. But he's leaning toward voting no and said he has a couple problems with the measure.
"You're asking a bunch of our elderly citizens, I mean 65's not elderly, but the older ones, 90, 80s, they don't get around very well, so now they have to go somewhere and sign up for a card every single year?" he asked. "I'm pretty sure the tax exemption is voluntary isn't it? So if they wanted to help out, say we need more money from just buying things around town, they can just not say I'm tax exempt and pay that tax, right? So it's totally voluntary."
Even if voters decide to keep the exemption, there will be an annual application for the sales tax exemption card. The assembly voted in February to charge an annual $100 fee for that card while creating a waiver for that fee for low income seniors. That's set to take effect in January.
72-year-old former assembly member Bob Lynn said the exemption needs to change but he doesn't think the proposed program is the way to go. He's voting no.
"I will say that I do think that the seniors particularly, and I'll use myself as an example, could I do without it? Absolutely," Lynn said. "But there comes a point when I think that there's a need there. And I think that there needs to be taken care of. And I'm not convinced in my own mind that the ballot measure here does that at this point." Lynn said he thinks other options need to be looked at for changing the exemption.
Marc Martinsen, just seven years from qualifying, is a solid no on the measure and he questioned the numbers of exemption cards given by the borough.
"Now if you take this number they're throwing around about 200 exemption cards, or 600, excuse me, that's 20 percent. That's the same as Florida. If you go to the same census, there are 347 people in this town that are over 65," Martinsen said. "I've counted 'em up three times, still comes out the same number. That's 11.5 percent, under 12. There's 12 states in the U.S. that are like that."
Martinsen's right on the percentage from the 2010 census count. People in the community 65 and older that year numbered 369 or 11.5 percent. But estimates from the Alaska Department of Labor say that's changed dramatically in just seven years, now numbering 573 people or more than 18 percent of the community. That number is forecast to continue growing as the Baby Boom generation reaches retirement age. State projections have Petersburg hitting a peak at 28 percent at 65 and older by the year 2032, one of the highest in the state and well above the state average. The state bases its estimates on Permanent Fund Dividend checks. And that 573 estimated for the current senior population is very close to the number of senior tax card exemptions issued by the borough.
Still Martinsen wants to hear more of a discussion of cutting spending. "And we have all this raising revenues, all this stuff," he said. "I have not yet heard a serious discussion of about where we're going to cut. For a town of 3000 we have a lot going on as far as government and spending. I don't see what more we can build."
Other attempts to end or sunset the senior exemption have been voted down overwhelmingly. A yes vote would end it, a no vote would keep the status quo.