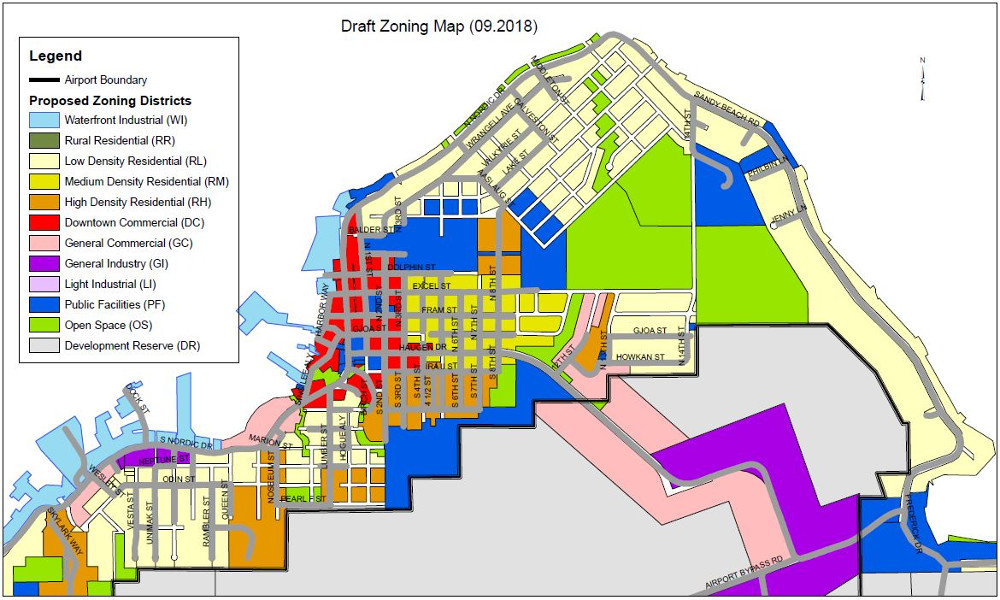 Petersburg's borough assembly Monday approved a sweeping revision of borough code on zoning, land subdivision and building construction. They also approved more than a dozen changes for what's allowed and what's required on different types of land.
The new code will replace local law that dates back to 1985. It creates new zoning classifications within the old Petersburg city limits. It will also streamline some processes for building project approval and extends the borough's authority for approval of platting, or subdivision lay out, to the greater borough area.
Many of the changes the assembly made this week address land use within service area one, or within the old city limits. One of the longer discussions was over the size limit for a care takers dwelling on industrial land. Local resident Jim Whitethorn had urged the assembly to remove the size limit. Brandi Marohl agreed it should be larger than the proposed 750 square foot limit.
"I just think 750 square feet is really small to put a couple in there to be a care taker in a dwelling," Marohl said. "You know 1200 square feet's a reasonable, comfortable space but 750 it's a little cramped."
The old code had no size limit and the residential space can be considered the primary use of that property. That can create pockets of living units on land that is intended for industry. Borough staff opposed an unlimited size for that residential space.
"So it's supposed to be, you have an established industrial use and then you need someone to watch over whatever that industrial use is like equipment or something like that and so you allow for some residential use, which is a care taker dwelling," explained Liz Cabrera, the borough's community and economic development director.
The restrictions on residential space are intended to limit areas with incompatible uses, where people are living next to heavy industry. Marohl proposed a 1200 square foot limit, which failed on a 3-3 vote. Instead a 1000 square foot limit did pass 4-2 and the assembly agreed to that amendment.
Another discussion was on allowance for a commercial garden of up to 10,000 square feet on residential property. Initially the amendment had no support for a motion. Assembly member Jeigh Stanton Gregor came late to the meeting and asked for it to be reconsidered. And Kurt Wohlhueter also supported it.
"When this first came up I must have been asleep at the wheel because it went by me and I just went, I think I was going to say something about, I should have made a motion," Wohlhueter said. "You know I think there's people now that have small gardens in their yards and things like that. I know they're sharing vegetables with other people. I get potatoes from certain people that have gardens. I think this would be a good idea for some of those people that have a little excess of crops like they sometimes do, you know that they would have an outlet for 'em, make a little bit of money on it."
Staff opposed the change because it could allow someone to put in a garden up to 10,000 square feet on a residential lot, including the use of shipping containers.
"In theory I have no problem with it," Cabrera said. "I think the scale is probably a bit much for residential. And that's really why the 'oppose' stamp is on there. I think if we wanted to allow commercial food production in residential areas, I would recommended maybe going back to talking to Farragut and Mary and maybe figuring out if we could scale it down a bit and put in a few more parameters."
The owners of Farragut Farms and local resident Mary Koppes sought the allowance on all residential property. However the assembly voted down that amendment on a 5-2 vote. The new code does allow permitting market gardens on rural residential land and other types of property. The assembly also did approve an amendment that will allow food production as a home-based business that's subject to size limits and other standards. And they voted to require standards for use of a shipping container van as a structure in residential areas.
Other changes cover setbacks on residential property, allowing net sheds as a primary use in the historic district of Sing Lee Alley and Hammer Slough and requirements for insurance and maintenance of private roads.
The code rewrite creates new zoning classifications for land within service area one. Those won't be applied until the assembly approves a new zoning map. The public process for that could start in February or March.
Several changes also apply to the greater borough. One will require anyone putting up a new building outside service area one to fill out a form with the local government. That will let the borough's tax assessor know about new structures. There's no charge for that filing. That change passed on a 4-2 vote.
The amended law passed by a unanimous vote in its third and final vote.