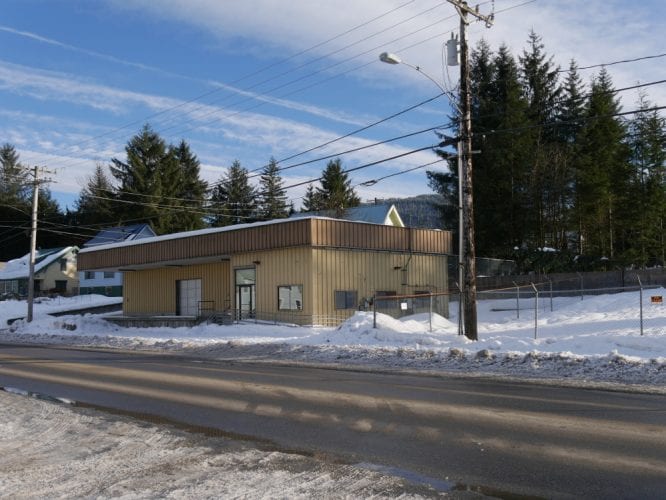 The Petersburg borough is continuing to negotiate for a possible land swap with fuel company Petro Marine.
The borough assembly Monday met in a closed door executive session to discuss the borough's next offer after deciding by a split vote to continue with talks. Petro has asked to exchange land and a building the company owns on South Nordic Drive just across from the community cold storage for the property with the Southeast Island Fuel gas station and a lot behind that.
In public comment during Monday's assembly meeting, local resident and former city councilor Marc Martinsen called the borough taking over Petro's building a lousy idea.
"Is there anybody out here ever bought a commercial boat, an old boat, and started to fix it up? I have and it just ends up being an endless amount, putting money into it, putting money into it and you end up with a lousy product in the end," Martinsen said. "And I can see this happening with this building. It's 40 years old. I mean it's going to need a lot of work. Probably quicker just to tear it down and rebuild and cheaper."
The borough's harbor department wants the Petro building for a centralized harbor maintenance facility. The Petro property includes the site of the old Union Oil or AFS tank farm. The site was contaminated by leaking heating oil and cleaned up. In 2012, the Alaska Department of Environmental Conservation signed off on the clean-up work.
The value of the Petro land is higher than the borough's property. The company has proposed applying any payment from the borough toward the installation of a mooring dolphin near the city dock that Petro leases from the borough.
The borough responded by asking Petro to pay seven years of lost lease revenue, just under 200-thousand dollars and a time period of five years for construction of the mooring dolphin. Petro did not agree to those terms.
Jeigh Stanton Gregor wanted to let talks continue.
"I know from my own perspective when we got into this there would be just as the term says a negotiation, not necessarily resolved quickly or necessarily efficiently as many negotiations are," Stanton Gregor said. "I think it's prudent to let the manager continue to negotiate and see where we can come out on the other side of this thing, see if we can get any closer to a desired outcome."
By 4-3 and 5-2 split votes, the assembly decided twice in December to negotiate the swap. However, mayor Mark Jensen and several assembly members have opposed it. Jensen continued with that opposition Monday.
"If there was a difference in appraisal they were going to, the first figure was $125,000. They were willing to put that money into the dolphin project as long as we completed it within 30 months. The PND (Engineers) came out with an estimate of $400,000 for that dolphin. So that would put the borough in my opinion a $275,000, or whatever the number is $175,000, $275,000 liability there."
Jensen also was concerned with loss of revenue from ending the lease. That figure of $400,000 has been described more as a ballpark figure for a possible cost of installing that mooring dolphin.
Again the vote was 4-3 to continue with negotiations. Jensen along with assembly members Brandi Marohl and Bob Lynn voted no.
The assembly went into closed door executive session at the end of the meeting to discuss strategy for the next offer.