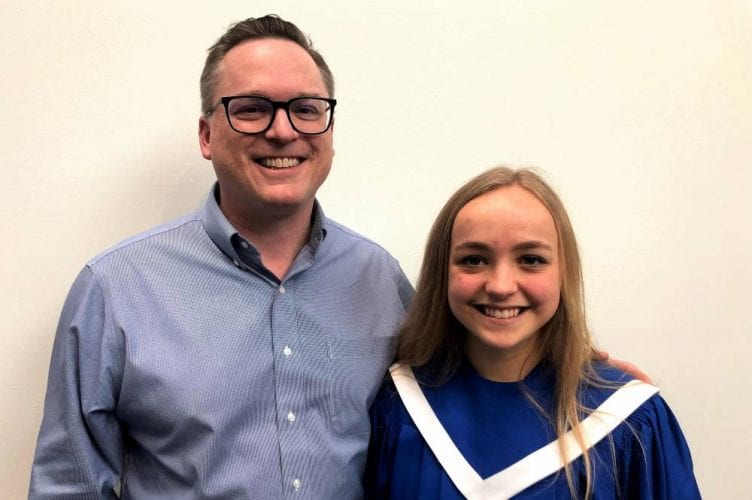 Petersburg High School senior, Eva Lenhard, made the All-Northwest choir for the second time in her high school career. She's the first singer in the school's history to be accepted twice to the music festival. The event, which was held in February, brings together the best musicians from six states. Four singers from Southeast made the cut. KFSK's Angela Denning reports:
The All-Northwest music festival features over one thousand high school musicians. There's 320 singers just in the choir.
"It's very big, it's a huge event," said Eva Lenhard, Petersburg High School senior. "It's very intense. Everyone has to really know their part and be responsible for what they're singing."
Students only get two chances in high school to make All-Northwest because the event is only held every other year. Eva went as a sophomore and then again as a senior singing Alto II.
To make All-Northwest, students audition through recordings and are chosen from thousands of singers.
"It takes a lot to stand out and you just know it when you hear it," said Matt Lenhard, Petersburg High School's music teacher.
He says besides All-Northwest, Eva has also made state honors groups since she was a freshman for choir and band.
"She has done a pretty significant amount of honors groups," Lenhard said.
And that's not just her teacher talking. Matt Lenhard is also her father. He's been teaching music for 20 years and has sent many students to All-Northwest but he didn't teach Eva to sing. She's never actually taken a choir class before. She has a busy academic schedule and just sings when the choir needs her.
"I know how to read music because of taking piano and then taking band and so I just figured it out with the voice," Eva said.
Some would say she's a natural. And that's a lot of what you get at the All-Northwest.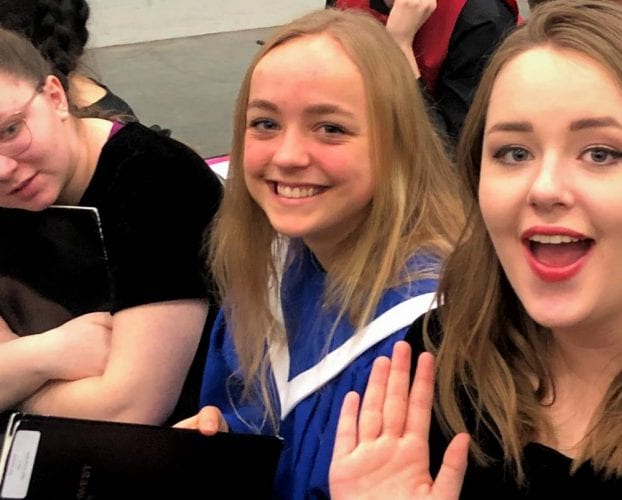 This year the festival was held in Portland, Oregon with musicians also from across Alaska, Washington, Idaho, Montana and Wyoming. They spend four days working with guest conductors, rehearsing several songs, and then performing in a final concert.
Eva Lenhard was one of 14 singers from Alaska. Three others made it from Southeast:
Mina Brooks-Schmidt, Sitka High School
Haley Boron, Haines High School
Brennan Palmieri, Haines High School
The singers worked with guest conductor, Eugene Rogers, a professor at the University of Michigan. Eva says he encouraged freedom of expression while still following his direction.
"It was completely improv like he was very inconsistent in practices because he wanted to make sure that we knew that when we went out there we wouldn't know what was coming and so we had to trust him and we had to watch him," Eva said.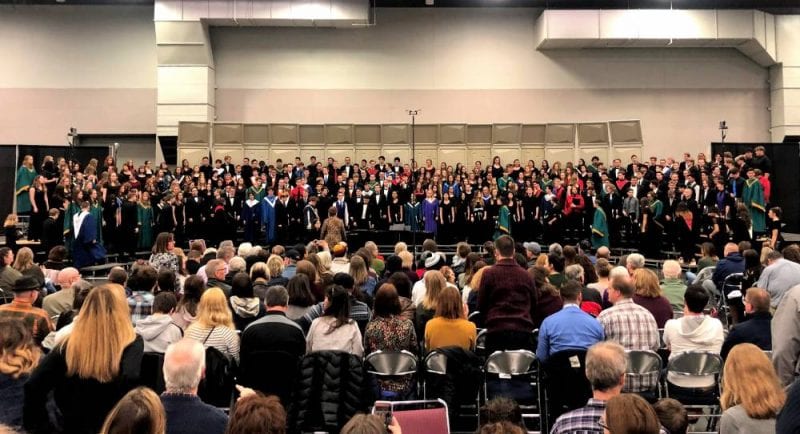 Every year that the festival is happening, Lenhard sends in auditions of his students. He's looking for standouts who are willing to work hard on their auditions and who have technical skills. Also, the affect the sound has on the listener.
"I will say too I've had plenty who match all those criteria and they don't make it into All-Northwest," Lenhard said. "I think [there are] thousands of auditions and being able to stand out and make it that's great and if someone doesn't make it, it's not a huge [disappointment] because I really stress that this is so huge."
The music year is not over for Eva. She still has Music Fest in Ketchikan in April for all Southeast music students. And possibly a state performance in May.