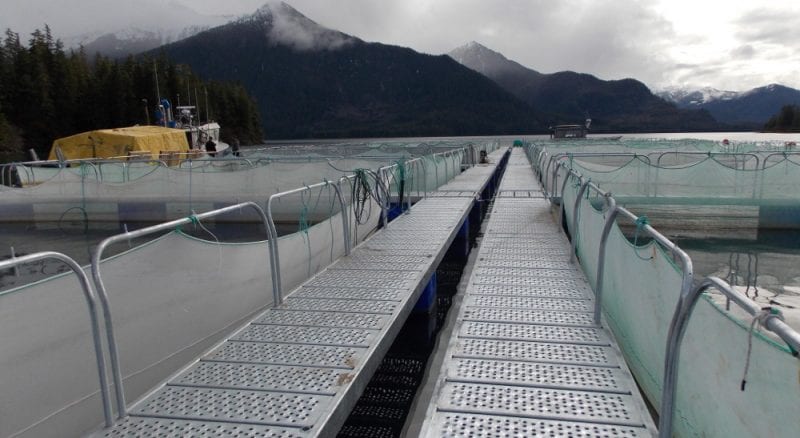 Alaska's Board of Fisheries this month had a frank discussion over whether hatchery fish compete with natural stocks. Commercial fishermen have grown increasingly reliant on hatchery salmon but some caution about releasing millions of fish into the ecosystem without doing more research.
Hatcheries have become increasingly important for Alaska's seafood sector. Commercial fishermen landed hatchery fish worth an estimated $453 million at the docks last year. That was nearly 39 million fish or just over a third of the entire salmon catch.
But earlier this month Board of Fish members met in Anchorage. Hatchery production is on the rise.
"What a lot of stakeholders I think are worried about and I'm worried about is, when does supplement and enhancement become replacement? And I think we should have a long-range goal for that," said board member Israel Payton of Wasilla, quizzing top Alaska Department of Fish and Game officials whether there could be competition with wild stocks.
Payton was addressing Sam Rabung, the state's recently promoted director of commercial fisheries. Rabung has a hatcheries background having recently led the agency's aquaculture division. He explained the increased hatchery production in relation to natural stocks.
"In Alaska our habitat is for the most part intact," Rabung said. "We have some of the best fishery management in the world. So it's not likely that we're going to get more out of nature. So the point of the enhancement program is there is more demand for fish then there are fish available so they're trying to produce additional harvestable fish alongside the natural production. The demand is there. So that's what tends to drive it in these regions. The fish aren't going unsold."
The economic benefits weren't in question. Still, Soldotna board member Robert Ruffner wanted state managers to take a broader view of the ecosystem.
"Our statewide plan is not written down but I mean I think one of the fundamental elements that would be there would be that we're trying to augment and if we found ourselves in the position where we could demonstrate that we were actually replacing wild stocks we would want to put the brakes on that because that's not the goal," Ruffner said.
The board rejected two proposals last year to limit or reduce hatchery releases in Prince William Sound and statewide. But at subsequent work sessions – like this one – there was public concern over the unknowns.
Diane Dubuc of Seward said she's concerned about the ocean's carrying capacity for salmon.
"OK you have x amount of pie, you have x amount of forage fish," Dubuc said. "Since the 1970s, us, the Japanese, the Canadians and the Russians have been dumping product into x amount of pie. We've seen over the, since the 1970s, the decrease in size in king salmon, especially in the Y-K (Yukon-Kuskokwim) Delta and we're starting to see different repercussions of that."
Nancy Hillstrand of Homer has petitioned the board to stop fish from Prince William Sound hatcheries straying into streams in Cook Inlet. She's concerned about competition with wild runs.
"We really want to have our wild fish in Cook Inlet because we have the second largest wild red salmon run in North America and I think we have to do everything we can to protect that and of course our king salmon are going down," Hillstrand said.
Others at the meeting wondered if there was any negative impact or even a positive benefit from hatchery straying.
Wild chinook have been on a steady decline. That's confounded both state and federal biologists seeking a definitive cause for the collapse of the wild runs.
Meanwile, hatchery groups, commercial fishermen and local officials from coastal communities highlight the commercial importance of hatchery salmon. Alaska hatcheries released 1.8 billion fry last year. Proponents point out that catches for both hatchery and wild stocks are currently at historically high levels with three of five of the largest wild catches occurring this decade.
But scientific literature available gives hatchery impacts mixed reviews.
A journal article in last year's American Fisheries Society reported on this record high abundance of pink, chum and sockeye salmon in the Pacific in the past 25 years. The article stated that abundance, including an increase in hatchery fish may be contributing to the decline of wild king salmon.  The researchers suggested declining size of king and coho salmon over time may be related to high numbers of pink salmon in the ocean that are out-competing wild chinook.
Alex Wertheimer, a retired fisheries research biologist and board member of the Juneau-based hatchery Douglas Island Pink and Chum told the board there's not scientific consensus.
"It has been noted this has been a concern for decades," Wertheimer said. "And yet the outcomes we've seen and the trends in Alaska salmon have not been consistent with the idea that carrying capacity has been exceeded or that competition, density dependence, is driving abundance."
In Alaska, hatchery production is regulated by region. Southeast hatchery associations will meet in Juneau in April. Some are applying to boost production even further.