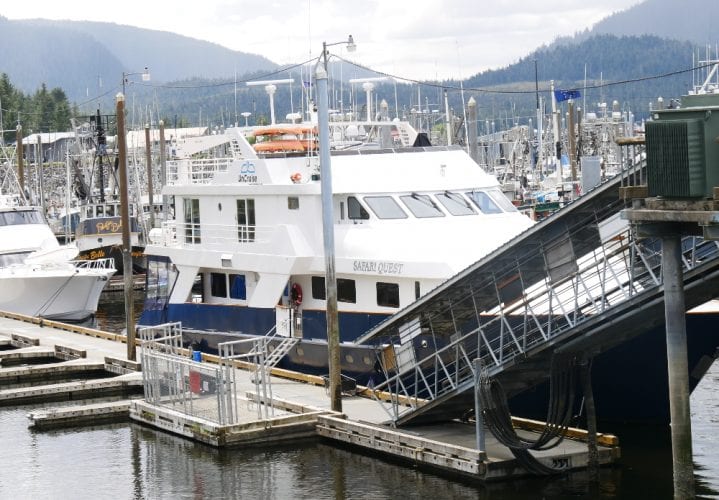 Petersburg's borough assembly Monday voted against a request by a cruise company to use the borough assembly chambers at the municipal building this summer for a passenger gathering spot.
UnCruise Adventures wrote to the borough March 6th asking to use the assembly chambers for passengers on the Safari Quest. That ship offers cruises beginning and ending in Petersburg.
Dave Berg of Viking Travel does shore support for the company and spoke on their behalf.
"UnCruise would like a place where they can share, can have their guests assemble for each Friday during the day from late June until early September this summer," Berg explained. "Initially UnCruise had the Hanson ANS/ANB building lined up but the local Petersburg market and Farragut Farms wanted that venue on more than a few of those Fridays for their public market. UnCruise would like to have a place that's consistent with each of their weekly sailings and not have to hop around potentially confusing their guests and other vendors."
Berg noted that there are other venues available to rent in the community but said they are not always available on a continuing basis. The Safari Quest has capacity for up to 22 passengers and used a room in the library last year. That's not an option this year. Passengers stay at the Tides Inn before starting their cruise.
Most assembly members did not support the request. Kurt Wohlhueter explained he would voting no for multiple reasons.
"One I think is wear and tear on the building," Wohlhueter said. "It's going to cost us extra for taking care of the restrooms and then you know the building's just going to get wore out. I think it is going to be way more disruptive for the city, borough clerks and things that work in the building here. I'm going to be voting no because I can just see this as disruptive and there's other facilities that can be rented that they have rented in the past but they have tried to shy away from it."
However, vice mayor Jeigh Stanton Gregor thought it was worth a try for this year.
"I think the assembly chambers each Friday is a pretty good, being pretty good neighbors to them since they are choosing to homeport here," Stanton Gregor said. "I understand the arguments my fellow assembly members have made but my logic was if we did it here and it didn't work then we'd very quickly learn it wasn't a good idea."
Stanton Gregor was joined by Jeff Meucci in voting to allow use of the assembly chambers but it failed on a 4-2 vote.
The assembly also voted against drafting a noise ordinance. Assembly member Taylor Norheim asked to pursue a local law for noise complaints but was the only vote in support of it.