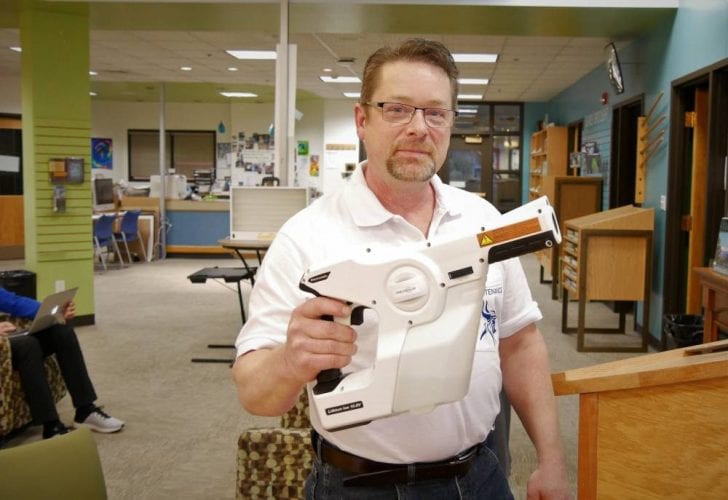 Petersburg School District is replacing the fire alarm system in the Rae C. Stedman Elementary School. The $40,000 dollar unit was approved at the last school board meeting Tuesday night. KFSK's Angela Denning reports on that purchase and new technology being used by custodians at the schools.
Petersburg's elementary school was renovated five years ago. Superintendent Erica Kludt-Painter says the wiring for all the rooms was replaced but the management panel for the fire alarm system was not and it is outdated.
"It is time to do it," she said.  "It's safe, it's functional but it's right on the line."
The $40,000 for the project has been set aside in the capital budget.
School Board Vice President, Sarah Holmgrain, said the timing might seem off because of the state's fiscal situation right now. Governor Mike Dunleavy has proposed an operating budget that would reduce Petersburg's education payout by $1.43 million. That would require cutting staff along with programs and activities. Holmgrain says the district's hands are tied as to how they can spend the fire alarm money.
"It's a big chunk of change but it's also been money that's been set aside that we can't transfer back into operating and use next year to fund. . . people," Holmgrain said, "which is frustrating."
Kludt-Painter says there's not a good alternative to replacing the fire alarm system at the grade school. She says if it were to break the district would have to hire people to watch for fires.
"If it fails, if it truly, truly fails," Kludt-Painter said, "what you have to do then is you actually have to hire somebody to come in to your district and have a 24 hour fire watch."
Another capital project that will not be affected by proposed state cuts is the food service renovations. Maintenance Director, Dan Tate, told the school board that construction is set to begin on May 6 in the Viking Café at the high school. Construction should start in the elementary school cafeteria June 1. The elementary school plans to continue to serve breakfast and lunch during the construction process. This summer lunches will be served at the public library. The school district hopes to have both kitchen projects completed by September 10.
Tate also gave a presentation to the school board about new technology custodians are using during routine cleaning. Last winter they  received training on EvaClean Protexus or what the custodians call ray guns. The ray guns are large hand held spray bottles that mist disinfectant over objects in the school.
Tate told board members the district has two ray guns and plans to purchase two more.
"We need to expand the program but I need to get a couple more because they're being shared in three large locations every night," Tate said.
The machine sprays a solution from chlorinated tablets and water.
Other new technology being used by the custodians are two touchless cleaning machines for bathrooms and locker rooms.
The machines rely on chemicals to clean instead of old-fashioned scrubbing. Tate says scrubbing stalls is time consuming and not every surface gets reached every time. He says the new machines work better.
"It hoses down the entire bathroom or locker room with the help of three on board chemicals that clean and disinfect," Tate said. "What's left is wet-vacuumed up ensuring that any remaining dirt or bacteria gets swept away."
The two touchless cleaners are being used in the schools' bathrooms every morning.
Tate says these and the new ray guns have made a difference in the maintenance department.
"The techniques and equipment used now are more efficient and they produce a better product and are much easier on a custodians body, which is a win-win for everybody," Tate said.
The maintenance department installed occupancy sensors in several bathrooms, hallways, and storage rooms. They automatically turn on when someone is around.
New doors have also been hung at the gym entrance replacing the original ones from the 1970's.