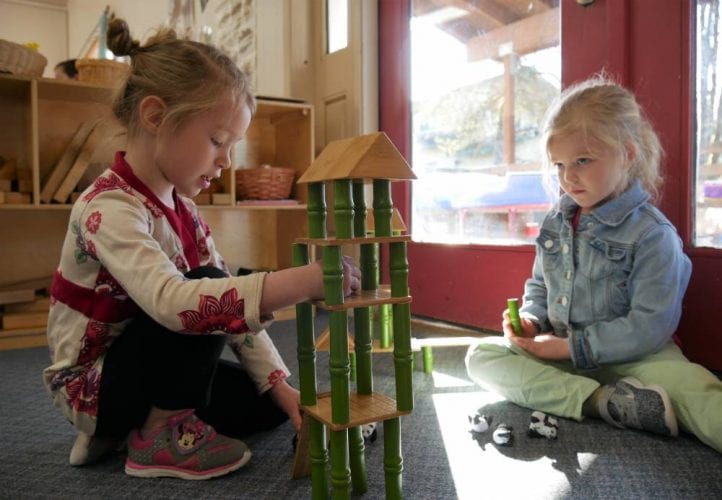 Governor Mike Dunleavy's proposed budget would cut $17 million in state funding for daycare and preschool programs: $8 million for preschools and $9 million for Head Start and other programs directed at low income families.
As Angela Denning reports, that would affect 15 Head Start classrooms in Southeast and another main daycare facility in Petersburg.
It's Wednesday morning and nearly 20 kids are playing inside Petersburg's Head Start preschool. They range in age from three to five. Some are playing with wooden blocks and Legos. Others are taping toilet paper rolls and pipe cleaners together. Brandi Heppe is the lead teacher.
"This is free play time so they get to pick and choose and play wherever they want to for this time," Heppe said. "We have blocks, we have manipulatives, we have art, science and dramatic play, we have all these different stations so that they're always engaged with something."
One station is of special interest. It's the water table and it's new this week. Kids take turns here sending squishy water beads through a marble maze.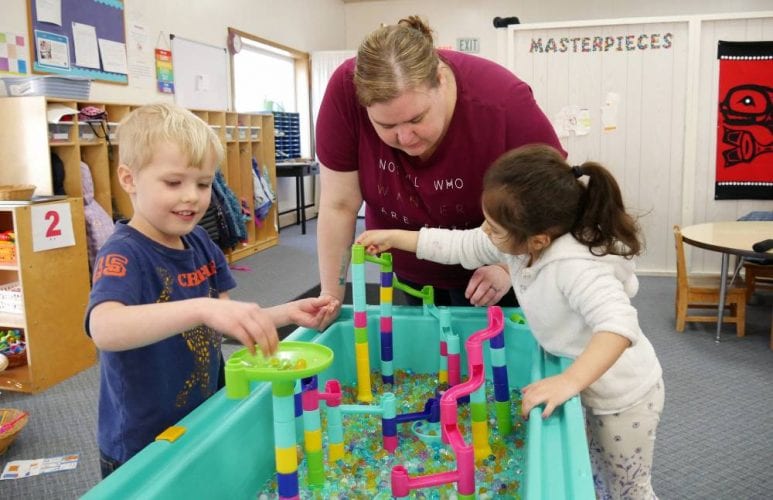 Petersburg's Head Start program runs Tuesday through Friday and it's free with low income students getting a priority in enrollment. It is federally funded but requires 20 percent matching money. State grants make up most of that.
Amber Frommherz is the Director of Head Start in Southeast Alaska through the Central Council of the Tlingit and Haida Tribes of Alaska. She says state contributions to the regional program equal about $441,000 a year.
"We depend on a lot of the state funding to operate our programs," Frommherz said.
There are Head Starts in 10 communities in Southeast that serve 262 preschool aged kids. The program employs 47 teachers in the region. Frommherz doesn't want the teachers to worry about their jobs. She wants them to focus on having a strong end of the year but the proposed state cuts are the reality.
"It would impact our personnel budget. It would impact programs, operations," Frommherz said. "Removing those funds would impact my ability to keep doors open."
Another preschool program in Petersburg  is at the Petersburg Children's Center. It serves about 30 preschoolers in two classrooms. It also has 35 infants to three-year-olds in other rooms. There are a dozen teachers along with a few support staff.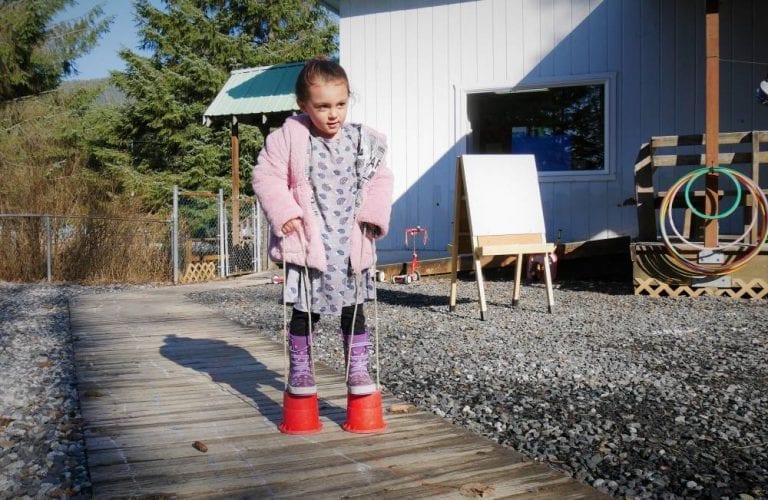 Off of the toddler room is the main office where Director Sharlay Mamoe is working at her desk. She says the center receives anywhere from $5-7,000 a month from state grants. They help low-income families with their bills and help pay the food service program.
"So it's a big chunk we'd be losing if this proposed budget goes through," Mamoe said. "It would greatly, greatly affect the standard of care we could provide and also the rates that we'd have to adjust."
For parents of preschoolers, bills average around $650 a month. For infants it's closer to $900 a month.
Mamoe says the cost of losing state grants would be passed on to parents but not all families could sustain higher rates.
"We'll have to raise them dramatically and really, really affect the parents and families," Mamoe said. "That would be devastating."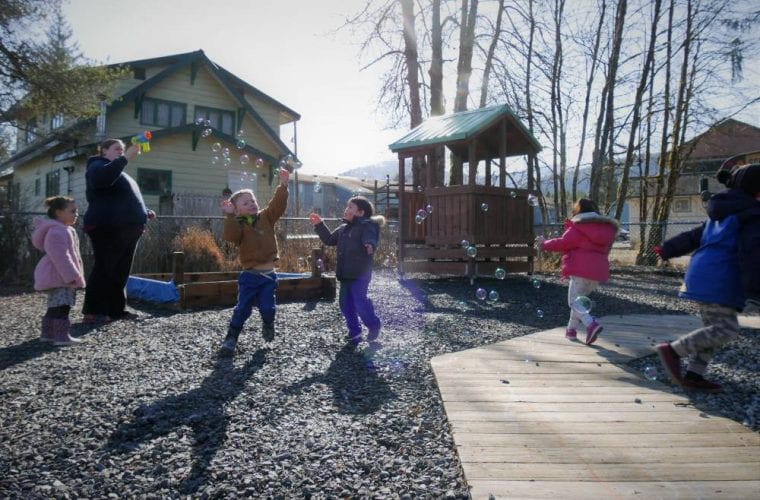 Back at the Head Start preschool in Petersburg, the children are in the playground out back. They play on the slide, kick scooters, and run throughout the fenced in area. . . until the bubbles come out. Then you hear "bubbles" yelled repeatedly as the kids chase them around.
Frommherz hopes that Petersburg's Head Start and others will continue to have funding to operate successfully.
"I'm hoping there's some solution at the capital before having to make any of those decisions," she said.
And details are being worked out in Juneau. Lawmakers are coming up with their own version of an operating budget. After that, it will remain to be seen if the Governor will approve of those changes.