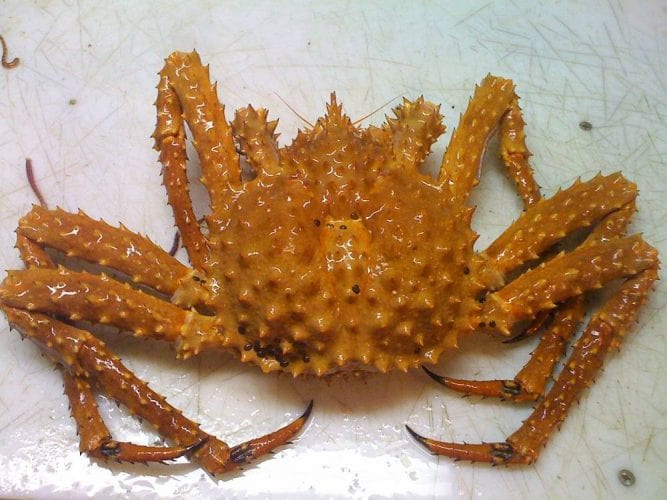 The Golden King crab commercial fishery in Southeast Alaska is winding down. As expected there has been a low harvest but state biologists hope that the species is just on the down turn of what is a cyclical cycle. KFSK's Angela Denning reports from Petersburg:
Golden king crab have been on a decline in Southeast for about a decade.
State managers come up with new guideline harvest levels every year or what are called GHLs. The state set a low harvest goal this year at 76,000 pounds. That's close to the last couple of years but it's a lot less than the peak in 2010 when fishermen harvested over 730,000 pounds.
"We still have concerns in a lot of areas," said Adam Messmer, a research crab biologist with the Alaska Department of Fish and Game in Douglas.
Messmer says they don't know why the golden king have been on the decline. Crab populations are generally cyclical and that could be the case with golden king crab in Southeast.
"We're just kind of hoping that they're going to cycle back up as most crab species have in the past and be conservative with our management until we start seeing some upticks," Messmer said.
The state manages Southeast's golden king crab fishery in seven areas. This year they opened six of those areas for commercial fishing like they did last year. Each area has a different harvest goal. The northern area didn't open this year because of stock concerns.
Last year, managers closed the east central area to see if taking a year off would help the crab stock there.
The harvest goals in most areas are lower this year.
"We're still managing very carefully in these areas, watching them closely," Messmer said.
The golden king fishery runs at the same time as the Tanner crab fishery. The golden king fishery has had 15 permits delivering fish. Messmer says out of those probably 10 kept fishing for golden king after the Tanner fishery closed.
Even with the small number of participants and the small harvest the fishery is still valuable. The crab has been selling for about $11 per pound. That's about $70-$80 for an average sized golden king crab.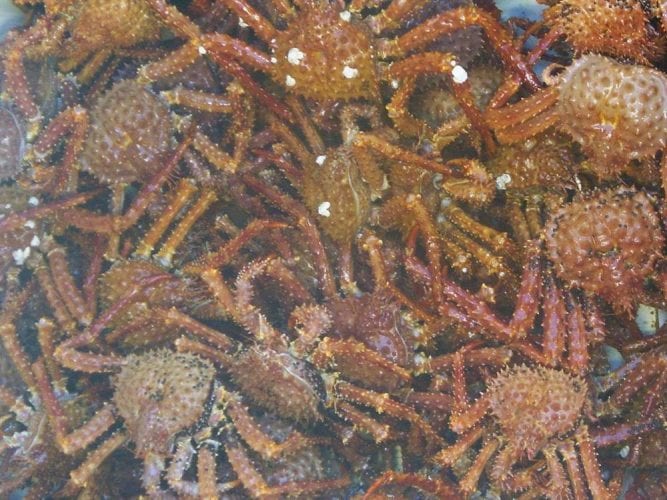 Golden kings are larger than many other crab species like the more abundant Tanner and Dungeness crab in Southeast. They also live longer, up into their 20s. They're not even large enough to be commercially harvested until they're at least 7-years-old.
"King crab, in general, is going to take about seven to nine years to become legal sized, which is quite a while for any organism to live to be harvested," Messmer said. "Most deer people shoot around here are probably a lot younger than the king crab that they harvest."
Golden king crab are not an easy crab to catch and are mainly targeted by commercial fishermen only. Messmer says they live in waters 600 to 1,800 feet deep, they like rocky cliffs, and require large, heavy pots for gear. Still, there's limited information on the golden king crab species in Southeast and biologists rely heavily on harvest data to manage the fishery. There are no other surveys done. So, in a way, the healthier the fishery the more information biologists get.
"When stocks are down there's less participation and, you know, we want to give the guys a chance to go out and show us what's out there because that's the only information we have but we also want to be a little bit conservative if they're not finding any crab," Messmer said.
As of the beginning of April, the harvest was near 47,000 pounds. Managers expect about 60,000 pounds by the time the fishery is completely closed.