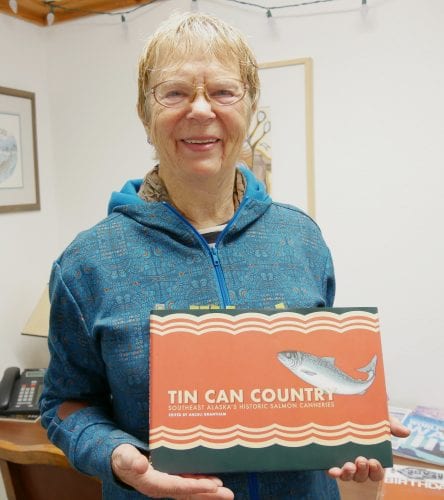 Around a century and a half of history told through the ups and downs of the salmon canning industry in Southeast Alaska is the focus of a new book due to be released in May.
"Tin Can Country, Southeast Alaska's Historic Salmon Canneries" is the work of Petersburg resident Karen Hofstad. It's a coffee table size book with Hofstad's colorful and historic collection of salmon can labels throughout.
"Tin Can Country" tells the story of salmon canneries around Southeast from Excursion Inlet, to Kake, Petersburg, Wrangell, Klawock and Ketchikan. It also tells of the workers in those canneries and the fish traps that supplied them before statehood.
It springs from the collection of salmon cans and labels that Petersburg resident Karen Hofstad first started in 1960. Ever since she's been gathering more and researching the brands and the history behind them.
"I had all this stuff in my house that I've been accumulating, collecting," Hofstad explained. "Remember, younger people won't know this but this was all before googling and computers and cell phones and stuff. So now you can click, click and get this, but I had never done any of that. So I'm proud of that fact too, I did it searching. I was a detective for a long time."
Hofstad was also researching the history of fishing in Southeast and she found an ally in that effort in the late historian Pat Roppel of Wrangell. Roppel was compiling her own research on the history of the industry but didn't finish her work before she died in 2015. Her family donated that research to the Alaska State Library's historical collections. That's also where Hofstad ended up donating her can label collection. Roppel research is found throughout the book as is the writing of some other well-known names in the region.
For the past three years Hofstad has worked with Anjuli Grantham of Juneau who edited and also contributed to the book. Grantham, originally from Kodiak, now works for the Alaska State Museum and also has worked as director of the Alaska Historical Society's historic canneries initiative.
The history goes back to the beginning of the industry in the 1870s, with the first cannery in Klawock. It doesn't profile every operation in the region but focuses on some of the most notable or historic. There are 116 cannery locations noted around Southeast, along with a map of those sites and a timeframe for those facilities.
"There's so much history in here of Southeast that people have no idea, it's amazing," Hofstad said. "We have German prisoners of war were working up in Excursion Inlet during World War II and it's just, it covers every facet."
The book also details how cans are made and how salmon is processed and packed, along with the machinery used to can Southeast's catch and the people who've made that happen. There's also great information on artwork on the can labels and how those labels evolved over time.
Hofstad explained in looking back, the industry had a hard go of it from the start.
"It was not easy right from the beginning, lot of bankruptcies, lot of con men, lot of deaths, suicides, all these things, merging and then falling apart," she said. "Nothing's really changed. And I think the word that Anjuli pulled up when she wrote the afterword here was resilience."
The also brings the story to the present day. The number of operating canneries has dwindled as companies have chosen other kinds of processing because of market conditions and the fluctuating supply of salmon.
"Here it was last summer 2018 there were only four canneries in Southeast canning," Hofstad said.
Other operations have closed, or converted to other uses including tourist attractions. Many others only are marked by rusting machinery and old pilings poking out along a Southeast shoreline. But now their stories and labels are preserved in this new book.
Hofstad gifted the book to the Clausen Museum in Petersburg and has had 1500 copies printed. Proceeds from sales will support the museum. She's also looking for help in selling and distributing copies.
A book release is scheduled for Friday, May 17 at 4:30 p.m. at the Clausen Museum following the Little Norway Festival parade. Three Petersburg pioneers in their 90s, Shig Kaino, Angie Hofstad and Wayne Short are expected to be signing copies. Copies of the book will be for sale at the museum and Sing Lee Alley Books.