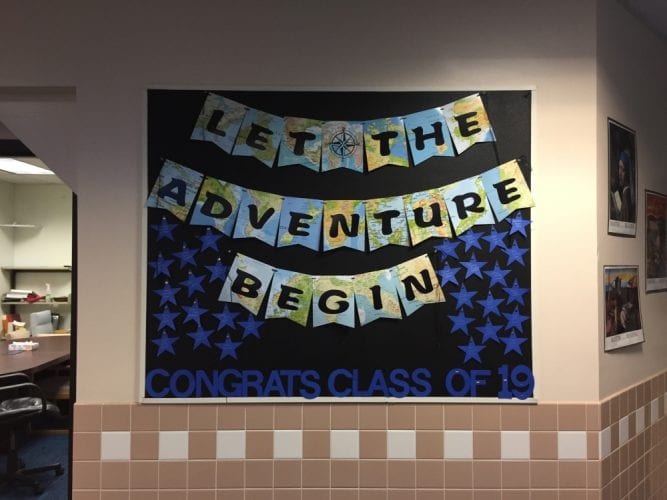 On Tuesday, 30 students will receive diplomas from Petersburg High School and step into the next phase of their lives. The graduation ceremony will be held May 28th at 7pm in the school gymnasium. Last Thursday, Ari Snider spoke with Principal Rick Dormer and School Counselor Jenna Turner about this year's graduates as the school prepares to say farewell to the class of 2019.
Ari Snider: First question is logistical. What's the schedule of events for graduation? What do people need to know if they want to attend graduation?
Rick Dormer: Well graduation's coming up here the Tuesday after Memorial Day, that is May 28th 7pm, the high school middle school gymnasium there where lots of great events happen. Choir's gonna perform as usual, the band's gonna do a couple pieces. The featured speaker this year is the wonderful Victor Troutman who's retiring after several decades of teaching our youth here in Petersburg. We're sad to see him go but it's a great time to hear his parting thoughts and his wisdom for the graduates.
AS: Excellent. And you mentioned something there Rick that I wanted to ask, can you tell me who the valedictorian, salutatorian, and other honored students if there are any?
RD: Good question, we don't know yet. We go right to the wire with our seniors, we have a list of who are top kids are but they are — seniors are still finishing up classes this week. Today, this Thursday is actually the last full day for seniors as they celebrate their move out and their picnic tomorrow as a class. So we don't know yet, they are just finishing finals today, teachers will grade and then we're gonna let them know obviously either tonight or Friday so the winners will be ready to polish their speeches and be ready.
AS: Alright, Jenna I'm gonna put this one to you. Could you talk a little bit about where the students are headed? People thinking about four year college, two-year college, what are people looking at?
Jenna Turner: We have a little bit of everything going on with this class. It's been really exciting to see what their plans are. We have a lot of students going off to four-year colleges in Washington, North Carolina. Some are staying in the state.
AS: Absolutely. Are any kids going into the military or anything that you're aware of?
JT: We do we have one student that's heading off to Fort Benning, Georgia.
AS: Gotcha. And for some of those students who are staying in Alaska, where are they going to school do you know, Jenna?
JT: Yes we have one student that's headed over to UAS Sitka campus to enter in a northwest arts
….
JT: There are a wide variety of talents that are happening, so I'm just excited to see what they go do.