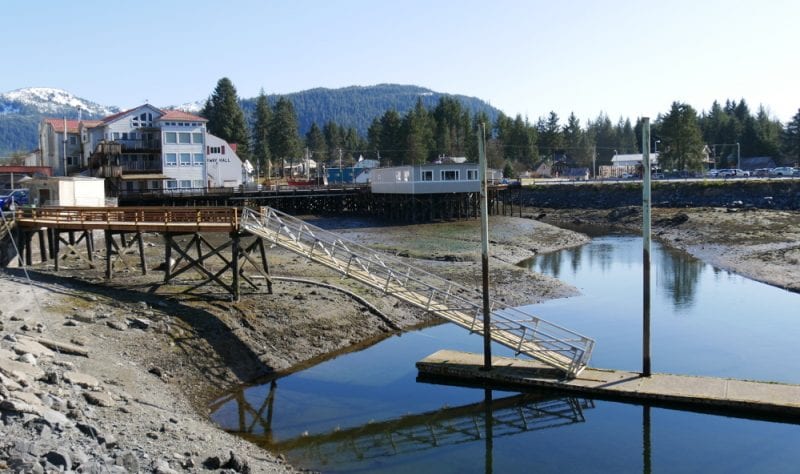 Property owners have convinced Petersburg's planning commission to keep more of the status quo for dealing with industrial land in the area. The commission last month agreed to recommend changes to the borough's new development code. That will mean reverting back to the old system of allowing most non-industrial development of that land and remove a special category for waterfront priority.
The commission continued in May with an ongoing review of changes to the development code. Commissioners had recommended that new code last year and it was approved by the borough assembly in December. But public comment has been overwhelming negative.
Commissioner Tor Benson listed some of the improvements he sees in the new code."Before if you had an issue, like you want a variance or anything on a property, the first meeting we'd have to accept it," Benson explained. "And then the next meeting we'd actually take action upon it. And now the way that this new zoning code, basically we're going to be able to accept and take action upon it in one meeting. And so, like when I first got on the commission a lot of times we'd have trouble. We'd only have three commissioners so we'd have to delay a meeting. And so it ended up taking for months for something simple as a variance. And so in the new code I think that's a good improvement. Along with that we also made it so that like with the staff, if it's a simple variance with no conflicts, then they can approve it without you coming to us. So again it just streamlines it, you don't have to come before us, you don't have to come to the meeting if it's a simple variance."
He also pointed to the allowance for accessory dwellings and tiny houses on residential lands. Benson also liked the new codes charts of allowable uses for all kinds of land.
Property owners have not been happy with the changes. John Murgas continues to think the process is too quick for such a dense revision.
"Fully understanding this new code is like having to learn the Chinese language," Murgas told the commission. "When this new planning code was brought forward to the public one year ago it already had a lot of momentum. So much so that the decision to burn down the house and build anew, must have been made long before. That's when you should have reached out to the public. So I respectfully ask that you back track to that point and start over and work more closely with affected property owners."
Murgas hasn't been alone in asking for the commission to start again. Former city councilor Melinda Hofstad wanted a code that would be less restrictive.
"You know it looked to me like in dictating how large a house you could build on top of a warehouse or what you could or couldn't do that would bring in money to our borough tax base," Hofstad said. "That isn't sensible at a time when we need to be bringing in as much as we can and still keeping the neighborhoods livable and not doing something offensive to the person next door."
Jerry Dahl wanted more allowance for using waterfront property near South Harbor for vacation rentals.
"That waterfront is right inside the DOT (Alaska Department of Transportation) airplane dock," Dahl explained. "It is accessible by a skiff and a skiff only at certain times a day, high tide, very high tide. So you can't tell me it's deep water. It'll never be deep water. It's not usable for that. But when I go places and rent VRBOs (vacation rentals by owner), I want to sit on the water and watch people work when I'm on vacation, see what their industry is."
Several property owners sought just one industrial zone as it is in the old code and not the three types created in the new version. A new category of waterfront industrial land prioritizes that for waterfront uses. A new light industrial classification, what used to be called commercial 2, allows more residential uses but doesn't allow heavier industry.
Jim Whitethorn didn't want the code's size restriction on caretaker dwelling for warehouses on industrial land."I cannot see why in this town there'd be any restrictions on that size," he said. "It should be just what it was before you started with this code situation."
The assembly boosted that size allowance for a caretakers dwelling during its review of the new language. The old code had no size limit and that residential space was allowed to be the primary use of that property, essentially allowing for residential use of industrial land.
The commissioners were convinced to delete waterfront industrial as a classification and get rid of prohibitions on industrial land, instead allowing those by a conditional use permit. This covers a wide range of uses from gas stations to hotels, churches, hospitals, schools and newspapers.
"So you'd eliminate the distinction between waterfront, light industrial and industrial that we have right now because that seems to be the thing that everybody is having issue with right now," commissioner Dave Kensinger explained.
Kensigner cautioned that he did not see the recommendation as a removal of all restrictions.
"I guess what I'm saying is this isn't going to be a panacea that everybody can just do whatever they want on their property," Kensigner said. "If you want that then what you have to do is then you need to go to the assembly and say let's get rid of zoning altogether and people can just do whatever the heck they feel like. That's another discussion but that has never been what we've been talking about here."
However, commissioner Benson thought it was important to keep some property prioritized for waterfront uses.
"I don't like the idea of getting rid of the waterfront industrial," Benson said. "I think it should just be more restrictive on what properties it affects. I agree out next meeting maybe we should look at those properties and reduce the number of properties that are affected by waterfront industrial and just bring it back to industrial. But I think keeping waterfront industrial for the properties that we need and that if they go away we're going to be in trouble because we are a fishing sea based community, I'd like to keep it."
Prioritizing land along the shoreline for water dependent uses was a goal identified in the borough's 2015 waterfront master plan and 2016 comprehensive plan.
Benson was the only no vote and the commission voted 6-1 vote to recommend that change.
Other recommendations were to restrict manufactured homes to rural residential, high density residential and general industrial districts. Another addition is language to make clear that a legal non-conforming use of land could be rebuilt if destroyed or damaged.
The commission plans to vote on its final recommendations this year and then the changes will go back to the borough assembly. The commission meets again on June 11th.