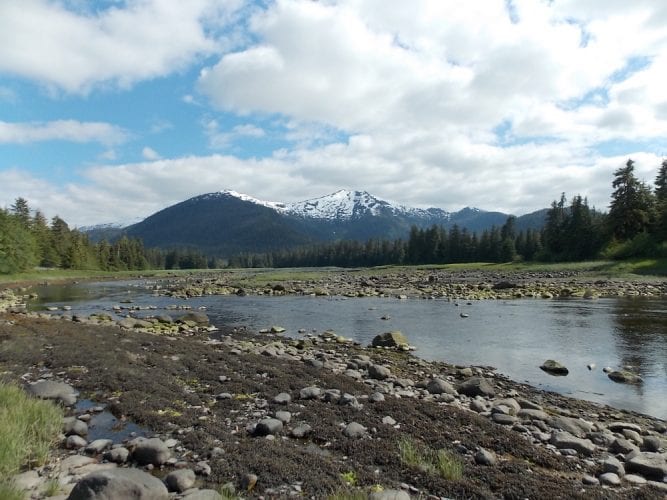 Hatchery king salmon are starting to show up in waters around Petersburg and a few lucky anglers are catching those chinook.
The fish are produced by the Crystal Lake Hatchery on southern Mitkof Island. They are released each year at two sites, in Blind Slough about 17 miles south of Petersburg and at City Creek, about three miles east of downtown.
Alaska Department of Fish and Game sport fish biologist Patrick Fowler said the department forecasts a return of 3,400 kings at Blind Slough this year. That would be up a little from last year
"The vanguard has just started to arrive so there's a few fish in the fresh water," Fowler said. "The salt water fishery that started this past Saturday on June 1st. There's a lot of folks out there. The catch rates aren't super great. There's a few fish harvested but that fishery typically just gets better and better until the two weeks of June when we see our peak catch rates."
Those Blind Slough kings can be caught in the freshwater at Blind River rapids and in the ocean water of the Wrangell Narrows. For that area, it's the same regulations as last year, allowing anglers to keep two fish over 28 inches and two fish under 28 inches.
One thing to keep an eye on with those fish is the stream conditions with an ongoing drought in the area. Blind Slough has experienced big die-offs of those hatchery fish in some past summers with warmer temperatures and lack of rain.
Meanwhile, fishing opens on June 15 for kings around City Creek. That's a release site that started in 2014. The forecast is also up for that run, with around 700 kings expected to make it back to Frederick Sound. Last year only a couple hundred fish returned. That's because a fire at the Crystal Lake hatchery destroyed the fish produced in 2015. Fowler said this is the third year for fully grown fish at that site.
"The first year we had adult fish coming back.," he said. "We had some good effort and some good catch rates out there. It went surprisingly well. And then last year we kind of had a gap, where we had a very small area open to the fishery and very few fish back to it. And then this year we're back to a standard return size and we have a little bigger area to fish in."
The open area stretches from the navigational buoy at the mouth of Wrangell Narrows to a Fish and Game marker about a mile east of City Creek. Fowler has only heard limited reports of kings swimming up into City Creek to spawn in prior years.
"City Creek is really poor habitat for king salmon," he explained. "It's a very low flow bedrock, not very good spawning habitat that king salmon would seek out but I think they do, especially when the water's high they'll push into City Creek and usually probably back out. It's just a very good place for king salmon to hang out. There's a few little deep pools as you get up the stream that might hold a few fish, but most of the fishing is going to be there at the salt water."
The bag and possession limit for that area is one fish of any size. The floating net pen used to hold young fish slated for release will remain anchored in the area. Those fish are held in the pen for about one month prior to their release, just long enough to imprint the City Creek location.