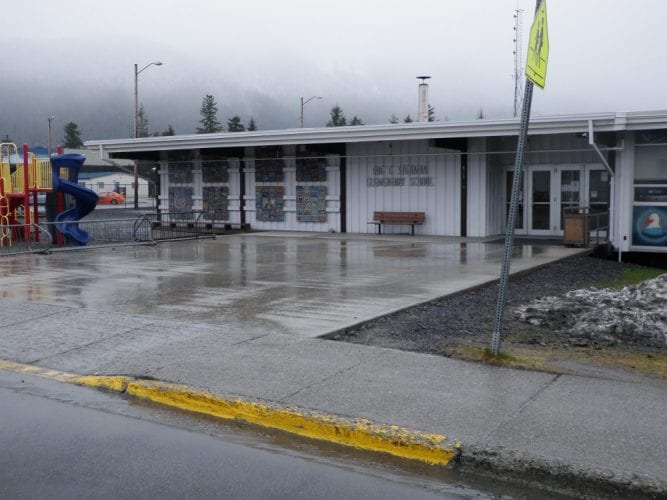 Petersburg's school board Tuesday approved a spending plan for the fiscal year that starts in July. The board expects to revisit the budget once the final word on state funding comes out of the capital city this summer.
Like the borough's budget, the school's spending plan is somewhat of a place holder until local officials know more about decisions in Juneau. School district finance director Karen Quitslund presented the proposed spending plan, calling it a solid budget.
"This is a solid but conservative budget," Quitslund said. "There are unanticipated situations that will affect this budget and fund balance, obviously the governor's budget is one of them. Any unanticipated long-term leaves will affect the fund balance, if we have an exceptionally cold winter and of course we don't really know what they ferry schedule's going to look like at this point."
The budget proposal is based on 461 students, the same number in the three schools this year. A big portion of the state money the district receives is based on student enrollment numbers. The budget is based on flat funding from the state. Legislators last year agreed to fund two years of school operations along with 30 million dollars statewide in one-time grant money. Lawmakers did not include education funding in budget bills approved this spring.  However, Governor Dunleavy is challenging that forward funding and it's possible the standoff could wind up in court.
Board president Mara Lutomski updated the rest of the board on that disagreement between Governor Dunleavy and the legislature.
"In this case apparently his ruling is that it is not lawful and if funding is not included in the budget then basically he's saying then we won't be able to fund schools," Lutomski said. "The House and the Senate are taking the position that the funding that they have in place means that it starts July 1st at the way that it was signed into law by Governor Walker."
The spending plan anticipates $8.7 million in revenue for the district. More than three quarters of that would come from the state government.
If payments from the state don't go out this summer, school districts could be forced to spend limited cash reserves, capped at 10 percent of their budget. In Petersburg's case, that money would be depleted in 6-8 weeks of paying summer bills. School officials also signaled to the borough this week they may seek help from the municipality if state funding is interrupted.
School superintendent Erica Kludt-Painter added her own thoughts on the standoff in Juneau.
"So we're waiting for people who potentially should know better to pull up their big girl and big boy pants and do what they need to do and stop holding kids hostage," Kludt-Painter said.
The school budget includes flat funding from the borough of 1.8 million dollars. That amount was finalized in the borough budget this month. Under the spending plan, the district would employ 41 certified teachers, 34 paraprofessionals and seven exempt positions including the top administrators.
Finance director Quitslund noted that a budget revision would be needed if school payments are held up by a court challenge.
"So Mara gave a nice overview of the legislative update," Quitslund said. "We're kind of ignoring that with this budget because there's nothing that's going to be passed before our budget is required to be sent to the state. So we're moving forward and we will most likely have to adjust with a revision if the governor does his own will."
The budget does not include Petersburg's portion of the 30 million dollar grant, approved by the legislature in 2018, amounting to 143,000 dollars.
The other big outstanding question is the impact of a reduced ferry system to the sports and activities travel at the middle and high school.
Activities and athletic director Jaime Cabral says he hasn't seen a schedule yet but expects it to be skeletal for the wintertime.
"We will try and make it work especially for our very big, big large events that come up," Cabral told the board. "Southeast honors music will be in Juneau. There's a lot of things happening in Juneau next year for activities-wise so travel might not be as complicated."
Cabral expects the district will be more creative in scheduling and has also been relying on private company Breakaway Adventures for transporting teams to Wrangell and Prince of Wales.