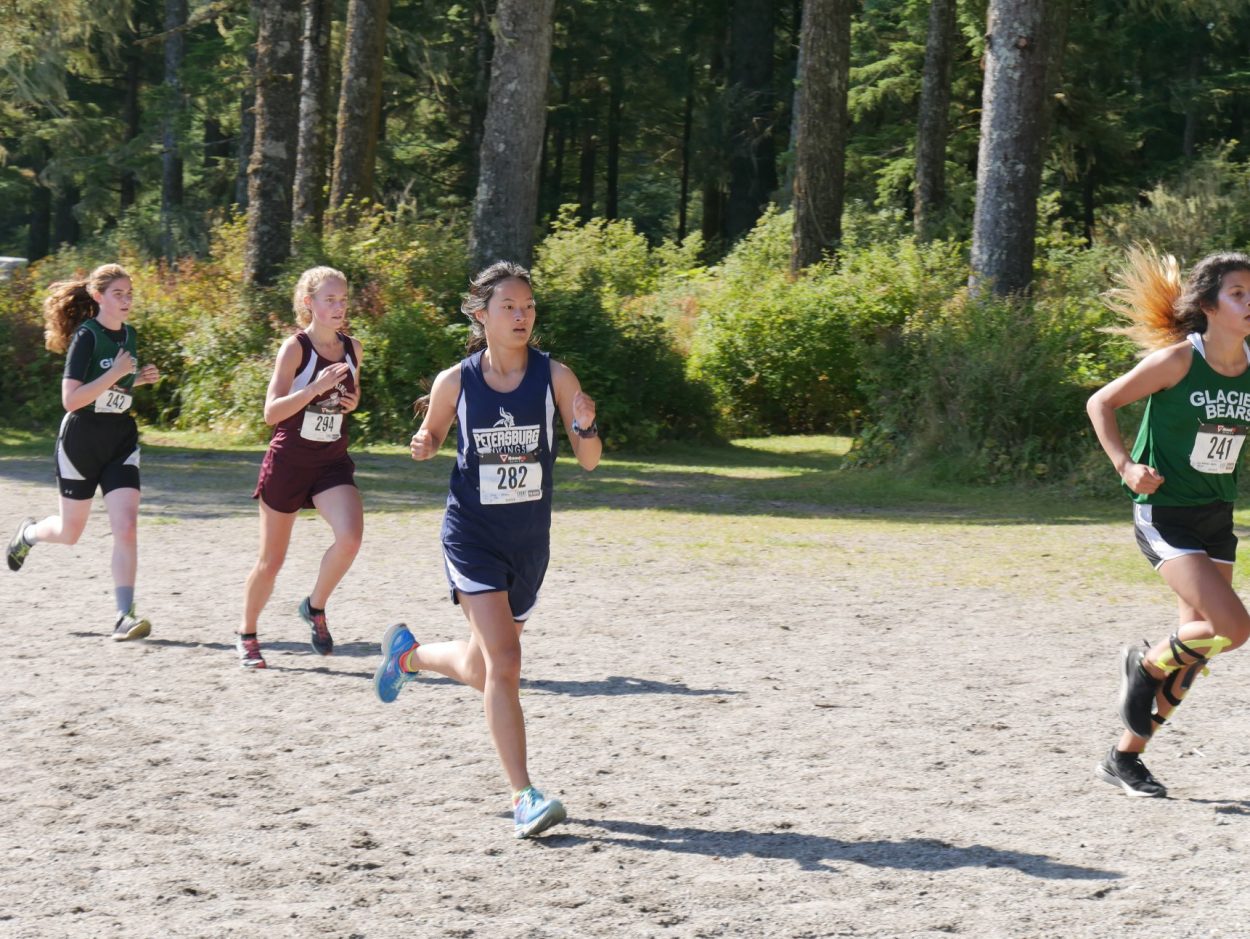 Petersburg High School's cross country team hosted its only home meet of the year this past weekend.  The Vikings took first place among small school teams and the Lady Vikings took second behind the Haines girls. KFSK's Angela Denning spoke with some of the runners from the senior class and has this report:
Over 200 runners competed in the home meet.
Petersburg Sophomore Uriah Lucas took first place among the 1 and 2 A small schools division with a time of 17 minutes, 22 seconds. That's a pace of 5 minutes, 35 seconds per mile. Senior Kole Sperl finished in 4th place among small schools at 18 minutes 44 seconds, and Sophomore Michael Durkin was 8th at 19:15.
Senior Melanie Chase led the Lady Vikings and finished 5th place among small schools with a time of 21 minutes, 52 seconds. That's about a seven minute mile. Junior Maia Cowan took 6th with a time of 22:30 and Junior Kendra Coonrad finished 7th at 22:32.
It was just the second meet of the season for the cross country team. Coach Tommy Thompson says it was one of the best cross country meets they've had in years with many community members coming out to watch.
"We had a bunch of PRs, some of the best times we've seen in years," Thompson said. "Some of our kids did better than last year by over a minute."
One of those showing marked improvement was senior Melanie Chase. She dedicated her summer to doing runs every day.
"I kind of did double running so I did one in the morning and I did one later in the day," Chase said.
She is also thinking about her strategy. Knowing when to pass is important. Chase says at the home meet, she planned to get out in front of most runners right away.
"Pass the mob and then find a steady pace and hopefully pass as many people as I can," she said.
Petersburg senior, Kole Sperl, improved his race by about a minute from last year. He says he trained better this year and he's in better shape.
"Last year was just a pretty bad year all around for me. I had pretty bad shin splints last year," Sperl said. "There's less injuries and more time running this year."
Sperl also competes in track and wrestling and says he likes the discipline cross country requires.
"Physically, it's pretty hard and I like that a lot too because you can push yourself," Sperl said.
Senior Noah Sullivan says the pressure is always on in the race. He says it's not just physically challenging but mentally as well.
"Depending on your place you don't always see the other people in your team. So, you have to mentally convince yourself, 'I need to be ahead of these people, just because I can't see my team doesn't mean that I can just fall back into my comfort zone or do anything like that.' You have to be pushing yourself," Sullivan said.
But at the end of the race, no matter where you are in the pack, there is a feeling of accomplishment.
"It's a very personal, team based kind of sport," said senior, Jack Byrer.
He's run cross country for seven years through middle and high school.
"I think it's also fulfilling when you're running, you can say, 'Wow, this is the best of I've ever done here,' and it's a very tangible thing. It just feels really great when you're able to say, 'I set this goal from myself and I smashed it'."
The next meet for Petersburg High School cross country is in Craig this weekend.
As for the season outlook? The seniors all agree on one thing:
"If we can all just smoke at Regions I think we could get it," Sperl said and others agreed.
The Regional cross country meet is September 27-28 in Sitka.