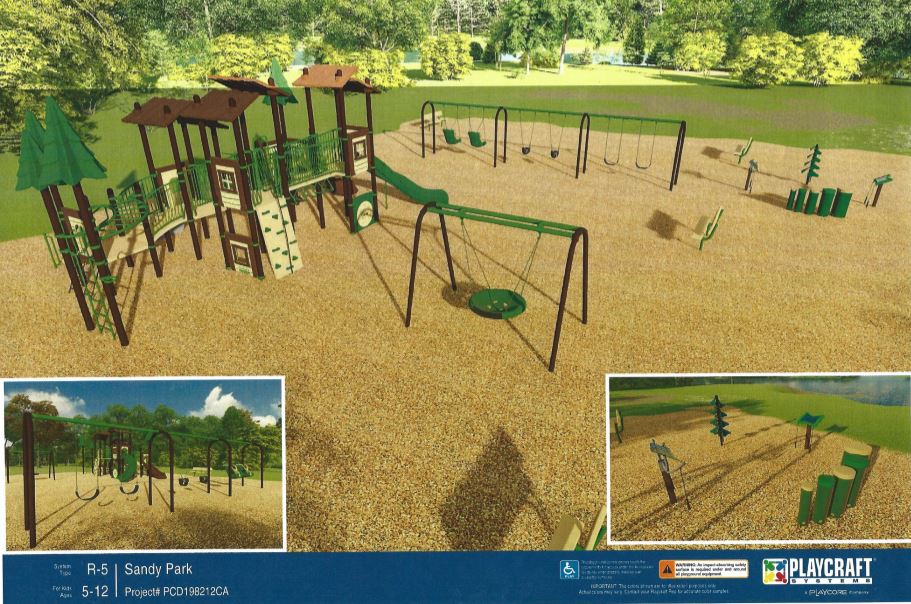 The Sandy Beach Park playground in Petersburg will be getting new equipment next year from the Petersburg Rotary Club. The service organization's Alaska leadership visited Petersburg recently and spoke with KFSK's Angela Denning about how Rotary has changed over the years.
Sandy Beach Park along Frederick Sound is one of Petersburg's most popular family parks. It's a favorite spot for beach combing at low tide, watching seals and ducks in the shallows and icebergs and humpback whales in the deep.
The playground area is tucked back in trees. It was constructed by the local Rotary Club about 40 years ago. The organization says the playground is dilapidated so they are making a new one.
"The plan is big, it's exciting," said Desi Burrell with Petersburg's Rotary club. "I think it's really a community effort to make this big of a project happen."
The playground project is estimated to cost around $110,000. Rotary plans to get some grants for the project and is partnering with the Petersburg Indian Association and hopes to include some culturally relevant equipment. Other partners include the Petersburg Borough's Parks and Recreation Department, and local businesses and residents.
Burrell credits Petersburg resident, Tamara Evens, who lives near Sandy Beach for bringing the issue forward.
"She's the one that really noticed how much traffic is in that area and what an important piece this could be to our community," Burrell said.
One unique feature of the playground will be interactive sensory equipment.
"Different drums and chimes," Burrell said, "and all these different really amazing musical instruments."
Andre Layral is the District Governor for 38 Rotary clubs in Alaska. He was recently in Petersburg on a tour of clubs around the region along with Sharon Bergman, the Assistant Governor for clubs in Southeast.
"I think that the plans that they have look wonderful,"Layral said.
Rotary is a volunteer-based service organization and seeks to serve people locally and all over the world. It has a foundation fund that grows over time and a portion of the interest is used by clubs and for projects internationally.
"What makes Rotary different, I think, than all other service organizations is that we're an international humanitarian service organization," Layral said.
Rotary has been instrumental in helping to eradicate the polio disease worldwide through vaccination efforts.
Layral, who lives in Fairbanks, has been a Rotarian for about 28 years. He says the organization has changed a lot in that time and used to be more restrictive on who could be a member. Clubs used to limit the number of people of the same classification to two (two bankers or two accountants or two teachers). Even though the purpose was well meaning–to bring in a variety of vocations– it still limited membership.
Layral says now Rotary is seeking memberships of different age groups. He says they're no longer an organization that just has luncheon speakers.
"Rotary is so much more than that. We have our four youth programs. We have a lot of focus on local district grants and international grants," Layral said. "And Rotary is trying to figure out a way to make Rotary be possible for someone that has an interest in Rotary to find balance between their vocation, family, Rotary, and service to their community. And we're trying to encourage people to find their niche where they want to make a difference in Rotary."
One of the Rotary youth programs is the international Rotary Youth Exchange that Petersburg's Rotary Club has been involved with for over 20 years, both inbound and outbound.
The Rotary Club also partners with Shelter Box, which distributes survival gear to people in natural disasters.
Petersburg's Rotary Club is the sponsor of the local Burger Bank. They work with the Alaska Department of Fish and Game to help disperse moose meat forfeited to the state from illegally taken moose. They partner with the Salvation Army, the Community Cold Storage, and the Petersburg Indian Association, in the program. The local Rotary club also works with the state's Office of Children's Services to give backpacks and duffel bags to needy children. The organization also holds a Christmas party for seniors every year.
Petersburg's Rotary is always seeking new members. They meet Wednesday's at noon at the Salvation Army Hall.
The local club plans to have the new Sandy Beach playground completed in 2020.