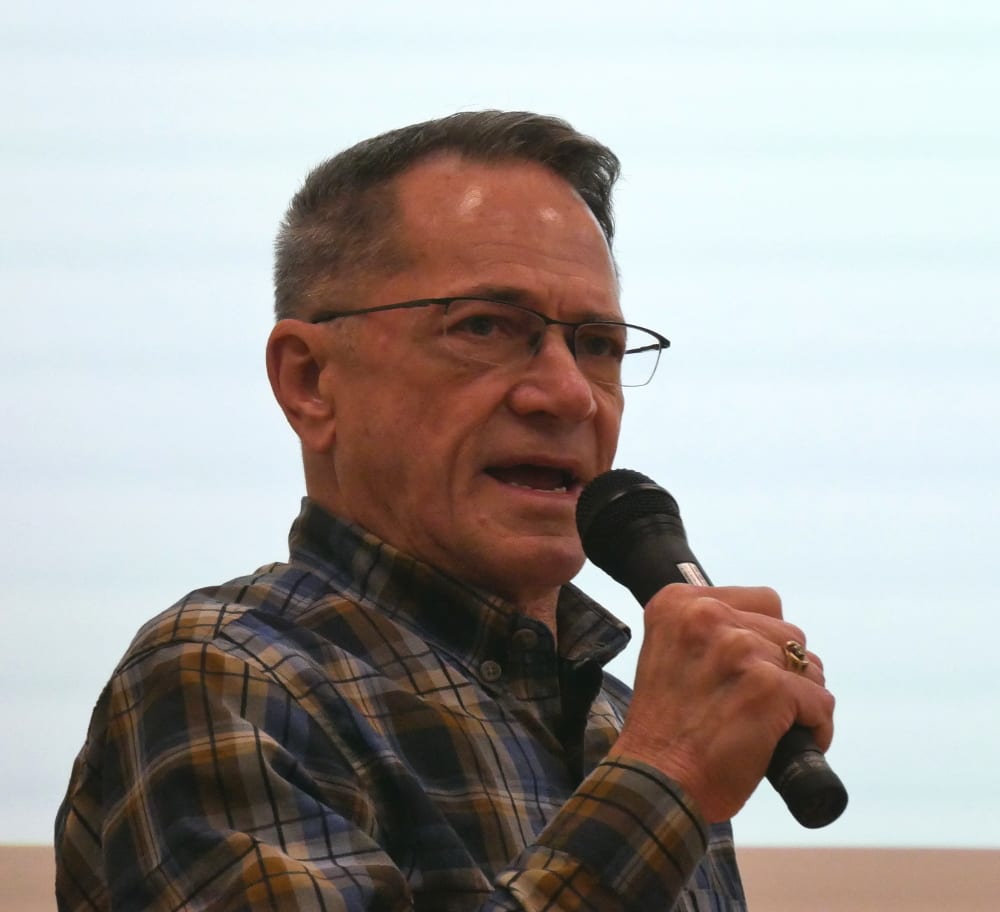 Petersburg Medical Center has been holding a series of community cafés to spark discussions about health care issues and services that are available or needed here. The fourth presentation in this series focused on aging in Petersburg and key things to think about for getting older and taking care of aging family members.
A growing senior population is a trend here in Petersburg as it is around the country and medical center staff wanted to highlight services that are available for the senior community. CEO Phil Hofstetter also talked about what other issues families should be thinking about.
"We need assisted living, we need long term care, we need home health but what are some other things we can do to help those things, simple, not simple these are not simple things but things like financial planning, health care planning, having those conversations are so, so important on planning ahead and trying to make those transitions a little bit easier," Hofstetter said. "Because when they happen, it is horrible and difficult."
This month's forum featured Ken Helander, director of advocacy for AARP in Alaska. He told a daytime crowd at Petersburg's library that when he first came to Alaska in 1981 the state was lacking in support for older people and that created a shortage of seniors.
"And I say short supply because it's really important to have older people," Helander said. "Villages know that because they actually have elders that have a prescribed role and it's a place of honor and dignity. And it's essential to the thriving and the sustainability of a community. Who else could teach you the way to do things but an elder who's done it before?"
Helander encouraged everyone in the audience to complete legal paperwork to give another person power of attorney if you are unable to make decisions on health care or take care of personal business.
"Anybody of any age should always have a power of attorney for health care, always. And if you don't, do it. Today we get done at 2:30 or 3:30, go do it," he said.
A power of attorney form is posted on the website for the Alaska Legal Services Corporation. Locally, people can find an advanced directive questionnaire called Five Wishes, provided by funding from the Beat the Odds. Helander noted that is not a legal document but does give direction on some important decisions. He also encouraged families to have open discussions about tough decisions on topics like health care, a person's belongings and burial wishes. Helander said he has that talk with his family members during their Thanksgiving get-togethers
"I want to make sure they all know from the same voice, the horse's mouth, the same information," Helander said. "And so we have that talk. And then we get on with Thanksgiving. But I'll tell you they are now accustomed to that talk. They all kind of smile and they indulge me. But they also have begun to talk about it with themselves and with their families. And it becomes a normal part of conversation because it's so important."
Other topics covered health care insurance, the difference between Medicare and Medicaid and the limits for assets that a person can have to qualify for Medicaid coverage. That can be an option to pay for the high cost of long term care for an older family member. Helander outlined how people can set up a trust that shields some assets from eligibility consideration.
"In Alaska it's called a Miller Trust," he explained. "It has to be set up through an attorney. And that will shelter the resources you have so that you can get the long term care support that you need in a nursing home, or through a Medicaid waiver. If you're eligible by level of care, meaning you need a nursing home, you can sometimes get that care in your own home and have it paid for by Medicaid."
Other topics included scams that target seniors, including elder fraud from someone within your own family. There was also information on managing medications, modifying homes to make them more accessible and the difficulty of moving between living places, whether it's a room change at a care facility, or staying in a hotel room for travel.
Helander also talked about the role of care givers. He said the state has an average of 88,000 caregivers in Alaska at any given time, with the care valued at one point one billion dollars in the state. Over half are women and half are employed full or part time. Most say they need more resources and training.
He also highlighted the benefits of an adult day center. He's worked at several and pointed out that these facilities allow care givers some time off from that responsibility
"But they also give that individual who's attending the day center the opportunity to be engaged with people who share similar histories and interests and activities so that around the dinner table that evening they will have as much of a story to tell when they say, what'd you do today? Rather than having spent the entire day at home alone or staring at a TV set," Helander said.
The AARP provided a list of resources for seniors.
Alzheimer's Resource of Alaska
800-478-1080
Aging and Disability Resource Centers
Independent Living Center, Southeast Alaska Independent Living, Juneau
907-586-4920, 800-478-7245
Medicare Information Office
Alaska Bar Association
The Petersburg Medical Center also has an adult day services questionnaire.