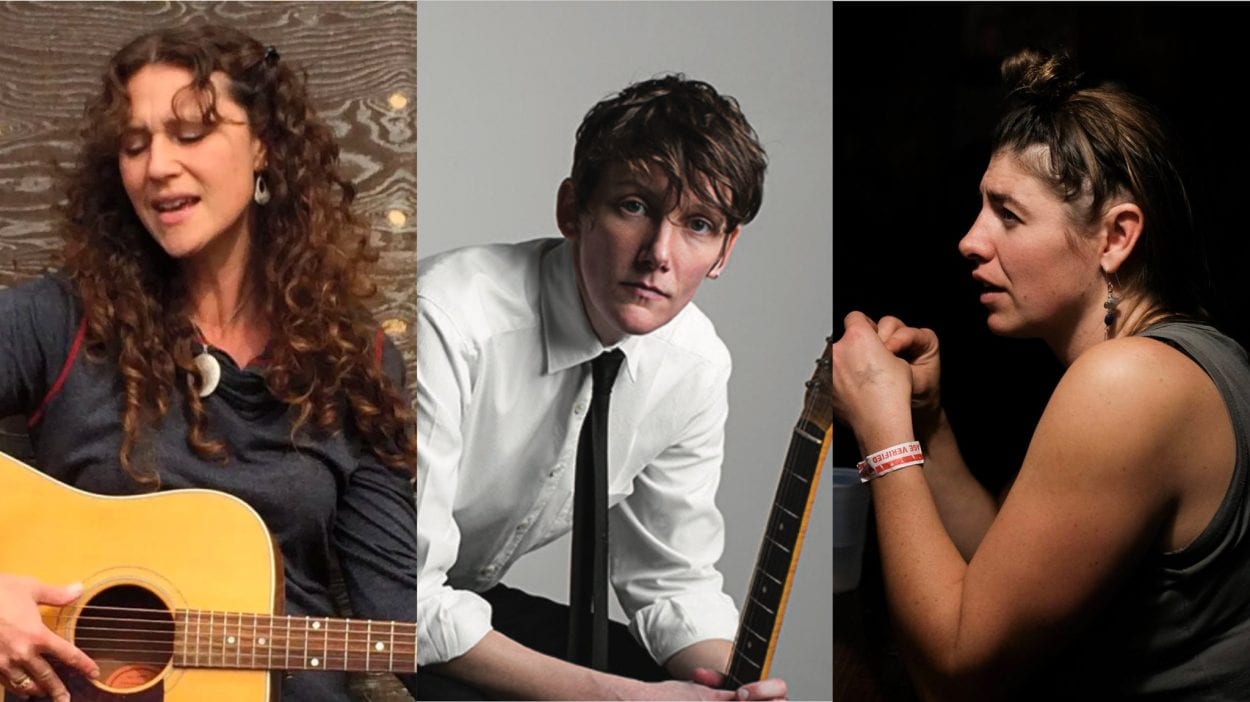 Petersburg Arts Council is welcoming a singer songwriter from Portland and one from Anchorage to play with a local musician this Saturday night. It's a different kind of concert that's called "Parlor in the Round" and as Angela Denning reports, it gives the audience a peek into the process of creating music.
The three musicians performing in Petersburg all have different styles. But they will be coming together to perform each other's music as well as their own.
Chris Pureka is a folk singer songwriter from Portland. Pureka has been playing music for about 20 years. She's released half a dozen albums, through her own record label, Sad Rabbit Music. Here's the title track of her 2016 album, Back in the Ring:
Another musician in the show is Kat Moore from Anchorage.  She's the lead vocalist and piano player in the band, The Super Saturated Sugar Strings. She plays several other instruments as well. Here she is in the song, "Haunted".
There is also Petersburg's own Sarah Hanson-Hofstetter. This is her song, Blueberry Pickers Song, which she wrote while living in Nome.
Parlor in the Round is a method that will bring these artists together to give the audience a chance to understand the creative process. The musicians share songs that they each came up with from a single prompt they received just weeks before the show. In this case, the prompt is "hardwood floor" and the musicians will be debuting the songs that they wrote for that idea.
"The audience essentially gets invited into the process of these songwriters," said Sarah Hanson-Hofstetter. "Like, how many different directions can you take one prompt? And how many different directions can you take one song?"
The show also gives the audience the chance to get involved. People get to write down a prompt and the musicians compose a song on the spot from those ideas.
Keeping the musicians on track during the show is Host Kevin Worrell of Anchorage. Parlor in the Round is his brainchild.  
"The show was born of a need for me to develop as a songwriter," Worrell said.
Worrell is a bass player and music composer himself and was having trouble finding a venue that wasn't a rambunctious bar scene.
"As a songwriter I really needed a place where I could have a listening audience where I could develop my craft and also have a really meaningful and satisfying experience as a performer."
But Parlor in the Round is not all quiet listening and participation. As the host, Worrell is performing too. He keeps things light and leads the musicians and audience through plenty of jokes as well.
"I try to strike a balance between one-part Bob Barker and one-part Oprah Winfrey where I try to ask a few questions of the artists and expose a little more about their background and maybe delve into things that they wouldn't normally delve into during a regular concert," Worrell said.
Most of the Petersburg concerts are for all ages. But this one is not because it's geared towards an active listening audience.
"Because it's so interactive between the audience and the performers on stage there should be no back discussion. There should be focus on what is being said on stage," Hanson-Hofstetter said. "You'll get the most out of it by being able to focus on every word that's said because we're all there to soak in what we're making together."
As Worrell likes to joke, it's a great date night because, "You don't have to talk at all, you can just sit quietly and listen."
Parlor in the Round will be performed Saturday, Nov. 23 at 7 p.m. upstairs in the Elks ballroom. The show is open to the public and is sponsored by the Petersburg Arts Council. Tickets are $25 and can be purchased in advance at FireLight Gallery & Framing, Bearing Song and Gifts as well as at the door. Parlor in the Round is also performing in Wrangell Friday night.