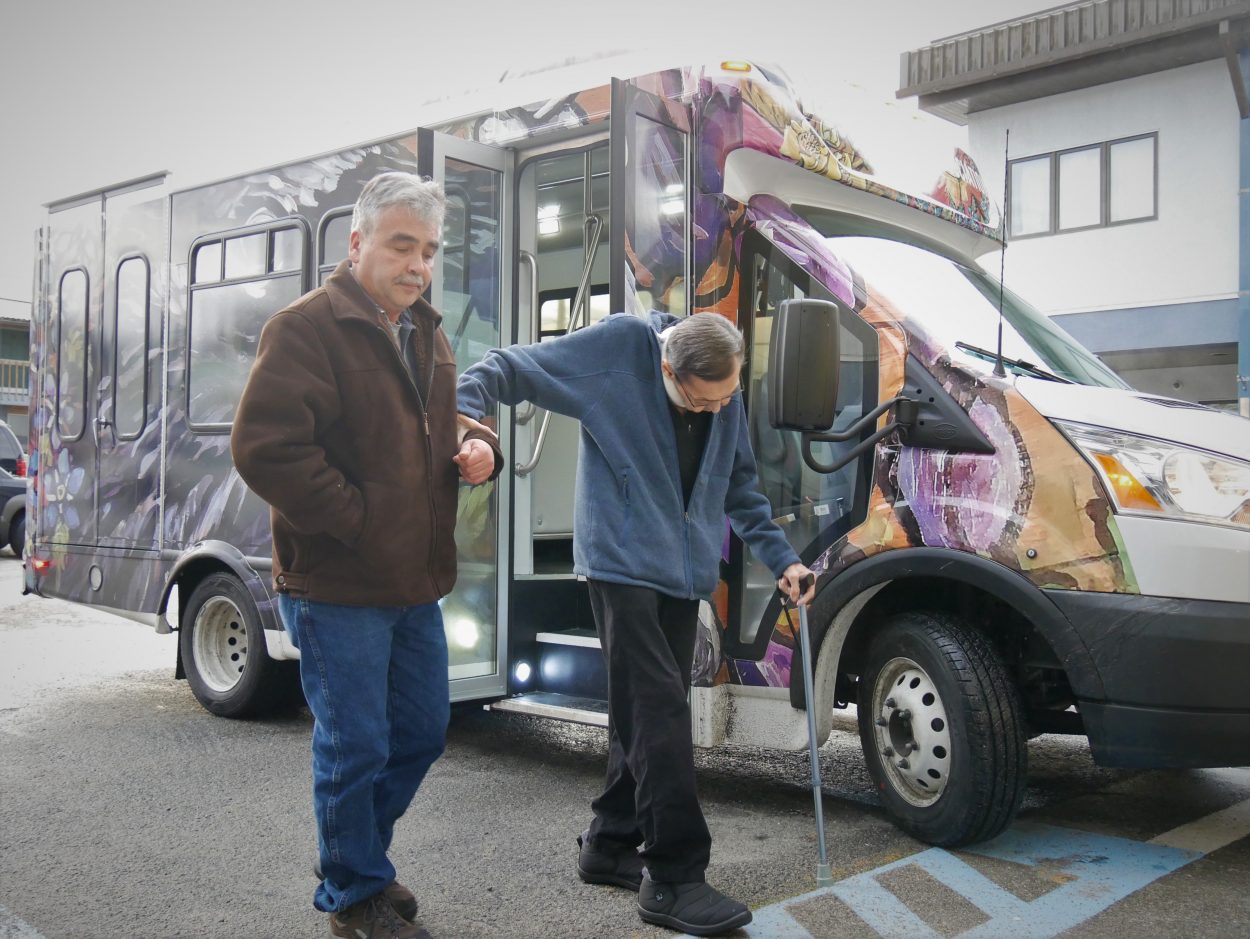 Petersburg's tribe, Petersburg Indian Association, has started running a local mini-bus for seniors and people with disabilities. The free service has changed the lives of some of the town's most vulnerable residents. KFSK's Angela Denning rode the bus recently and met some of the passengers.
Cindy Lynn is settled in to one of the bucket seats with a seatbelt across her lap. She's wearing a pink jacket and wire-rimmed glasses. But she can't see. She's blind and spends most of her days inside of her darkened home. She has a care giver twice a week but doesn't get much other interaction.
"I'm basically a shut in except for possibly church and doctor appointments," Lynn said. "Other than that, I'm stuck in a house. And it's so lonely, it's so lonely."
Lynn has lived alone for 15 years. When she was younger, before she became blind, she loved boating. A small boat is how she first came to Alaska 26 years ago. Now, she relies on others for transportation including cabs but that gets expensive.
"I just simply can't afford it to go to like the library. I cannot afford to go to the Clausen Museum," said Lynn. "Or, the Rec Center, maybe to go swimming or do that pool where you walk, you know, where it's warm for older people."
Cabs in small-town Petersburg cost around $10-15 round trip.
This bus ride isn't costing Lynn a penny.
"To me this is going to make a major difference," said Lynn.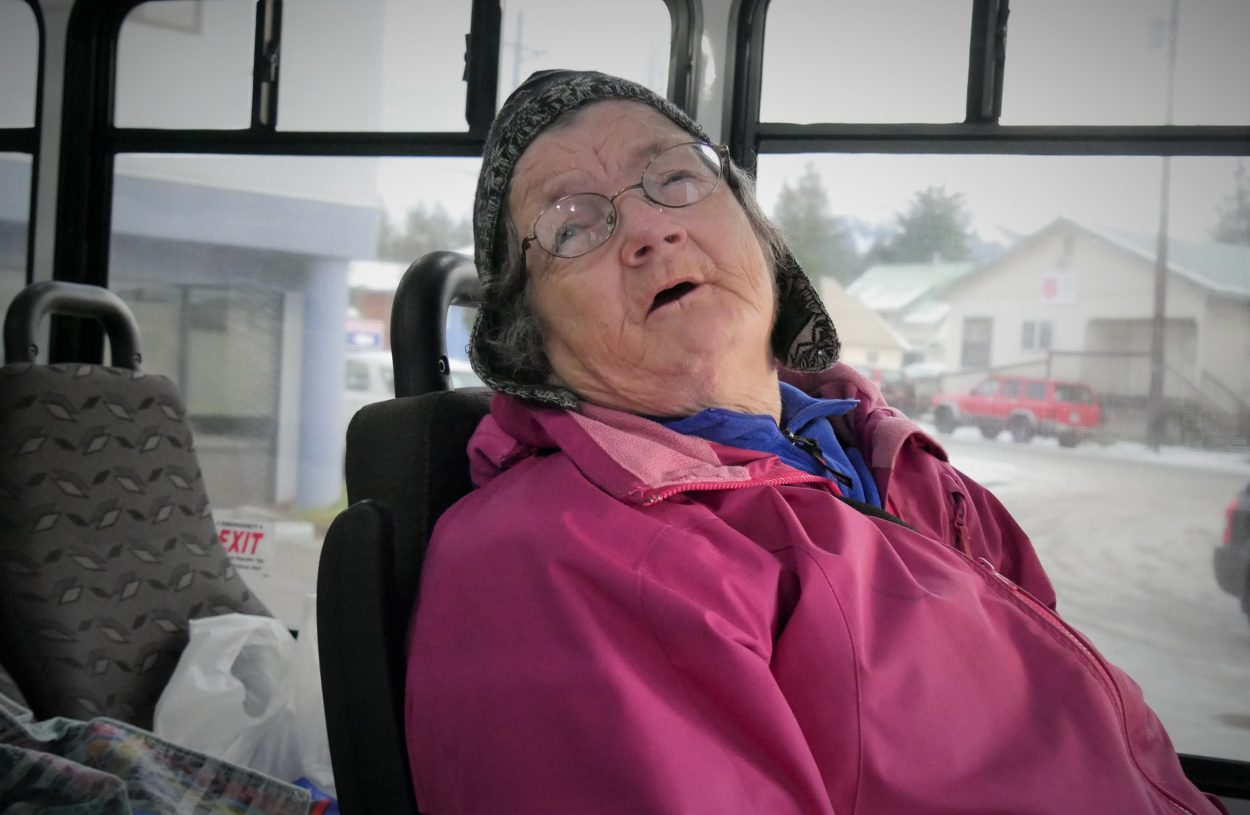 The mini-bus itself is easy to identify. On the outside, it's covered in bright art work depicting a raven head on one side and an eagle head on the other. The design was created by a local artist. On the inside, the bus is roomy and smells new. The seats have adjustable armrests. And the vehicle is easy to operate, says the driver, Ron Ware.
"It's really set up for the handicapped with the low steps where the passengers get in and then we got the wheel chair ramp on the back which works great," Ware said.
Another passenger, Susan Young, has been riding the bus almost every day since the service began in early-December. She's been a commercial fisherman for 40 years and lives on her boat in the harbor. She also makes boat covers for a living but to do that she must travel three miles to where her shop and industrial sewing machine is located. In fair weather Young walks or rides a bike but in the winter there are usually some icy spots.
"When I was younger, this weather didn't bother me at all," said Young. "But at my age you worry about maybe slipping and falling."
Young says when she first heard about the free bus rides she knew it would save her money. Other benefits that she's noticed have been more unexpected.
"Totally lowering stress levels because you don't have to worry about the weather," she said. "Ron just comes and gets you and drops you off and picks you up."
Like Lynn, Young can only afford to take cabs occasionally.
Ware says many of his riders need to get to and from healthcare appointments. That's the case for the next passenger, Butch Williams.
Ware helps Williams to the bus, walking slowly. Williams looks thin and fragile. He's wearing a neck brace, his head hanging down to his chest.
As the bus gets back on the road, Williams introduces himself.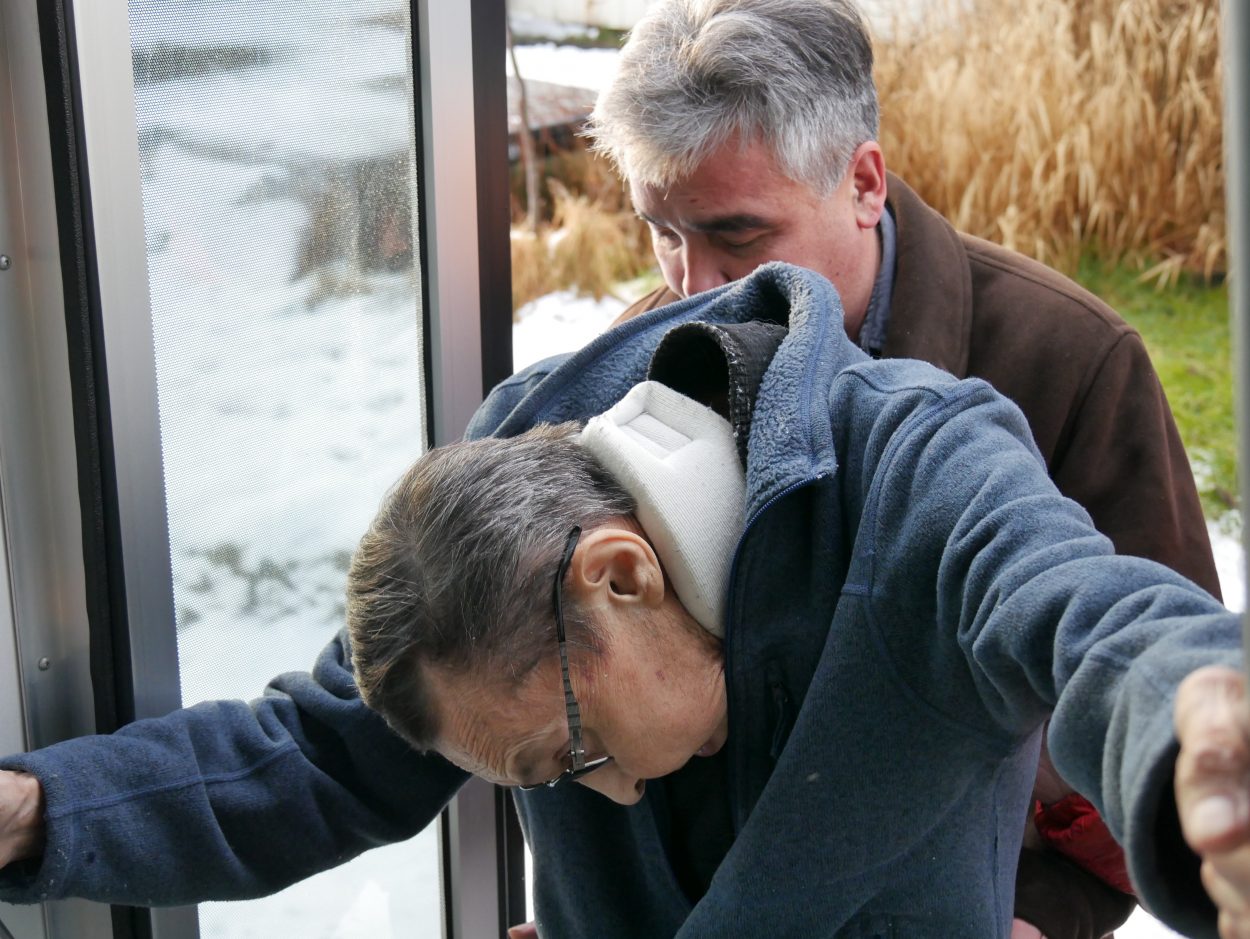 "Very nice to see what despicable shape I'm in," he said. "My bone collapsed on this side so I pulled my head over."
He says he is heading to a doctor's appointment today.
"To the hospital again," said Williams, "my second home."
It's impossible for Williams to get around alone. He says he just started riding the bus and it's giving him hope.
"I got seven cracked vertebrae. . .seven in my back," said Williams. "I'm waiting for a doctor, might have to go to Anchorage here shortly. It's been [like this] for quite a few years."
He agrees with the other passengers that the local cabs are great but too expensive to take every day on a fixed income.
Lynn says the new bus is the best thing that's happened to her in years.
"This is a huge thing for me," she said. "It's just going to make me feel like a normal person. I can even go to the post office!"
Lynn asks the driver if she can just stay on the bus for a while longer. She's enjoying the socializing as much as the transportation. And Ware says, "of course."
The new PIA bus runs every day of the week, 9 a.m. to 4 p.m.
Funding for the program is coming from the U.S. Department of Transportation's federal highways appropriations. The bus cost the tribe about $90,000 to buy and it's estimated to be about $100,000 a year to operate.
Free bus rides are available for everyone in Petersburg over the age of 60 and those with disabilities. The bus runs seven days a week from 9 a.m. to 4 p.m. each day. Rides must be scheduled a day in advance by calling (907) 650-7788.