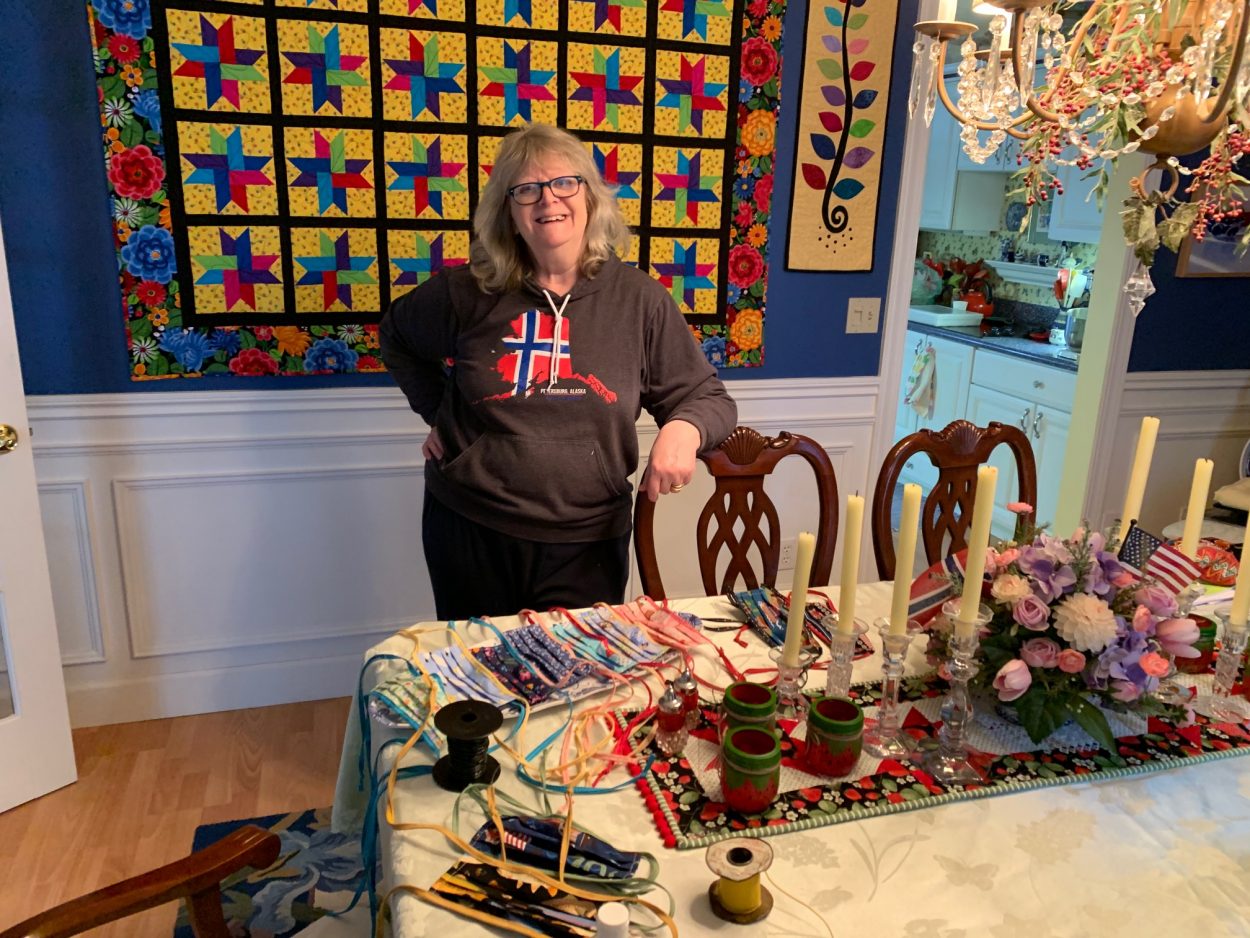 To prevent the spread of Covid-19, the State is mandating Alaskans shelter in place and to only leave home for essential reasons. If residents do need to leave home, they should wear a mask. So, how do people in Petersburg get them? KFSK's Angela Denning has more:
There are several ways that people in Petersburg can get masks but it can take some time. There are many local quilters who are making masks for their family and friends. Other local sewers are making masks for a program called Southeast Alaska Mask Makers, which works with volunteers around the region.
KFSK could find only one sewer in town who is selling masks to the general public. Marina Leblanc is making masks through her business Sew What. They are $5 for adults and kids are free.
"So far, I've done like 319," Leblanc said.
Leblanc's masks are made of cotton fabric with either ties, elastic or loops around the ears. They can be washed and reused. Customers can also request pockets in the masks to hold filters.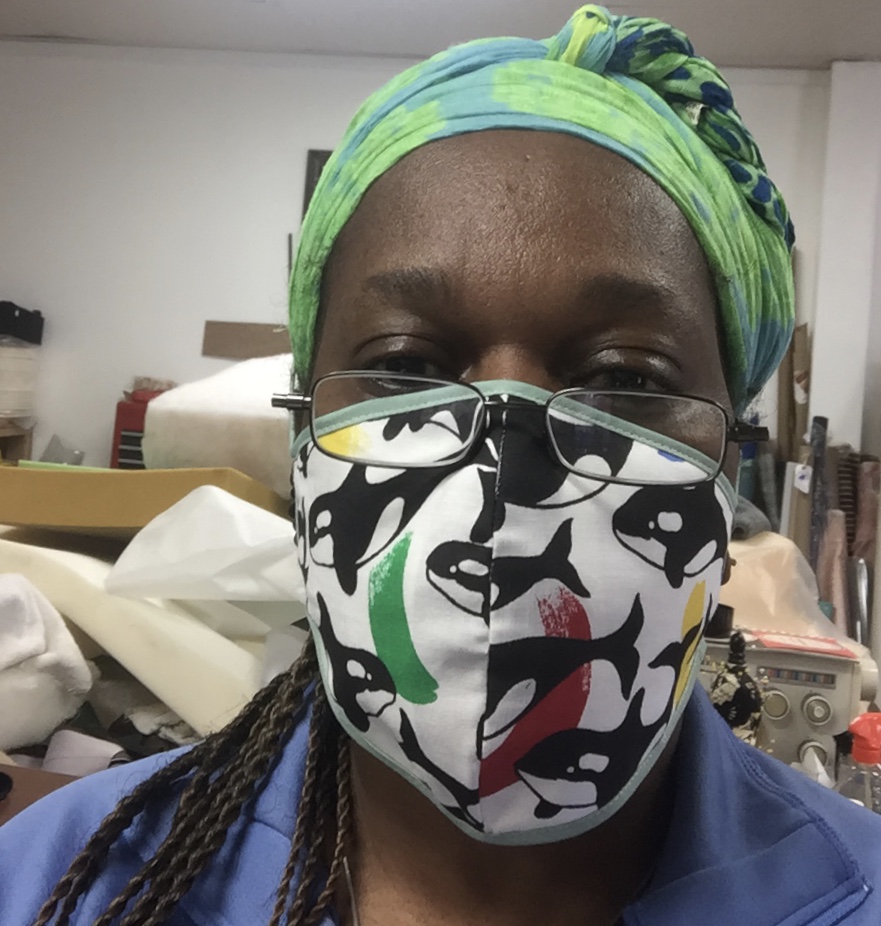 "When I heard about everything that was going on I went online and researched what would be the best type of fabric to use," she said.
Right now Leblanc is finishing up a large order for the Hammer and Wikan stores but for individuals the turn-around is about two days. She sets up a time with customers for when they can pick up their masks at her shop in the Joan Mei building.
Leblanc says it's better for people to call her for an order rather than to text. (To place a mask order, call (907) 518-9059). She stresses the importance of people picking up their masks on time so her customers can stay separated from each other.
Over the years, Leblanc has made all kinds of clothing through her sewing business but this is a first for protective face masks. She says overall all it makes her feel, "like I'm doing something good."
Another local sewer, Sally Dwyer, is one of several quilters who are making masks for their family and friends.
"It's just something quilters do," Dwyer said, "they share."
Dwyer says the masks she makes are for daily-use. They're made with single-layer, tight-weave cotton quilting fabric that can be washed.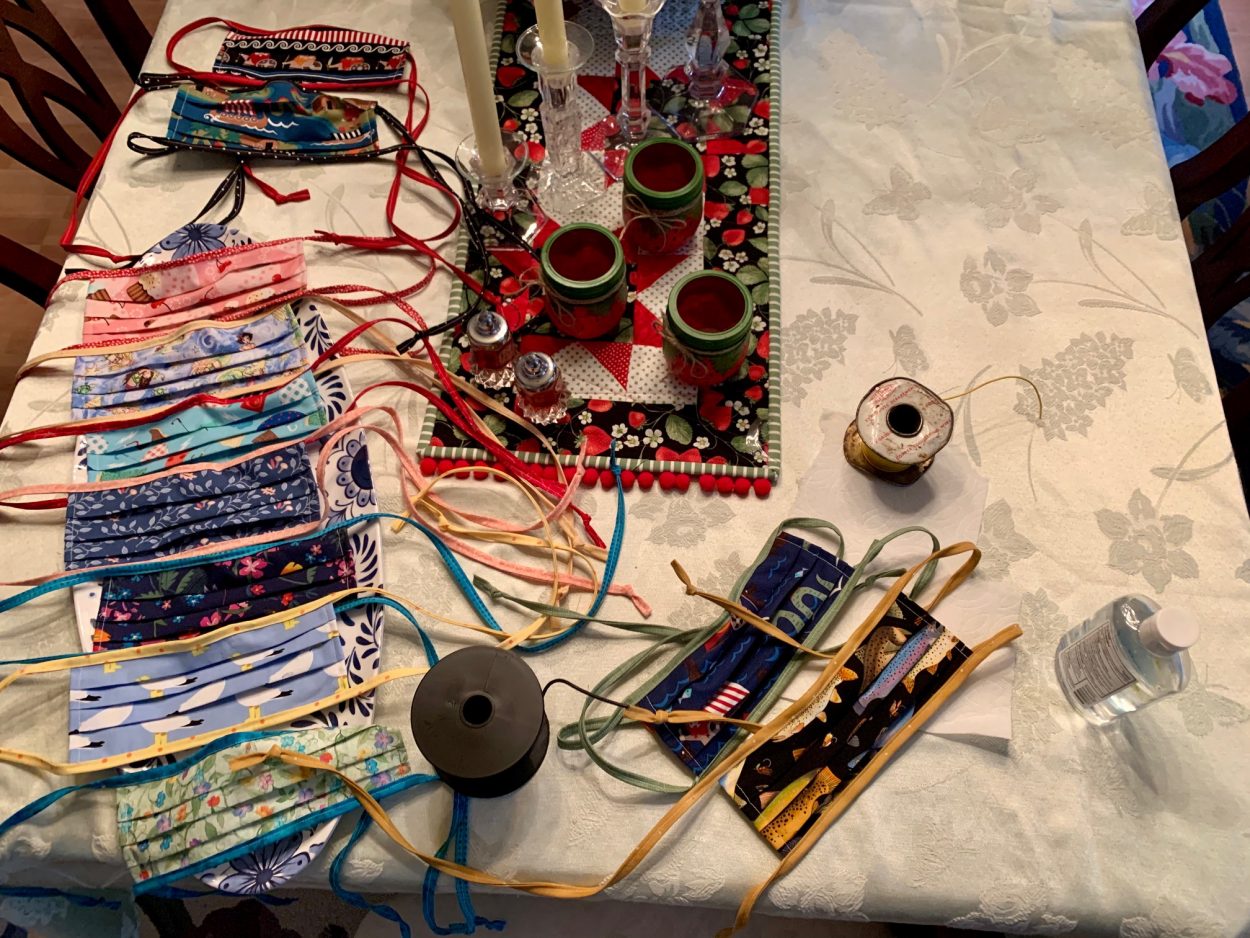 "It's nothing that would be approved for a lab," Dwyer said, "but it's perfectly fine to keep sputum and sneeze sprays and stuff away from other people and from other people getting to you."
Dwyer averages around 12 to 20 masks a day. She says it takes a while to make each one because she's making her own bias tape.
"Bias tape is what you edge everything with and make the ties out of but there isn't any for sale because we don't have that kind of supplies here in town," she said. "So, you take a little one and a quarter inch strip of fabric that's 40 inches long and you have to press two edges to the middle on both sides and so the prep is the slowest part of the whole project."
Dwyer says if people know her, they can give her a call and she'll make them a mask. She is telling people that if they feel like they need to pay, to donate to the Salvation Army's Food Bank.
Petersburg residents can also sign up to get masks through the Southeast Alaska Mask Makers program. Petersburg resident, Chris Sargent, is the local coordinator in town. She says there is a wait time and the general public will not get masks right away. The program prioritizes masks for the hospital, borough, and businesses that are working with the public. People need to first fill out a form that can be found online. The Southeast Alaska Mask Makers program is always inviting volunteer sewers to help make masks. Anyone interested can give Chris a call at (907)-360-7313.